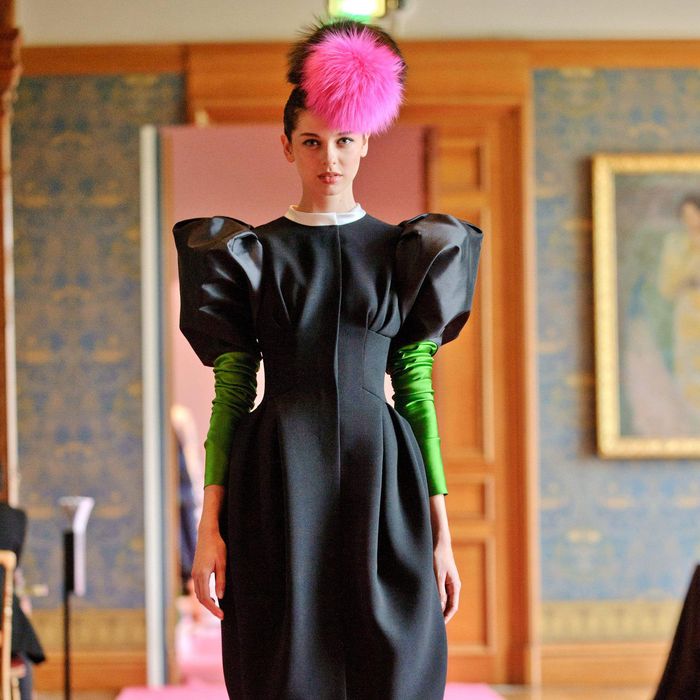 Photo: ANDREA ADRIANI/Imaxtree
Christian Lacroix's long awaited tribute to Elsa Schiaparelli, created in honor of her house's revival, opened yesterday at the museum Les Arts Décoratifs. Just as we'd hoped, it was crammed full of huge bows, sculpted taffeta ruffles, and swooping feathered hats. Because the pieces won't be sold or, in most cases, even worn by humans, they were free to defy practicality, like true objets d'art. See that fur-trimmed, bat-winged veil, for instance, or this crop top made of what looks like gorilla hair, or those parachute pants that could literally be used as a parachute. As Lacroix promised, the designs are more like costumes than actual clothes.
But much as we love Lacroix, he is not here to stay — this collection was a one-off deal, and the partnership won't continue. Schiaparelli's long-term creative director has yet to be officially announced by owner Diego Della Valle, but various journalists, including Cathy Horyn and Vogue's Hamish Bowles, have reiterated with some certainty that it'll be Marco Zanini, who currently helms Rochas. Perhaps the paperwork has yet to be finalized? Then again, the house has been moving verrry slowly with this revival process, Italian lunch hour style, so who knows when we'll find out.