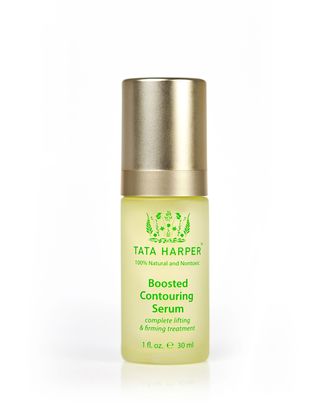 Beauty entrepreneur Tata Harper has the most plump, youthful-looking, stare-inducing skin. Her skin is so luminous, it's difficult to concentrate on the words that are coming out of her mouth. Recently, she was sitting across from me in a New York restaurant, explaining the active, all-natural ingredients (completely devoid of synthetics) in her latest set of skin-care products, and all I could do was stare at her seriously glowing, wrinkle-free, even-toned complexion. I wanted to touch it. Instead, I took a sample of her Boosted Contouring Serum, the first to launch in a new trio of serums (the others will debut next month) and slathered it all over my face for three days.
Harper has been perfecting the skin-tightening formula (there are 35 active ingredients) for the last three years. It's packed with the 29 actives from her Rejuvenating serum, plus extras like pomegranate hydrospheres (for increased hydration), brown-algae extract (a collagen booster) and L-orinithine ionosome (an amino acid extracted from vegetable starch that helps tighten and firm). But the one that provides the feeling of instantaneous improvement is hydrolysed rhizobium, a natural polymer found in plant roots. Its job is to reduce the appearance of wrinkles and give your skin a more "lifted" look. All told, the serum is meant to create a natural Botox-like effect.
The texture itself is a bit creamier than your average serum. This one still rolls onto the skin nicely and will immediately absorb and hydrate your complexion (I skipped my regular face cream on a particularly humid day). As soon as it's on, you'll feel an immediate tightening sensation; it isn't too far from dried Elmer's glue. Harper suggests you apply the stuff morning and night. I preferred to smear it on in the mornings because I loved the instant wide-eyed effect that took place around my ocular region (especially after a long night out). It layers nicely under tinted moisturizer, too. I didn't slather the stuff on at night because the scent itself was a bit too overwhelmingly floral for my sleepy-time senses.