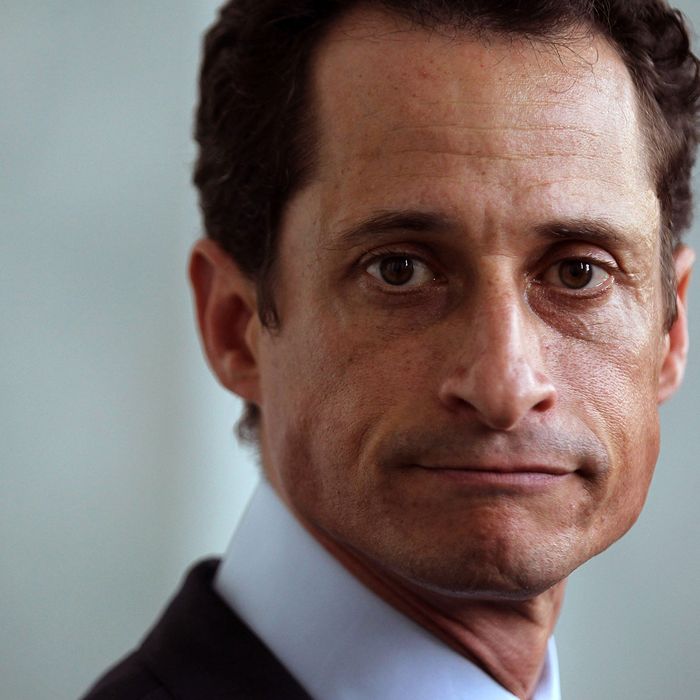 Photo: Alex Wong/Getty Images
Many reacting to priapic mayoral candidate Anthony Weiner's ongoing sexting scandal express confusion. Huma Abedin says her initial reaction was "I. Don't. Understand." Is he a sex addict? A narcissist? What does he get from from sexting strangers, and why can't he stop? There's no precise term for Weiner's transgression. When the Dirty published Weiner's latest cybersex transcripts — at least some of which he confirmed were real — the blog called him a "sexual predator" who "lured" a young woman into believing "Anthony Weiner and her were in love."
But as "Carlos Danger," Weiner's alleged chats with a 22-year-old identified as Sydney Leathers are a far cry from love letters. "I must have cum thinking about you and looking at you 100 times," he says. If he was "luring," it wasn't for love — it was for interactive erotica, the textual equivalent of phone sex. His chats read like a transcript from a 1-900 hotline. Weiner describes his fantasy, then prompts his partner to validate and expand on it:
Carlos Danger: Can I tell you what I thought about last night that made me cum?
Sydney Leathers: Please do.
Carlos Danger: Still holding your hair I spread your legs. Your tits are swinging already as you wriggle. I take out my cock and I lean over and whisper, "What do you want me to do to you?"
Sydney Leathers: Ravage me.
Carlos Danger: Still holding your hair. Now standing, I take my other hand and finger your pussy. It's wet. Soaked. I turn you around and bend you over the back of a chair, your pussy asking for it.
Sydney Leathers: Fuck me baby.
This is what phone-sex operators have been doing for decades, and what webcam girls do on video. Often advertised as "real girls," they provide erotic interaction more "real" than, say, a professionally produced porno. But they are still paid for their services, which means they aren't really your fuck buddies. Weiner's "real girl" fantasy went further: His cybersex partners didn't want money, they were real fans willing to have real sex with him. "If I met you at a bar and tried to talk to you, would I have a chance?" Weiner asked his virtual lover. "Absolutely! You're such an amazing man. I still can't believe someone like you would pay attention to someone like me," she replied. Leathers looked at real pictures of his penis and (without financial incentive!) claimed to be "quite impressed." She may have been in love, but Weiner has always maintained that he loves Huma alone. Plausible cybersex with phallus-admiring fangirls merely helps him "cum … 100 times."
In his pursuit of interactive erotica, Weiner used social media the way gay porn star Conner Habib says some men use hookup apps like Grindr: "With my phone hand, I was scrolling through pics, and with my other hand, I was casually and lazily playing with myself. I talked to a few guys, unlocked my photos, jerked off, and called it a night," Habib wrote last month in The Stranger. The result: "individualized, participatory pornography" that combines voyeuristic browsing with selfie swapping. "Exhibitionism is part of the agreement of these apps. We turn ourselves into desirable objects for others to look at," Habib says.
Weiner enjoyed turning himself into a desirable object for strangers. "You are a fantasy to me. Have you made yourself cum thinking about me recently?" he asked Leathers. Or as Habib explains it, "The ability to chat with the person whose image you're getting off to amplifies the individualization of the experience."
Compare Habib's autoerotic Grindr browsing to Weiner's description, in The New York Times Magazine, of how he learned to "spin the wheel" of social media, to increasingly sexy results:
Search your name on Google, begat read comments on your Facebook page, begat looking at what people are saying about you on Twitter, to then trying to engage them. 'Oh, you should like me!' 'No, that's wrong!' or 'Thank you very much!' […] So somewhere in there it got to a place where I was trying to engage people in nothing about being a politician. Or sometimes it would start out about politics and then, 'You're a great guy.' 'Oh, thanks, you're great, too.' 'I think you're handsome.' 'Oh, that's great.' […]

You know, like spin the wheel! Find someone to say something to you! And if it wasn't 2011 and it didn't exist, it's not like I would have gone out cruising bars or something like that. It was just something that technology made possible and it became possible for me to do stupid things. I mean, the thing I did, and the damage that I did, not only hadn't it been done before, but it wasn't possible to do it before.
Insofar as "it" refers, loosely, to the thrill of individualized, participatory stranger pornography, it was possible before. You just had to pay a phone-sex operator, webcam girl, or creative prostitute to get it. But even those one-on-one pornos may not have been as powerful as Weiner's fangirl cybersex. In addition to knowing what his penis looked like, Weiner's fantasy objects knew his life story, his political career, even how he spent his days if he tweeted his activities or went on TV. He provided participatory pornography for them, too, but Leathers at least harbored a fantasy that their encounters would eventually be more than that. She told the Dirty she believed Weiner's promise to buy her a condominium in Chicago for romantic rendezvous. "I thought I loved him. Pretty pathetic." She didn't want to be Weiner's personal porn star; she wanted to be his girlfriend.
Weiner, on the other hand, seemed to enjoy his DIY pornographic stardom. "Sadly my pics are out there to look at. Have you ever?" he asked Leathers. When she replied in the affirmative and complimented his penis, he replied with more foreplay: "Tell me about your pussy. Smooth?" Later he sent new penis pictures from his Carlos Danger e-mail account. He enjoyed showing as much as he enjoyed telling, as long as his audience participated with sexual affirmation and masturbatory fodder. "I was reading your tweets and looking at your pics, so I thought I'd hold your wrists to settle you down," Carlos Danger wrote to Sydney Leathers. "You have no idea how turned on I am right now," she replied, as if on cue.