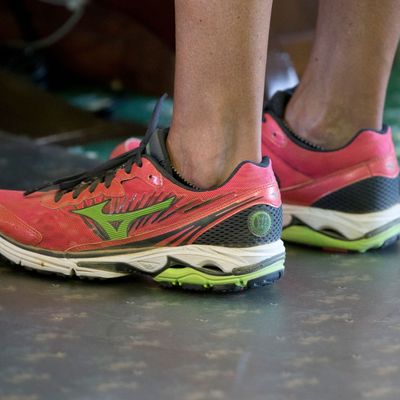 Photo: Bob Daemmrich/Corbis
Alycia Burton laced hers up this morning with a silk blouse and pencil skirt — then headed to her job at a Forth Worth electrical distributor. Carol Moss, a Utah state representative, snapped a shot of hers propped up on a coffee table. Melissa Pierce, a Chicago entrepreneur, managed to get kicked out of a club in hers — pink sneakers peeking out from a sleek navy cocktail dress.

And David Teran, a tech consultant for IBM, hunted down a women's size 12 (men's 10) while on a road trip with his brother in Louisiana. Today, he is flaunting them at the Texas state capital — where thousands of protesters are rallying this afternoon as the legislature attempts, yet again, to pass a restrictive overhaul of the state's abortion law.
"I bought the shoes on Saturday and haven't taken them off since," says the 33-year-old, who lives in Austin.
The shoes, of course, are what some of these people are now calling The Wendys — the pink Mizuno Wave Runners worn by state senator Wendy Davis as she filibustered for thirteen hours to block a bill that would torpedo abortion access in Texas. Overnight, Davis became a feminist icon. But she also spawned an army of pink sneaker-wearing followers: Dozens of women — and a few men — in $115 "Rouge Red" athletic shoes standing in solidarity, complete with internet art, a pink sneakers playlist, and Amazon reviews noting that the sneaks were "guaranteed to outrun patriarchy."
Sure, some didn't appreciate the focus on Davis's sartorial choice (another woman known for her shoes — and pink). And yet Davis turned that cliché on its head. Soon after, women were flocking to Amazon to purchase the sneakers. Mizuno doesn't give out sales data, but said in a statement that the company's website traffic had doubled, with Davis's Wave Rider as the most viewed page. As of Monday, the shoes were No. 2 on Amazon, and No. 1 in women's shoes. (Neither Amazon nor Mizuno returned calls for comment.) Sales data aside, the pink Mizuno sneaker had become something else: an implicit raised fist; an insta-badge of feminism. Negotiating a raise? Break out the Mizunos. Want to dream of a more equal world? Wear the Mizunos to bed. They have become a kind of knowing nod, a sort of implicit high-five, the way Jeep drivers always wave at one another. Is this feminism's next wave? It doesn't hurt they've got that word in their title.
"It's like a secret club," says Pierce, 36, who wore the shoes to work today with a black pantsuit. "It's like, 'Do you stand with Wendy? I stand with Wendy.'" Michelle Madhok, an online shopping expert and CEO of Shefinds Media, agrees: "These are not sneakers that will go quietly. When I wear these I am saying loudly that I support the sisterhood."
The shoes aren't bad as shoes go, either: Light on the feet, which is why Davis probably chose them for her own marathon. Cheryl Kellond, 42, the founder of a women's fitness start-up, is using them to train for an Ironman race. Trish Hamilton, the executive editor of Runner's World, says they are a "great combination of lightweight cushioning and support." (She wears them.) Cortney Harding, who works at a start-up in Brooklyn, has run nine marathons, and says they are "easily the comfiest and most supportive" on the market. "Of course they are awesome shoes, good for marathons, light and efficient for busy women doing real work," says Rachel Sklar, the founder of women's networking startup the Li.st, who was IMing with Amazon support staff as we spoke, to see if she could get her sneakers even sooner. "Would Wendy wear anything less?"