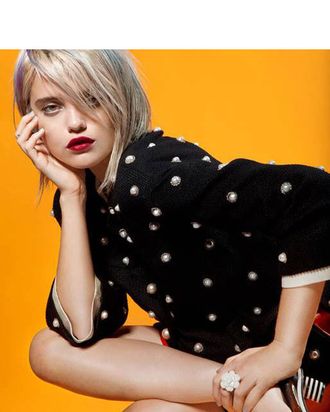 Sky Ferreira, the pop star who is always just about to blow up, appears on the cover of BULLETT's "The Wild" issue this month with photos by Meinke Klein. Titled "Sky Ferreira's Moment Has Arrived—But Can She Handle It?" the cover story finds Ferreira stressed out and neurotic over the long-awaited release of her debut album, I Will. But until her music career takes off, the 20-year-old still relies on a second career for her income, just like all those other struggling musicians. As she explains:
"Fashion is just a part of what I do. Musicians want to work with designers. Luckily, I got to do that first. It all happened at the same time, but the modeling just took off faster. A lot of the people I know who are in bands have to work in restaurants and bars when they're not touring. I model instead."
Ferreira has been fronting magazine covers since the age of 16 and has posed for Terry Richardson, Karl Lagerfeld, and Hedi Slimane, and starred in that CK One Shock ad where she made out with Lara Stone. Will she live up to the hype as a singer? (Her single "Everything Is Embarrassing" was New York's Song of the Year last year, so our money's on yes.) And if not? She can probably just turn that successful modeling side-career into her day job and moonlight as a waiter.