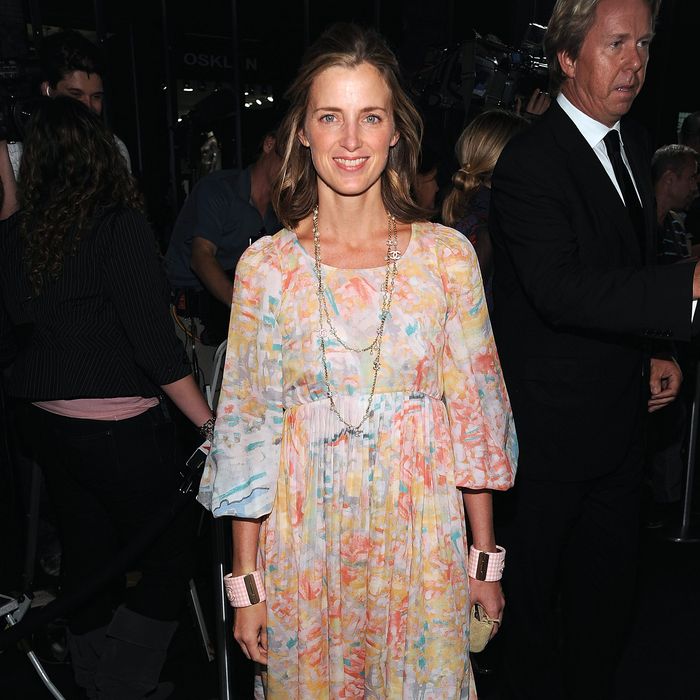 Photo: Dimitrios Kambouris/Getty Images
This month's British Vogue features an essay by Amanda Brooks, the former Barneys fashion director who pulled a Green Acres, on giving up her life as a New York style icon and moving her family to a luxurious Oxfordshire farm. In "The Farm-Girl Fashionista," Brooks sends a dispatch from her little corner of the country where she's happily riding her horse and writing by the fire. Her new peaceful living has allowed Brooks to free herself from stylish shackles and any sense of self-awareness as she tells us of her struggles to shed her New York identity and to embrace a new definition of fashion. We've collected a few of the article's most tone-deaf landed-gentry-esque quotes and given you salient, take-away lessons that you, too, can use in your everyday life! Enjoy.
On becoming Amanda Brooks: "In my twenties, I started becoming noticed and acknowledged for the way I dressed while working at the Gagosian Gallery, where my outfits caught the eye of photographers and editors. At first the attention seemed no more than an ego boost. But, as I left the art world and went on to design accessories for Frederic Fekkai, I realized that having recognizable style – and a presence at parties with people I admired – had real currency."
Lesson: Being pretty and well-dressed is all you need to achieve your goals.
On the decision to move to England: "There was nothing to complain about in our New York life. We had an industrial-sized loft on the Lower East Side that afforded us more space than most New York families could expect. The kids were happy in school and they had lovely friends. Christoper, an artist, and I had success in our careers and in our home life spent both in the city and at our beach house in Long Island. But it was if we were living four separate lives in the company of one another … At the farm, we all felt like one unit."
Lesson: It's really hard to have so many homes. Better to be in one.
What she'll do with all the free time: "Life on the farm would afford me time to think about my next career move. It would also allow me to take the focus off buying and wearing clothes all the time and focus instead on my family."
Lesson: Who needs money when you already have money?
On dressing down: "I'm sure my less fashion-jaded friends would be shocked to learn of my $350 T-shirts, but I love knowing that even when I am being my most casual self, I am still a girl who loves fashion. Today I dress in a way that most people would deem anonymous, and deliberately so. After years of arriving at my kids' school on my way to a fashion show and completely overdressed, I find it a relief just to fit in. To the untrained eye, I wear jeans, a sweater, a classic wool military-style pea coat and winter boots. And even though I look like a typical country mum, there is a certain pleasure taken from knowing that my jeans are J Brand, my sweater is Phillip Lim, and my coat is Balmain.
Lesson: You can still spend gobs of money and look "common." You might even love it!

On how to make friends in a new place: "I made a beeline for a girl I saw at a local party wearing an Isabel Marant blouse and carrying a neon Céline box bag. I had to know who she was. It turns out she's a London girl who comes down to Oxfordshire on the weekends and is an avid hunter. We've become friends."
Lesson: You can take the girl out of society, but you can't take society out of the girl.