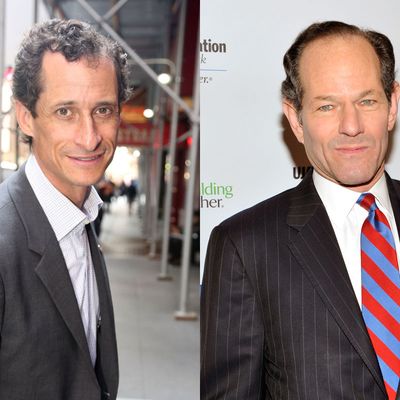 We all laughed when the New York Post suggested Anthony Weiner was dropping the Sheryl Sandberg–coined term "lean in" in a subliminal bid to appeal to women voters. But it's a lot less funny now that Weiner's brother-in-scandal Eliot Spitzer has mounted his own comeback. Since then, Weiner's rivals in the Democratic primary for mayor of New York (and the news outlets that cover them) seem determined to frame the disgraced pols' campaigns as a bid for the forgiveness of women. Women, in this scenario, are presumed to identify, unanimously, with the wives and online strangers the men personally wronged. The New York Times warned that Weiner's rivals — in a "direct appeal to women voters who may decide the [primary] races" — are lumping Weiner and Spitzer together "as two wayward men obsessed with reclaiming power and unworthy of redemption." As if all the other candidates' unblemished personal lives corresponded with records of selfless public service that made them worthy of the female vote.
Or is it our virginity? Behind the redemption saga is a sleazy-men-court-virtuous-women narrative that patronizes female voters while mischaracterizing Spitzer and Weiner's original wrongdoing. Current New York City comptroller and mayoral hopeful John Liu called their return "a huge affront" to women. "If you think about what these two individuals have been responsible for," he told reporters, "and to continue the denigration of the women they've been involved with, this is — it just doesn't smell right." Christine Quinn's sound bite didn't include the word "women," but it sounded as if she were talking a friend out of reconnecting with her ex-husband. "What have they been doing to earn this second chance?" she asked on Monday. "I don't think we see all that much from either of these men … [to] redeem themselves from their selfish behavior."
It's not rare to hear politicians fret over women voters, who make up the majority of undecided voters. We were alleged to have won the 2012 election (although, personally, I don't often feel like a winner) and since then our gender has been a constant in the Democrats' political calculus. New theaters have been opened in the so-called War on Women. Congressional Democrats moved to rebrand issues like the minimum wage and sick leave laws as part of a "Women's Economic Agenda." But there are ethical shades of gray between Spitzer's and Weiner's scandals — participating in the sex trade while prosecuting it versus sending unsolicited dick pictures to a stranger — that should vary depending on a voter's personal values. Binding their tandem rebound to the beneficence of women reduces the scandals to the sex or the infidelity. There other failures at play — arrogance, hypocrisy, and harassment, mostly — that should concern all voters, even the ones who don't worry that their husband is flirting with young women online.
The demographics-driven logic has been regurgitated by writers and women's groups. After Weiner out-polled Quinn among Democratic women, conservative columnist S.E. Cupp issued an appeal: "New York feminists, explain yourselves." Rather than debate the return of Weiner themselves, The Atlantic Sexes' dad panelists Theodore Ross and Matt Gross asked their wives if they could forgive the disgraced congressman. The National Organization for Women protested Weiner and Spitzer's redemption campaigns — along with that of serial groper and ex-assemblyman Vito Lopez, now running for City Council — outside City Hall. "All three think they can mistreat women and that women voters are going to dash to the polls to bring them back, to elect them to represent them," NOW-NYC President Sonia Ossorio told the New York Observer. "Let's not let that happen. The question for voters is: Are these men really going to be in tune to the needs of women or are they just going to see us as objects?"
I disagree. To me, that's a question for women who are choosing a boyfriend. I also worry that arriving at a judgment about Weiner or Spitzer — as if they were groveling exes — is way too compelling a question, compared to differentiating a crowded field of Democratic mayoral hopefuls, or learning the first thing about Manhattan Borough President Scott Stringer. For some of us, it's time to take a closer look at the other fish in the sea.