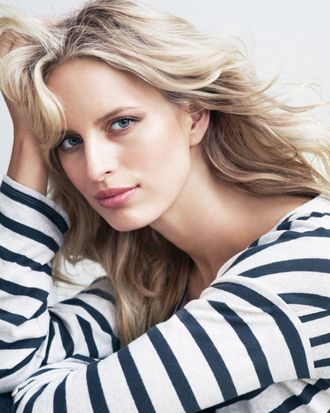 Photo: Courtesy of Ann Taylor
Czech supermodel Karolina Kurkova has had the world's top makeup artists use her face as a canvas for their masterpieces — whether she was walking down catwalks for Victoria's Secret (with gargantuan plumed wings strapped to her back), posing for covers and editorials in glossies around the world, or coaching a team of aspiring models on camera for The Face. Currently, the globe-trotting businesswoman is rounding out her third season as the spokesmodel for LOFT. The Cut met up with Kurkova during the brand's "We Love Pants" campaign shoot to learn all about the skin-care staples that she's remained loyal to over her decade-long career in the industry.
The secret to maintaining her smooth, glowing skin tone despite all the glitter, powder, and makeup experimentation that's touched her face? Using only organic, pure, and natural products. "Whatever you put on your skin gets absorbed in your body," she told the Cut. "I'm already wearing makeup, which is not ideal all the time. It's not pure, it's not oils, it's not natural. So for my skin care, at least, I try to use everything that's natural."
Her devotion to the chemical-free also manifests itself in her diet, which she counts as a huge part in her beauty routine. "I don't think it's just about oils and creams," she explained. "Those help, but a lot of it is what you eat. I try to have a green juice everyday. That's kind of my thing." She even makes her own almond milk and a raw chocolate drink that she claims her son Tobin adores.

The Everydays.

1. Bioderma Crealine H2o Cleanser
"Makeup remover is huge, a must. I like Bioderma — I feel like that's everybody's favorite."
2. Extra-virgin, cold-pressed coconut oil
"For removing my lashes, I use coconut oil. It can be any brand, as long as it's the extra-virgin, cold-pressed. I use this to remove my mascara and then I use the Bioderma to help remove it, too. I think it's better for your lashes because it's oil, so there's also much less chemicals on your lashes. If you're wearing makeup everyday, all the time, sometimes even twice a day, it just nourishes the lashes and is less harsh than any other makeup removers. But also, what I like to do with the extra-virgin coconut oil is put it on my skin sometimes, my lips, my body, so I always carry it in my jar to [take around with me]. It's great for your cuticles, ends of your hair, so you can use it for a lot of different things."
3. Osmosis Polish Enzyme Mask
"When I don't work, I try not to wear a lot of makeup, just to let my skin breathe. But let's say I am wearing a lot of makeup — and even if I'm not — I use this enzyme mask. It's basically all fruit and it detoxes all your pores. I try to do that twice, maybe three times a week."
4. kNutek 100% Oxygen Plasma
"This one has tea-tree oil in it, so again, if you're flying a lot or [the air feels] dirty and you're wearing a lot of makeup, I put it [on] before makeup or right after I take makeup off. It kind of just cleanses the skin. Tea-tree oil kind of keeps the bacteria away. I like using this as much as I can."
5. ElanVeda Skin Renue Serum
"This is an oil I just got recently. I like everything on my skin to be all pure ingredients, just something that's full of natural, active ingredients that are good for your skin. It's a serum and it's got all these incredible oils and it's really, really nice."
6. Epicuren X-Treme Sunscreen, SPF 45
"I like Epicuren. I believe it's bee-pollen-based. And again, it's very light. Especially in the summer, a lot of [sunblocks] with high SPFs can get so thick, it feels like they're clogging your skin. I actually use this one on my son, too, because it's so extremely light."
The Extras.
Oatmeal Masks
"In the winter, a great mask is an oatmeal mask. You make your oatmeal, what you eat, and then just put it on your skin and it's really nice and moisturizes the skin. That's something great because anybody makes oatmeal for breakfast — but you can put a little on the side, put it on your face, eat your oatmeal, and then wash it off."
Facials
"I have two facial ladies whom I've been going to for years. One is this Russian woman named Isabelle at Advanced Skin Care. A lot of models are actually going there. What I like about her is I don't like doing crazy stuff to my skin. She does a lot of nice cleaning, massage to the face, but mainly cleaning. When you wear a lot of makeup, you have to clean the pores. That's why I like her. I feel like a lot of facialists these days don't really do that. They just keep putting creams and creams and masks and masks. They don't really clean the pores, like every little one of them. She spends an hour picking every pore. So I like her, and Mary Schook, who works more on the cellular level of my skin: detoxing, working on the neck, the muscles."
kNutek Omega Peel
"In the fall, I use this gummy peel to battle dry skin. Because when I travel, I have to get rid of the dead skin. I cannot use things with too many grains because my skin is very sensitive — but with this, you just rub and rub and rub, which kind of rubs the dead skin off."
Facial Steams
"Being in the steam, you just rub your skin and all your dead skin comes off. That's something I like to do twice a week, three times a week. It depends how much sun I'm getting, how much makeup I'm getting. When your skin gets a little rough, you know you need to get the dead skin off so the new, soft skin can come in. The coconut oil helps. When your skin is dry, it's important to exfoliate and use good quality oils on your skin that will get absorbed: whether olive oil, coconut oil, avocado oil — there are so many amazing oils. You just want to make sure it's organic, good-quality oils."