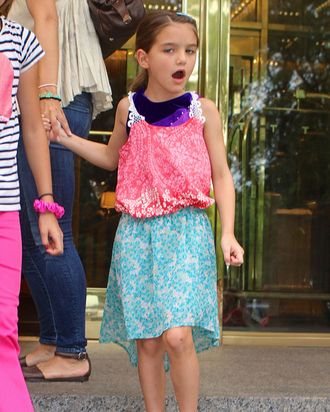 Photo: 247PapsTV/Splash News
Notorious tongue-sticker-outer Suri Cruise expressed her feelings about paparazzi once again this week when a bunch of photographers and fans got up in her face in New York City. A new video released today shows Suri holding the hands of her mom, Katie Holmes, and a young friend,  yelling, "We're trying to get to the car" at the photographers and group of autograph-seeking fans blocking their way. Amid all the hubbub, Katie looks pretty unfrazzled, but Suri, clearly upset by the attention, continues to yell "stop it" and "get out of the way" at the crowd.
But the most disturbing part of the video comes at the end, when a fan calls the 7-year-old "a bitch" and "a little brat kid" for snubbing him. Luckily, Suri remained in the car instead of going all Justin Bieber on the fan, because she's, you know, seven, but in this case, we almost wish she'd given the guy what he deserved.