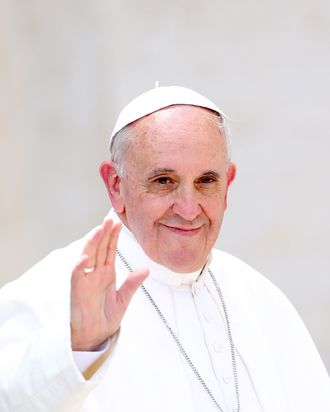 Photo: Franco Origlia/Getty Images
In her latest piece for the International New York Times, Suzy Menkes ponders Italy's abrupt switch of identity in the fashion scene — from one brimming with "sex-pot, breast-heaving, leg-exposing outfits" under the reign of Prime Minister Silvio Berlusconi, to one where "clerical collars," "mannish" shoes, and "chaste" skirts walk down the runway. The overarching reason for this change, according to the pompadoured critic, boils down to one point: the new pope's influence! "Has the humility and abstention demonstrated by Francis since he became pope in March influenced the fashion message coming out of Italy?" Menkes asks.
While Pope Benedict might have tested modesty with his flashy taste for red loafers (that may have been designed by Prada), Pope Francis does just the opposite. Even sartorially, he appears to emanate purity dressed in his plain white robes. And, besides that, a few key Italian fashion players agree with Menkes's hypothesis. "It's a whole new spirit in Rome and this is evident when we have a new pope going back to real Christianity, which lately was far from the church," Silvia Venturini Fendi, a designer and president of the Italian fashion organization AltaRomAltaModa, shared. She added, "Maybe there is a moment when we want to focus on other things in life and give fashion a different meaning to clothing. Women are thinking and dressing more ethically. This pope is what we all needed."
While it's surprising that a humble pope would serve as the country's latest fashion inspiration, there's a bigger question on our minds. If modest, chaste clothing becomes the new norm in Italy, WWCD: What will Cavalli Do?!