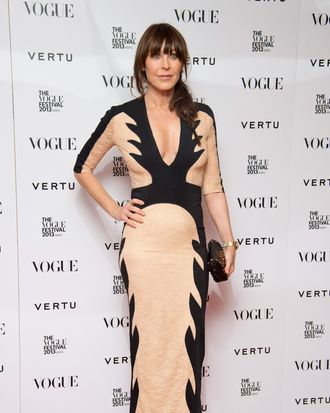 Photo: Ben A. Pruchnie/Getty Images
At long last, former Jimmy Choo creative director Tamara Mellon's fabled eponymous line is here. Well, almost — it comes out in November, exactly two years after she split from the shoe brand she co-founded in 1996 and later sold to Labelux, with whom she developed a contentious relationship that precipitated her departure. Anyway! Mellon used her time off to start her own label, write a book, hang out in New York, and think about how women actually buy clothes. Namely, that most people can't be bothered with the current retail schedule (shopping for sweaters in July, etc.), and neither should she.
Indeed, her label's business model is quite novel: She'll launch her first collection on her website in November, and then add a few new pieces every month, building around a core of basics and swapping in new seasonal items. The "buy now, wear now" idea is a more natural fit for today's fashion pace, anyway. If the increasing popularity of click-to-buy options, fast fashion, and Moda Operandi prove anything, it's that people want new stuff now, and their interest wanes just as quickly. "I don't know any woman who wants to buy her winter coat in July," Mellon tells the FT. "We will sell ours in September." Smart.
As for the clothes themselves: The first collection includes $295 cashmere T-shirts, thigh-high boots, businesslike blouses, high-slit pencil skirts, and a $4,500 ponyskin leopard-print trench coat. In other words, the kind of stuff that Mellon herself would wear (or … not wear). While she says e-commerce will make up at least half of her business, she hopes the clothes will be picked up by other retailers by next year, and plans to open stores in London and New York in 2014. "I don't like being dependent on other people for my sales," she tells the FT.
Also interesting: The FT notes that Mellon got a good deal of funding from David Ross, the founder Carphone Warehouse, which is now collaborating with Kate Moss. Campaign face, anyone? Or maybe Mellon will just front her own ads, as she did for Choo.