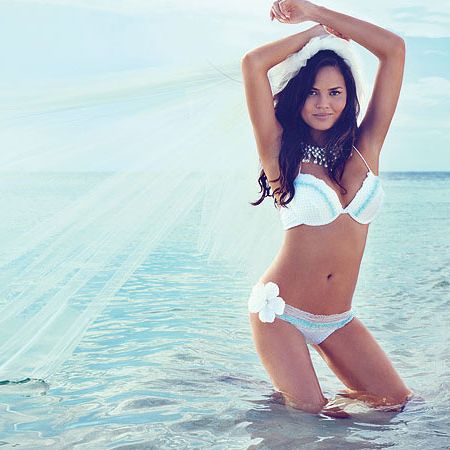 Do you have one of those friends who expects you to celebrate not just her birthday, but her birthday week? Meaning you must be available for dinner on her actual birthday, a blowout party the nearest weekend night, and hangover brunch the morning after that? Chrissy Teigen is like that, but with her wedding. The food-blogging, reality-show-hosting, slut-shaming Sports Illustrated swimsuit model has been engaged to singer John Legend for as long as we've known who she is (since November 2011). She's not a Bridezilla, exactly — she drives her wedding planner nuts by not answering her e-mails — but she has been talking about her wedding for more than eighteen months. She's always the bride.
After Teigen and Legend had been affianced for a year without setting a wedding date, Teigen told the tabloids she'd given Legend a wedding ultimatum: marry her by 2014 or she's out. (She was 100 percent joking, she later clarified.) By February, Teigen was choosing between four different wedding dresses, all Vera Wang, but was back to square one, location-wise, having scrapped a plan to wed at a "beautiful farm" in Tennessee.
In May, there were rumors Legend had been making out with a blonde at a bar, which came unfortunately on the heels of Teigen's Twitter proclamation that she might get along better with her haters if "so many" "didn't want to fuck [her] fiance," and which she quickly rejoined with sarcastic denials. So no one blamed Teigen when, at her bridal shower thrown by Gillette Venus razors, she revealed that her pre-wedding beauty ritual would mostly just be taking some Xanax.
Since then, she's revealed to People that her crepe wedding cake is "the only thing" she's picky about ("I'm not a big sweets person which is why I'm really specific about the cake"), and the Post's spies overheard Teigen saying the wedding will happen at Lake Como in September.
But even then, Teigen's wedding won't really be over. The latest in her long prenuptial saga is the bridal bikini line she designed for Beach Bunny, which debuted at Miami's Fashion Week Swim this week and will go on sale in September, People magazine reports. In the past, Kate Upton has served as the face of the bridal line, whose veils look like a total nightmare, even without all the wind and sand.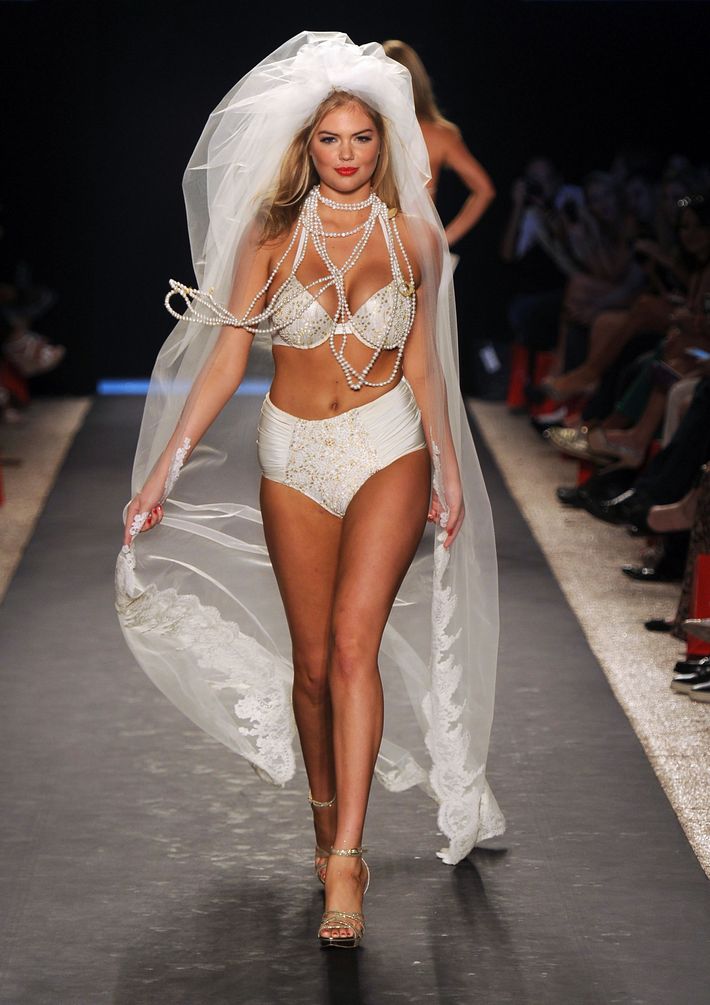 Teigen's designs were inspired by her planned honeymoon in the Maldives, where she and Legend first got engaged, during Obama's first term. It might also be her most legitimately newsworthy wedding plan yet. A crepe cake is one thing. "Bikini" is one of the hardest bridal looks to pull off, one reserved for the kind of woman who can rock an exposed garter. To date, only Pamela Anderson has been known to successfully deploy it, at her wedding to Kid Rock.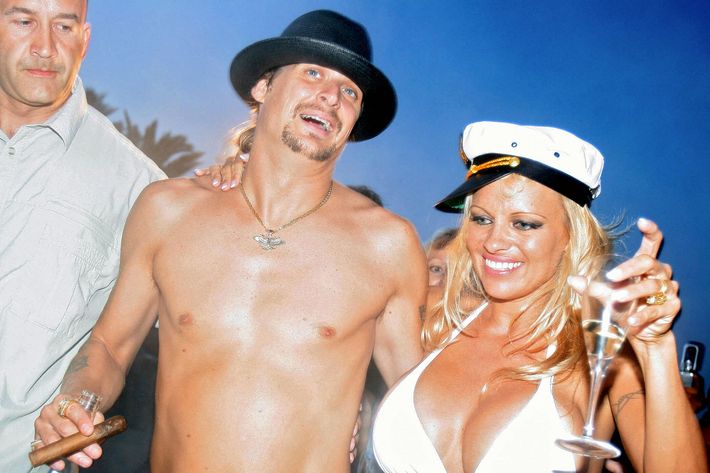 Teigen's designs feature Chantilly lace trim, Swarovski crystal detailing, and the word BRIDE, emblazoned on the butt. "While the swimwear had to be eye-popping as well as functional for honeymoon travel, it also needed to stand apart from other styles on the beach," she said of the butt-text. "So we added a little humor!" And so even those who don't read Us Weekly will know she's a bride, every day of her beach honeymoon and forever afterwards. Risk of Honeymoonster syndrome: high.