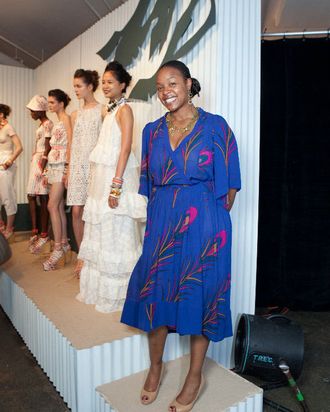 Photo: Courtesy of Nadiyah Bradshaw-Spencer
Before Suno was a CFDA-honored fashion label loved by celebrities and real girls alike, the company was just two people – founder Max Osterweis and designer Erin Beatty – and an optimistic idea that great fashion could sustain positive growth in developing countries. "It was just me and Erin in a room smaller than this," said Osterweis, in his new office on 39th Street. "We were doing everything ourselves — finding factories, managing factories, delivering to stores, sales, everything. As the company took off pretty quickly, we realized we needed to delegate." The first person they hired was Nadiyah Bradshaw-Spencer, who took over the production department, managing Suno's factories, fabric mills, and logistics, which often includes trips to Africa, Peru, and India to accomplish the brand's pattern-heavy aesthetic. "It's something a lot of people don't think about when they think about fashion," said Osterweis. "98 percent of the intern applications we get are for people that want to be designers." On a recent afternoon, Nadiyah Bradshaw-Spencer took a breather in Suno's showroom to tell the Cut how it goes down.
So what do you do as Suno's head of production and sourcing?
I like to make a designer's vision a reality. So Erin [Beatty] can put it on paper, then they work very closely with our sample rooms in New York. I'm involved in that, making sure samples come out in a timely manner, fabric is getting here, those things. Once the whole sample collection is done, it's given to me. It's my job to work with the various [fabric] mills to order and negotiate costs of fabric so we're ready for production. Can this even be a production-friendly fabric? What's the lead time on this fabric? Is this something we can afford to do? Then, I work very closely with sales. Once the collection is done and sold, I cost the line: What sells? What's the appropriate wholesale [cost]? What's the perceived value for retail purposes? We'll look at the collection as a whole and determine what will be [made] in Africa, what will be in New York. Peru and India are a bit easier because we've developed [samples] with those countries.
What's your favorite part of your job?
Hands down, going to factories is number one. When I'm in Kenya or India and I get to meet the tailor who is making our clothes, and I show them pictures of Rihanna or Beyoncé wearing it — or Kate Bosworth. They love her in India. It's amazing, particularly when you're in Kenya, the smiles you'll see on their faces. They'll see an African-American woman that's associated with Suno and they're like, Wow. It should be cool! I think that's what Suno tries to convey.
How do you decide where to produce the garments?
My goal is to make sure that no matter where I place [orders], they get our aesthetic; the quality is there. If the world was my oyster, we'd do everything [in Kenya], but the reality is you can't do everything there. I think the cachet of saying, "This was made in Africa," and the surprise on people's faces is exciting.
Nadiyah pulls a few samples from a rack holding Suno's resort 2014 collection.
This [white top covered with hologram paillettes] will be done in India; all our embroidery is there. We produced this [pant] sample in New York, but [the production] is going to Africa; it's a sturdier fabric, with easier manipulation of needle and sewing. The decision [often] comes down to Europe versus Kenya, and now New York versus Kenya and Korea. We use quite a few Korean silks, so in order to give customers a better price point, I just worked out a new sourcing strategy in Korea. A manufacturer in New York helped set up this operation in Korea for us, so there's a level of comfort. It's ethical. We feel safe.
You said it's ethical. That's something we hear about often now.
All the time. Meaning how [the workers] are sitting. How it's not a sweatshop. There are fans in the room. There are ACs in the room. They're not sitting on top of one another. There's not water dripping on the walls, and slime, and people with their heads down. For Suno, "ethical" means I can sit, as head of production, at a sewing table and sew a garment and feel like I am comfortable. That's what it means for us.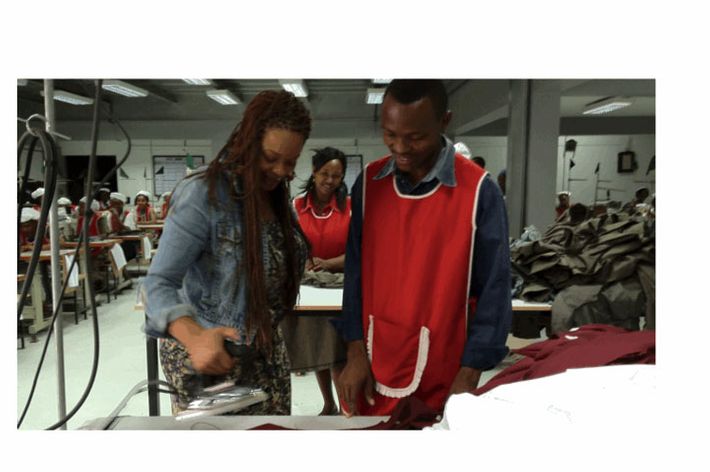 So it's really personal.
A personal situation where we don't feel like, "Oh, god. These people are living and working in sub-par conditions, and we're browbeating people to hit a price point." We try to make sure in each facility that we work with: Can I use the bathroom? Because if I can't use the bathroom that the tailors are using, that's a problem.
How often do you travel to factories, and where do you go?
I used to travel at least four or five times a year, and that was primarily to Kenya and India and Peru. But as we've grown, we have a lot of factory loyalty, meaning I don't have to create or start new factory relationships every season. I haven't traveled anywhere in 2013. Faridah, my assistant, was in Africa the last two times. We do have someone on the ground in Kenya, Ruth, who is our godsend. Ruth manages all and oversees all of our production in Kenya, and she's a Kenyan woman. I think that's our secret weapon. Ruth is actually our eyes and ears on the ground there, to make sure that these words we throw out – ethical and sustainable – are really happening. It's one thing to know that the Americans are coming. It's another thing to know that a Kenyan who lives around the corner is there and in the factory every day.
What's it like being behind the scenes during times like runway shows, or the CFDA Awards?
For me, it's calm! My job has already been put to bed. Meaning, I had to help get the samples done. I chill out. I'm like a spectator. I'm one of the few people at Suno who actually sits inside and watches the show. Max and Erin are backstage working with the stylist, helping dress the models. I have a glass of Champagne. I mingle. Suno invites the people who help make the garments – from the patternmaker to the tailors – to the show because they're such a pivotal part of the process, you want them to see the fruits of their labor.
And the CFDA Awards — were you there when they won?
I wasn't there. I did watch the livestream, and I stepped away like an idiot when they announced the winner. And I came back and I'm like, "Oh, my god. Oh, my god, they're on the stage." It was just huge. I started in fall '09, and the first collection was spring '08. I used to pack the garments, before we had a warehouse, and send them out to Opening Ceremony, to Ikram in Chicago. To see that small engine make it to this is surreal. It's amazing to be part of it.