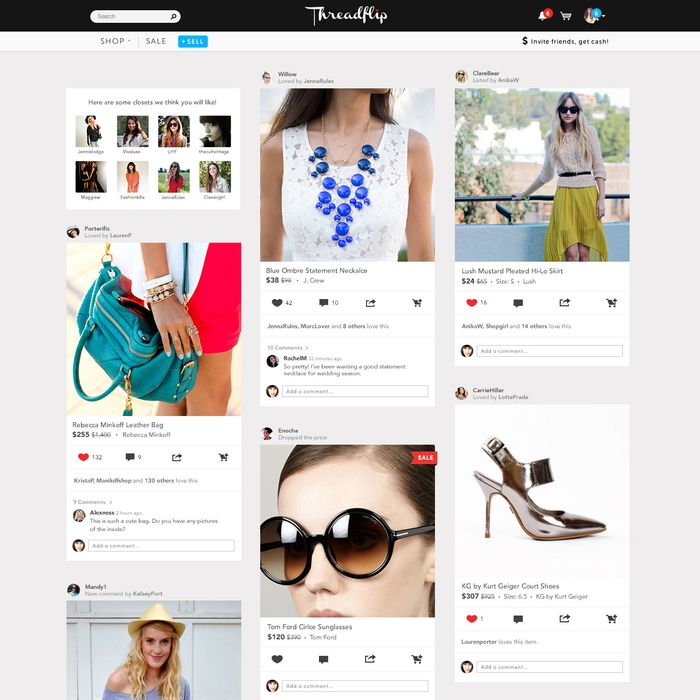 Photo: Courtesy of Threadflip
Threadflip, a "re-commerce marketplace" that encourages its all-female user base to both sell items from their own closets or browse and purchase from others, owes its existence to a single pair of $600 boots from a New York boutique. "Around three years ago, my wife and I were visiting New York and she bought a pair of boots. But for whatever reason, she never wore them when we went back to California," Threadflip CEO Manik Singh told the Cut. "One night, we had some friends over, and my friend's girlfriend ended up saying, 'Hey, those are my size, can I buy them from you?'" Shortly after witnessing this exchange, Singh brainstormed with his friend and co-founder Jeff Shiau to create an online space where stylish people like his wife, Theresa, would easily be able to clear out and revamp their wardrobes.
The site, which admittedly sounds like a fashion-focused alterna-world to eBay, includes goods at every price point. A Chanel handbag is featured alongside a piece of costume jewelry; contemporary items float around vintage finds. But what separates the site from everything is it's ease. Singh claims that Threadflip is the first re-commerce site that offers mobile, web, and a special concierge options they've coined "white glove service." It also helps that it only takes 30 seconds to list an item for sale. Right now, the company is shifting gears to focus on creating a community within the marketplace. "We're going to remove the 'one shoe fits all' concept of our platform, and everyone will see a different feed, tailored just for the user," he explained. Users will be able to follow their favorite sellers and brands, then receive updates each time a new item that fits their taste preferences is listed for sale. So much for cleaning out those closets.