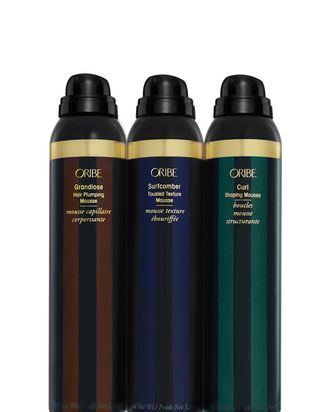 Mousse has surpassed its Full House days and is now one of the more versatile hair products you probably aren't using. "You can do things with mousse that you could never do with any other products," says hairstylist Oribe of the lightweight foam wonder. That's why he decided to introduce a new line of mousses to his eponymous luxury hair care line.
Each of the three products yields distinct results, but they all give hair shape and texture without sacrificing softness and shine. There's zero stickiness and crunchiness. Like all Oribe products, the mousses also contain the stylist's Signature Complex: watermelon, lychee & elderweiss flower extracts which defend hair from stress, photo-aging, and the deterioration of its natural keratin, while also protecting it from outside elements. Each mousse is  paraben and sodium chloride-free, which makes it safe for those with color- and keratin-treated hair.
Here's the breakdown on which bottle does what to your tresses:
Curl is a frizz-fighting mousse that leaves unruly curls supple, shiny, and light as air. It provides a nice mix of hold and moisture, which is essential for notoriously dry and uncontrollable curly hair.  It adds shape and definition to curls, while giving those with thinner hair added body and bounce.
Surfcomber creates Gisele-esque wavy hair. The hydrating mousse helps you achieve that effortlessly tousled look. It's not only great for coaxing bombshell waves on pin straight hair, but for adding definition for those already blessed with natural waves.
Grandiose works well for those with thinner hair looking for body. The heat-protecting formula leaves hair looking fuller, yet still soft and touchable. What's more, it also doubles as a toy if you're feeling a little bored. The luxe foam is so dense that you can throw a dollop of it up in the air and catch in in your hand like a ball (or throw it at unsuspecting victims in need of a good hair day).