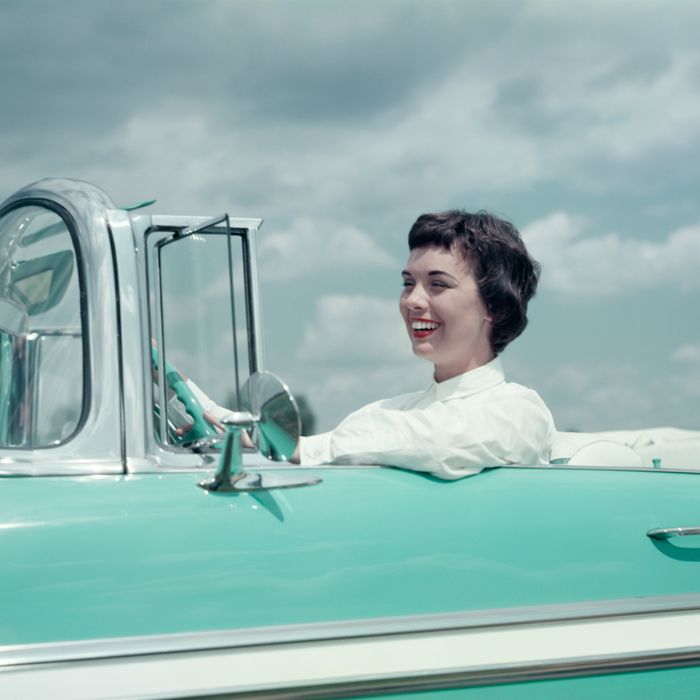 Photo: H. Armstrong Roberts/Corbis
The first time I took an international trip alone, I was faking it. Well, it's not like 20-year-old me pretended to fly to Paris and travel across Europe to visit a friend in Budapest. After failing to land a summer newspaper internship, I impulse-bought a plane ticket I couldn't afford. The deception was there from the start: For some reason I lied and told everyone it was a great deal. It wasn't. I told my parents I had enough money to see the trip through. I didn't. I told my then-boyfriend I was super excited about it, that I knew how to have fun alone. I didn't. I swore up and down that it wasn't a big deal that I didn't speak French or German or Hungarian and had no clue about the culture in most places I'd be traveling. I'd never been out of the U.S. before.
Hence all that faking it. I tried so hard to pretend I was the carefree world traveler I desperately wished I'd been raised to be. But in truth I didn't really know how to have fun alone. I was too scared I'd sound like an idiot ordering at restaurants, so I just bought bread and cheese from the grocery store and ate in public parks. I didn't make friends with other travelers. I walked until my feet felt like they were going to fall off, then walked some more because I wasn't sure how and where to relax. I probably would have had a better time if I'd just owned up to being the naive American girl that everyone else saw.
The perception is that 20-year-old me is the norm when it comes to women traveling alone. We might be accomplished professionals or on our third vacation to southeast Asia or just generally happy and confident out in the world alone, but the societal reflection is scared college girl who needs protecting. It's telling that the State Department doesn't offer "tips for men travelers." I was surprised when, after I quit my job in 2010 and embarked on a 5,500-mile road trip around America, how many people expressed concern for my safety, as if every national park and Sonic Drive-In were little more than clubhouses for rapists and murderers.
Like the act of going to a bar alone, traveling solo is a quick way to take the societal pulse about an independent woman. First and foremost, we worry about her safety. Then we feel a twinge of pity; she couldn't find anyone who wanted to come along? (In case you had any doubt that traveling couples are the default, consider how most hotels and other travel bookings cater to pairs.) And if she seems to be having a good time, we're even more confused. What is she hiding? She must be faking it.
By design, travelers are surrounded by total strangers — a population that women have been mostly socialized to fear. And, sure, there are still very real safety concerns in some parts of the country and the world. When I asked a friend of mine who's an avid solo traveler — Colombia, India, Croatia — whether she worries about herself while running around the globe on her own, she replied, "I get the occasional pang about maybe getting acid thrown in my face or sexually assaulted when I travel to countries that have a high level of economic anxiety or disadvantage in addition to a strong patriarchal culture. But I still seek it out because it stimulates me." She texted me this from the airport, about to depart for an impromptu trip to Baja.
And, of course, sometimes it does go bad. In a recent essay for The American Reader, Vanessa Veselka pondered the fate of several murdered women hitchhikers:
"These women weren't remembered, it seemed, because they hadn't been seen in the first place. And they hadn't been seen partly because there was no cultural narrative for them beyond rape and death. As such, women on the road were already raped, already dead. Whereas a man on the road might be seen as potentially dangerous, potentially adventurous, or potentially hapless, in all cases the discourse is one of potential. When a man steps onto the road, his journey begins. When a woman steps onto that same road, hers ends."
We could use a few more freewheeling, drug-fueled odes to the open road with female protagonists. Thelma and Louise, though undeniably fabulous, is two decades old.
Even when women are portrayed as out in the world alone, there's a twinge of pity. What extremely sad event or life shakeup led her to take this solo trip? This could be called the Eat Pray Love effect — named for Elizabeth Gilbert's bestseller about her global quest for spiritual wholeness in the wake of her divorce. A more recent example (and in my humble opinion, a much better read) is Wild, Cheryl Strayed's memoir of hiking the Pacific Crest Trail alone. While it's ultimately an empowering tale, it's another Oprah-endorsed female travel narrative that begins with more heartache and longing than wanderlust and curiosity. Other hikers are frequently confused by Strayed's solo presence on the trail. "You're way too pretty to be out here alone, if you ask me," one guy tells her. She hadn't asked him.
Yet whether they're heartbroken nomads or gleeful road-trippers, solo women travelers are actually the norm. In a 2013 poll of travel agents (ok, I'm already a little skeptical because who uses a travel agent? but let's roll with it), "agents reported that it's much more common for woman to travel alone than men, with 73 percent of agents polled noting that more female travelers embark on solo trips than their male counterparts." The average solo traveler is a 47-year-old female. Odds are she's not wasting much travel time sobbing to her boyfriend — who's back in the U.S., where he managed to land a highly coveted internship — from a pay phone in the common area of a dumpy hostel in Montparnasse.
Last month, ten years later, I embarked on the second solo international trip of my life. A travel magazine sent me to Osaka for a week, and I had a great time eating squid pancakes and offending salesgirls by accidentally stepping into dressing rooms with my shoes on and Instagramming neon signs and getting drunk with weird businessmen. I was not maimed or murdered, but I may have been pitied. It's hard to say. I was having such a great time, I didn't really notice.