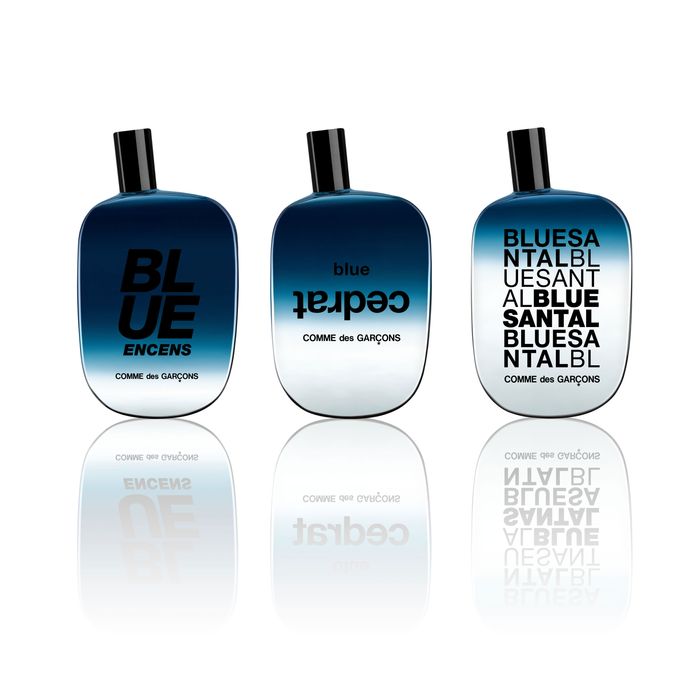 Photo: Courtesy of Comme des Gar?ons
Commes des Garçons' newest collection of unisex perfumes, Blue Invasion, plays mind tricks: Each of the scents includes warm, moody notes of incense, cedarwood, and sandalwood, but their individual, oversized, pebble-shaped bottles are painted in washes of metallic, cool ombré blue.
The odd couple pairing isn't so odd when you learn that each of the fragrances includes cutting, fresh notes to balance the warmth. This makes them completely wearable for even the hottest summer days. They're so crisp and refreshing, they'll trick you into feeling cooler. Here's the breakdown on each of the $125 fragrances:
Blue Cedrat: This one is centered around cedar but also has doses of rose, juniper berries, and Angelica root. Each time you sniff it, it'll remind you of your high school boyfriend, but all grown-up and responsible.
Blue Sandal: This sandalwood scent is cut with hints of pine, juniper berry, and blue pepper. It's a bit smoky, kind of how the air smells after a beach bonfire that has been snuffed out.
Blue Encens: Incense is the base here, but it also includes layers of black pepper, cardamom, cinnamon, and amber that'll give your nose a wintery notion. Yes, we know it's summer. It works.