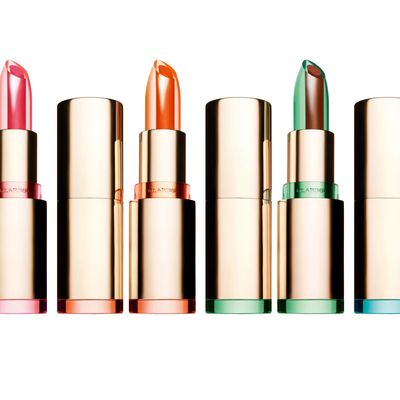 Photo: Courtesy of Courtin-Clarins
Were you ever that kid who liked to take a Jolly Rancher, lick it, then smear its sugary goodness all over your lips to tint them a cherry-flavored red? Yeah, well, Clarins' new summer lipsticks, the Crystal Balms, look and smell like Jolly Ranchers but leave behind a better color payoff. The lipstick-balm hybrids come in four punchy colors; while the green and blue options look a bit unusual, it's the center hue that really paints your lips.
The jelly-like exterior of each bullet is really just a clear, hydrating balm. So when you apply the lipstick to your mouth, the center leaves behind a full impact wash of color, while the outer part delivers a subtle touch of shine. The actual application is a bit tricky. When you smear it over your lips, the balm prevents an allover swipe of color, only leaving a trace of pigment on the inner parts of your pucker. You'll have to swipe it on, smush your lips around to more evenly distribute the hue, then go back and finesse or clean up the edges.
My personal favorite is Crystal Berry (the one with the bluish outer hue). Like the name suggests, it painted my mouth a flattering blackberry. Crystal Mandarin looked like my favorite popsicle flavor, but turns out I don't look great with orange-y lips.
The formula feels nice on the lips. Not overly heavy or too lipstick-like. It almost borders on a tinted ChapStick kind of feel but with more pigment. Even if you're not in a colorful mood, just smear the outside part on your mouth for a moisturizing swipe of clear lip balm. Just don't eat it afterward.