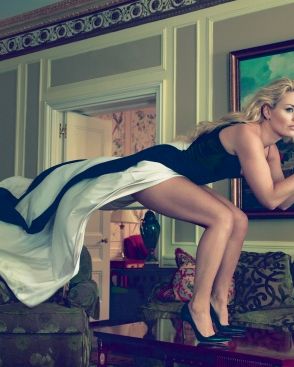 Lindsey Vonn, photographed by Annie Leibovitz.
Photo: Annie Leibovitz for Vogue
Vogue's August issue profiles Lindsey Vonn, the Olympic-gold-medal-winning skier and, more scandalously, the latest girlfriend of Tiger Woods. In true Vogue fashion, the article tiptoes around Woods's sordid history and instead focuses on Vonn's past hardships. Topics include her domineering father, messy divorce from former coach-husband Thomas Vonn, and subsequent knee injury, which has kept her from training since February. (Vogue awkwardly notes that Vonn's break from the slopes made her thighs much skinnier — ahem, "uncharacteristically slender" — all the better for Annie Leibovitz to photograph her doing bare-legged squats on a glass coffee table!)
But let's get down to business: What's it like to date Tiger?
"Tiger's fame is obviously in the extreme, the amount of scrutiny that he's constantly under," says Vonn, who as his girlfriend has had to get used to being regular tabloid fodder. "But that's the thing: It all comes back to being happy. It doesn't really matter what anyone else thinks; do what you love to do and be happy and that's it."

But don't expect a wedding, ever: "No, thanks! I am definitely not getting married. To anyone." She and Woods started off as friends after they met at a charity event in 2012. When Vonn got injured, Woods sent his private jet to pick her up from Austria (the billionaire athlete version of bringing over soup when one's crush has a cold). She explains:
"We immediately clicked, you know? It was just one of those things." For several months, it was a long-distance phone and text friendship. "We talked a lot, corresponded a lot, and he was a good friend who was always there. And then it became more."
So, nothing very juicy there, unfortunately. But props to Vogue for mentioning Vonn's notorious CFDA Award drug test:
… at Lincoln Center, Vonn was ambushed by the U.S. Anti-Doping Agency, who needed her to, um, pee in a cup, right then and there. That week in the tabloids: "Lindsey Vonn Drug Tested at CFDA Awards."
Can't we all agree that that was a spectacularly badass moment, though? She's so hard-core that agents tail her to an awards ceremony and make her hike up her designer gown in the bathroom! If anything, it's a compliment, and probably the most exciting thing that happened at the CFDAs this year.