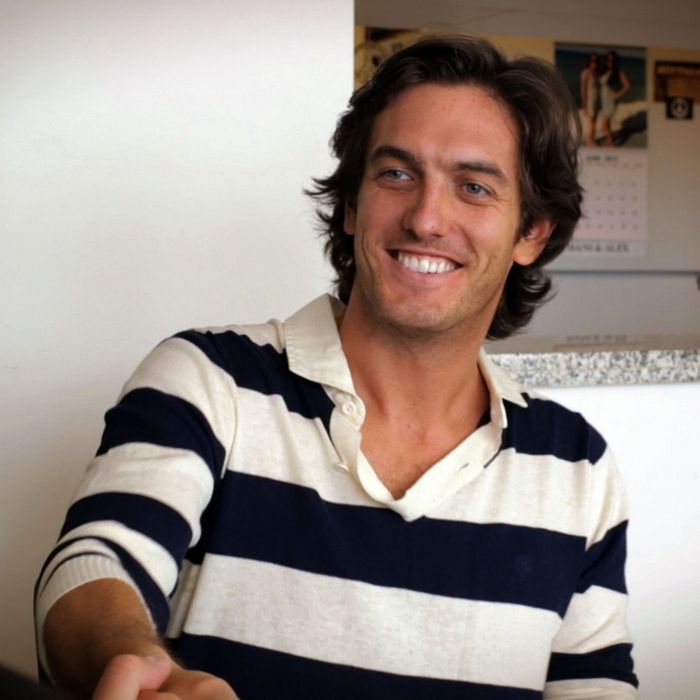 Photo: Courtesy of Andrew Jenks
Seven years ago, amid the flurry of his ascent into becoming a documentary filmmaker extraordinaire (who even scored a Scholastic book deal), Andrew Jenks penned a boy-meets-girl love story with a Before Sunrise simplicity. Then he put it on hold to focus on his other projects. If you don't recognize those blue eyes and shaggy brown hair from HBO, ESPN, or MTV, brace yourself — the 27-year-old actor-director-filmmaker is finally making good on that old script and shifting gears to play a hapless romantic lead in an eight-episode web series titled "It's About a Girl." Structured around one man's "fantasy" and "reality," you can watch as this improbably shy hunk summons up the nerve to approach his dream girl, played by Taryn Southern.
"At the end of the day, it's a love story," Jenks told the Cut. "You're just hoping that reality can catch up to the fantasy world — or at least that he has the guts to say hi to her." So is Jenks anything like the character he portrays in his new series? "I'm definitely a relationship guy. Obviously being single in NYC isn't perfect for a relationship guy, so I would say that I'm definitely in that reality realm right now," he laughed. As for his quest to find his ideal woman in real life? "When I walk down the street, especially during the summertime, there are so many beautiful women around, and I often think what the perfect woman would be like," he said. "I'd love to be with someone smart and funny — because I'm not." Swoon. Then swoon some more by watching the trailer below. And tomorrow, when your heart can handle renewed levels of swooning, watch the first episode of the series here. We guarantee that Jenks will look like a male model without even trying. Even when he's playing chess.