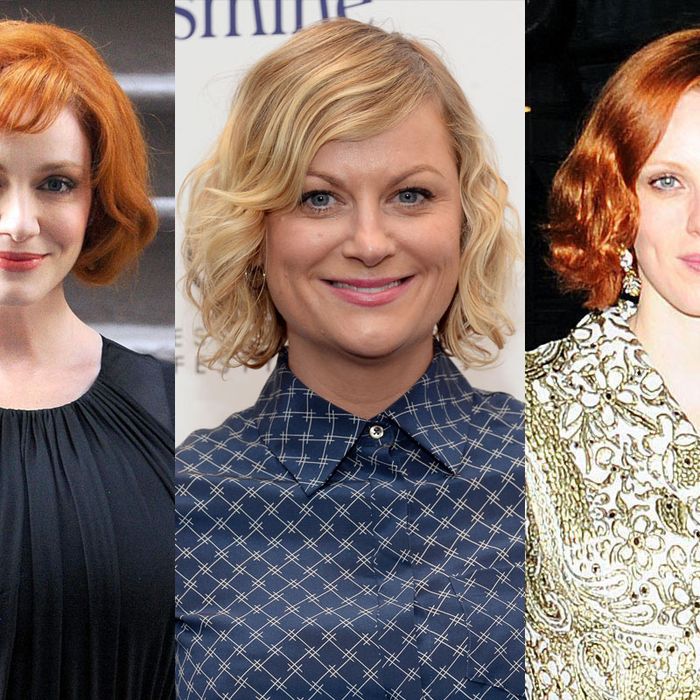 Photo: BFA, Getty Images, BFA
If you were out and about on Monday night in New York then you probably got caught in a surprise, but fleeting, rainstorm. No big deal for Amy Poehler, who showed up to the Blue Jasmine premiere at the MoMA with her pretty blonde bob styled into soft, frizz-free waves, despite the humidity. She could very well have gone the shellacked route, but Poehler embraced her hair's wavy tendencies. Another reason to love her.
The trick to this look are the tools you use — from styling products to mega-powerful blow-dryers. While we can't be sure what the actress-comedian's hairstylist used on her hair, celebrity hairstylist Alex Polillo has a pretty good idea (and it involves a fair amount of oil). Polillo has worked with Hailee Steinfeld, Rooney Mara, and Rashida Jones, but has also managed the natural curls of Lake Bell and Krysten Ritter. Read on to see his product tips and suggestions for achieving a look like Poehler's, as well as like Christina Hendricks and Karen Elson — they all opted for the wavy bob this week.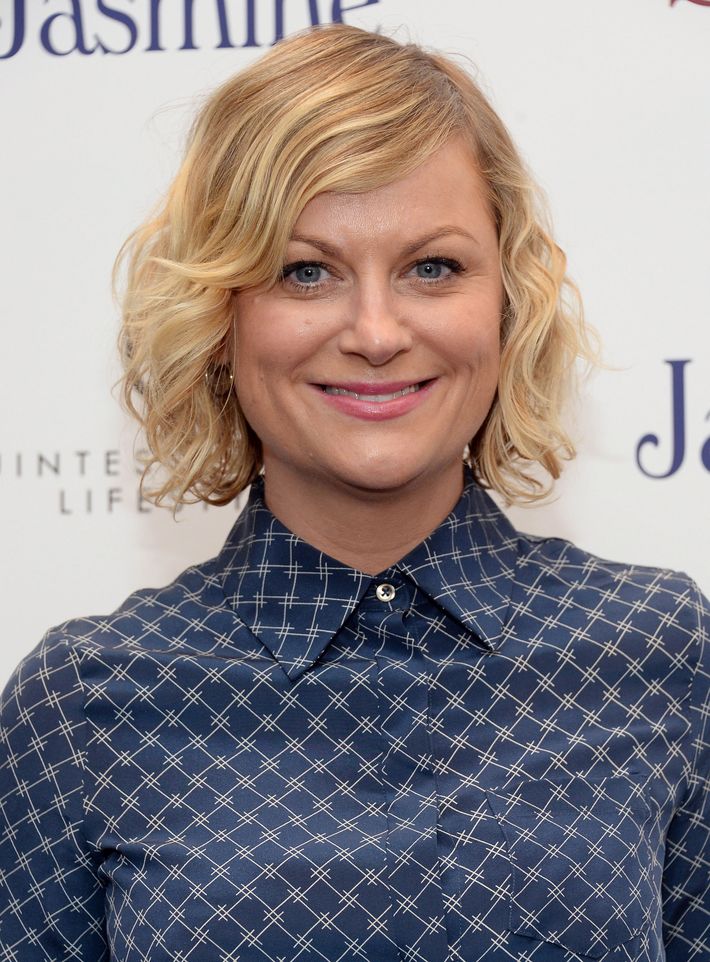 Amy Poehler
The tools: Davines Oi oil, a blow-dryer, and one-inch curling iron.
"Wash your hair, towel dry, comb it out, scrunch in some oil, then either let it air dry or blow-dry it. Since you're going to wave it, it doesn't really matter what it looks like. Then, using a one-inch curling iron, wrap [hair] around the barrel of the curling iron as opposed to using the clips, hold it tight, and then pull it loose so it gets a wavy effect."
Tip: "Scrunch the oil into the ends. Your scalp naturally produces oil, so your roots are pretty much taken care of. It's important to note that a little oil goes a long way; you don't want to get a greasy look."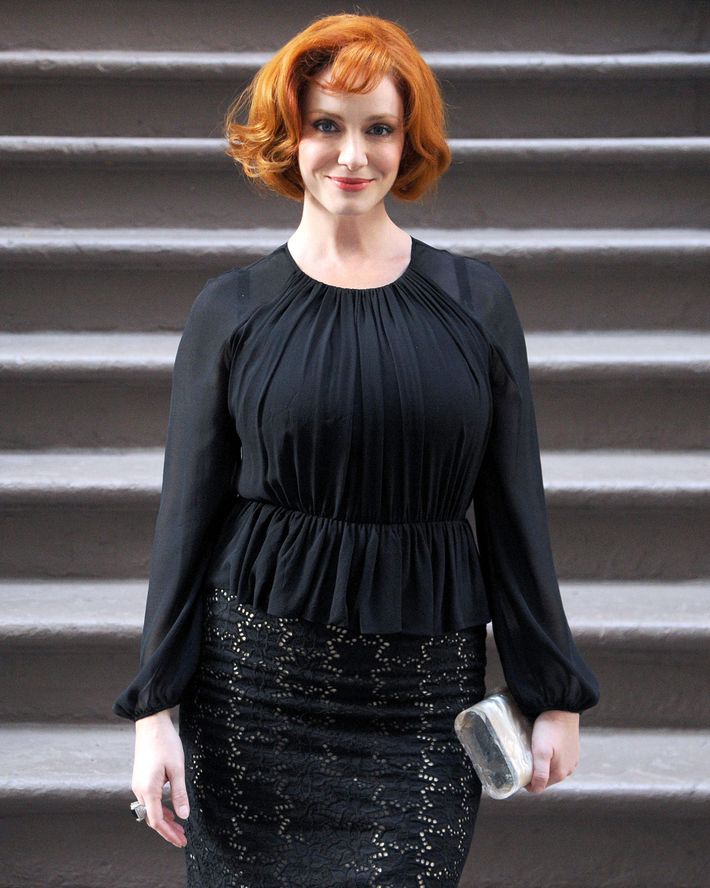 Christina Hendricks
The tools: PhytoVolume Actif hair spray, blow-dryer, ceramic rollers, and hair spray. 
"Apply PhytoVolume all over to wet hair and blow-dry it with a flat brush to get volume at the root. Then set the head in one-and-a-quarter-inch ceramic rollers, which stay hotter than Velcro rollers. Take the rollers out and brush it in the direction you want the hair to go. That will smooth out the roots and you'll just have the movement in the ends. Find your part, get the shape you want, and give it a good even coat of Elnett — or Rene Furterer makes a really nice hair spray for something like that. It's really thin and soft, but it will really hold it tight."
Tip: "A cream, like Bumble and Bumble Brilliantine, is really great as a finishing product because it's a cream with a little bit of oil, so it's really smooth and it also smells amazing."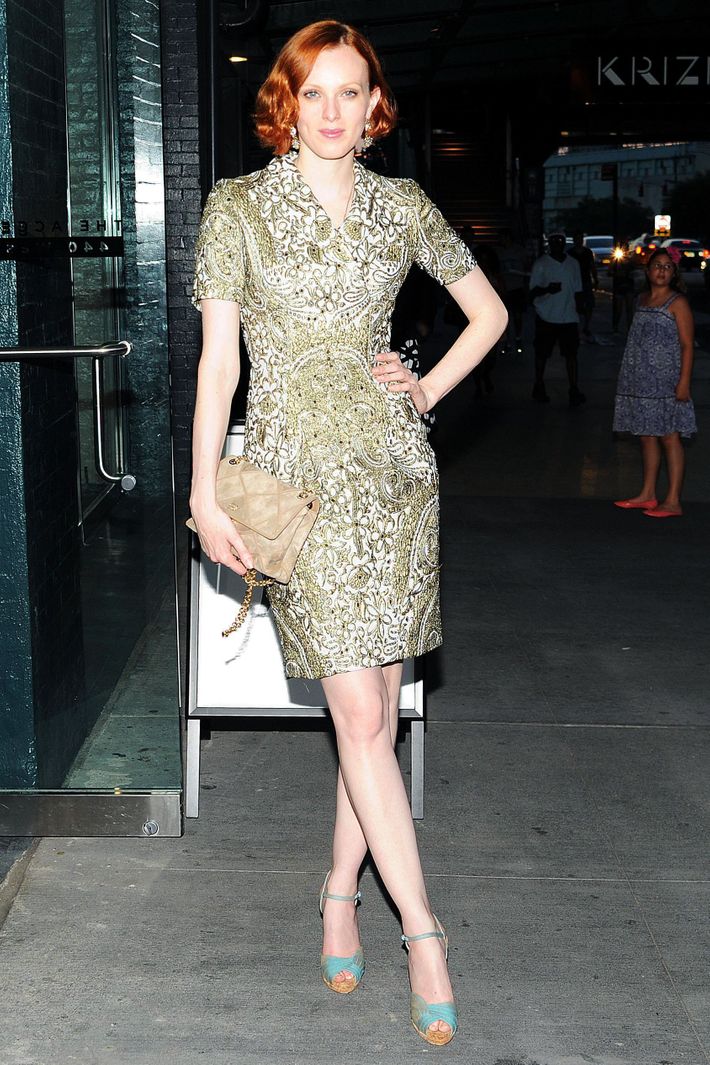 Karen Elson
The tools: One-inch curling iron, pins or clips for pin curls, John Frieda Frizz Ease, and Bumble and Bumble Hairdresser's Oil.
"It's the same idea as Christina Hendricks, but it's sleek to the head. Prep it with John Frieda Frizz Ease, just to give it a smooth blow-dry. Then you take one-inch sections to the hair with an one-inch curling iron and do pin curls in the front. Let those pin curls cool for fifteen minutes then brush them out."
Tip: "With Karen's you would definitely add some sort of shine oil or shine spray at the very end; just a couple drops to give it a nice shine and it will also keep the flyaways down."