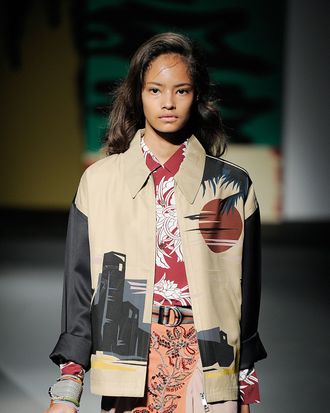 Photo: Catwalking/Getty Images
Modeling newcomer Malaika Firth made news this week when she booked her first campaign as the face of Prada fall/winter 2013. As Jezebel pointed out, the Kenyan-born 19-year-old, who also walked in Prada's menswear 2014 show, is the first black model featured in Prada ads since Naomi Campbell in 1994 (19 years ago). The casting is a huge get for the model, whose sophisticated and stunning beauty, with those enviable cheekbones, and, yes, resemblance to young Naomi Campbell make her a natural fit for the campaign. But the announcement also adds a new dimension to an ongoing conversation about race in high fashion.
On the heels of last Friday's Firth news, Raf Simons also cast six black models to walk in his noticeably diverse couture show yesterday. It was the first time since joining Dior that he used any non-white models on the runway. You might take that as criticism, but he's also being lauded for finally including non-white women. Taken along with Prada, does this mean there is finally major progress when it comes to fashion race relations?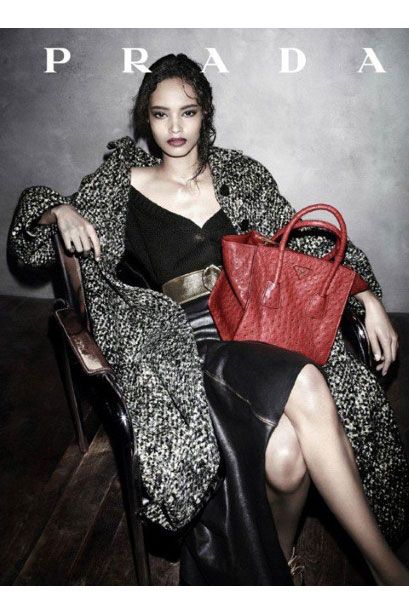 There are two things to note. First, given that the entire continent of Africa was part of Simons' inspiration for Dior's fall 2013 Couture, it would have been tough (and offensive) if he hadn't cast black models to model the clothes. Also, in a Buzzfeed article earlier this year, casting agent James Scully criticized Dior, saying, "I feel the Dior cast is just so pointedly white that it feels deliberate. I watch that show and it bothers me — I almost can't even concentrate on the clothes because of the cast." Was Simons's decision to think both multiculturally and then cast black models a direct response? Does it even matter? In my opinion, no. It's not the most subtle answer to a valid call out, but it's encouraging to think that Simons was listening. And the resulting action meant that Joan Smalls, Alek Wek, Maria Borges, Grace Mohary, Yasmin Warsaw, and Kelly Moreira were all present on a runway that hasn't seen a black — or any other minority —  model for the past seven collections.
According to Styleminutes, 90 percent of the models who walked at the 2013 fall/winter shows were white. And instead of using black models, certain designers have resorted to applying black arm. Jourdan Dunn bravely commented on the lack of other black models earlier this year: "I do a show and I look around and it's just me," she told the U.K.'s The Jonathan Ross Show. And even today, when she tweeted about being cut from Dior's runway show thanks to her bra size, she mentioned she normally gets cut for being non-white. To point out fashion's lack of diversity is really not a new argument, but it is getting to be a pretty tired one.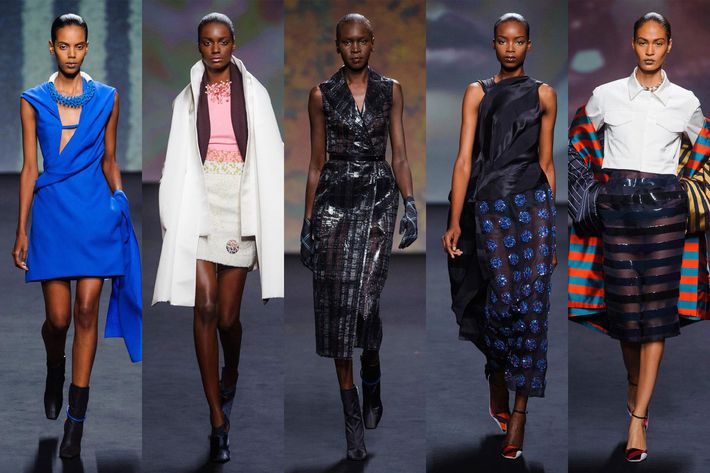 In other words, Dunn's rejection for reasons other than race shouldn't be a happy surprise for the model. Casting non-white models shouldn't be so rare, it's immediately headline-making news. While Prada and Dior are being noticed for changing their game, there's very little evidence of this being anything other than another exception. It's not a movement toward permanent change, yet.
Let's hope that Firth's career does explode, Simons only casts six white models next season, and that we, someday, can focus on all models — black, white, or otherwise — for their beauty, their cheekbones, or their walk, and not because they're simply minorities. To do that, it'll obviously take more diverse models than these lucky seven.