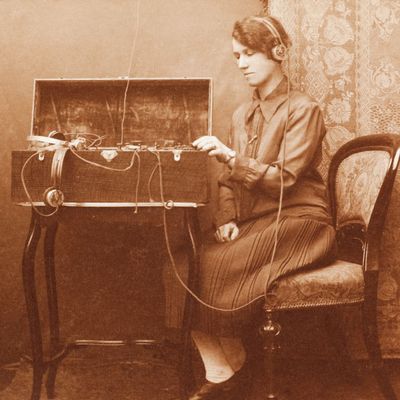 Photo: Chris Price/iStockphoto
Technology has been complicating romance for longer than we thought: Tech blog Collision Detection unearthed a Victorian example in Wired Love: A Romance of Dots and Dashes, a novel about a telegraph operator who falls for a mystery man she meets "on the wire." Mistaken identities and madcap antics ensue. "I hope sometime we may clasp hands bodily as we do now spiritually, on the wire," the enigmatic "C" tells heroine Nattie Rogers.
Here's a scene where Nattie and friends wonder if "C" is misrepresenting himself — a phenomenon modern audiences might call catfishing:
"It must be very romantic and fascinating to talk with some one so far away, a mysterious stranger too, that one has never seen," Miss Archer said, her black eyes sparkling. "I should get up a nice little sentimental affair immediately, I know I should, there is something so nice about anything with a mystery to it."

"Yes, telegraphy has its romantic side — it would be dreadfully dull if it did not," Nattie answered.

"But — now really," said Quimby, who sat on the extreme edge of the chair, with his feet some two yards apart from each other; "really, you know, now suppose — just suppose, your mysterious invisible shouldn't be — just what you think, you know. You see, I remember one or two young men in telegraph offices, whose collars and cuffs are always soiled, you know!"

"I have great faith in my 'C,'" laughed Nattie.

"It would be dreadfully unromantic to fall in love with a soiled invisible, wouldn't it," said Miss Archer, with an expressive shrug of her shoulders.
Written by former telegraph operator and future suffragette Ella Thayer Cheever, the novel is in the public domain and can be read in its entirety here or here. Collision Detection's summary is here. I'll avoid spoiling Wired Love's thrilling plot twists, but suffice to say, there is a riveting scene in which a handsome stranger seems to be drumming a pencil idly on the side of a table — or is he sending Nattie a message in the dot-and-dash language of telegraphic love?!
If only Carlos Danger had been so poetic.