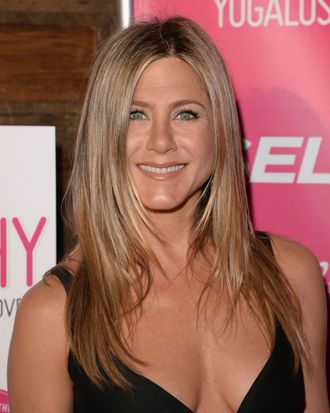 Jennifer Aniston.
Photo: Jason Merritt/Getty Images
The obvious selling point for Jennifer Aniston's new movie We're the Millers is that she plays a stripper (yes, she has a real stripping scene, and no, she doesn't take off her bra or underwear). So now she's stuck fielding questions about what she ate on set, because she refuses to talk about her wedding, and what else could journalists possibly ask her about? (One gentle suggestion: In Glamour's latest issue, she references a time when she "almost went to a strip club in North Carolina." More on that night, please.)
Anyway, on to the diet quote, because that's probably why you clicked here in the first place: When Access Hollywood asked her if she consumed any food at all on the day of her strip scene, she admitted that she succumbed to a gluttonous feast of leaves: "I did eat that day. I was on a very like, you know, greens and vegetables and lean proteins and kale … When I really wanted to have a cheat day. I had to have a kale chip." Ah, so kale chips are the new dried oatmeal paste. Or, since it was a "treat," perhaps a half potato?