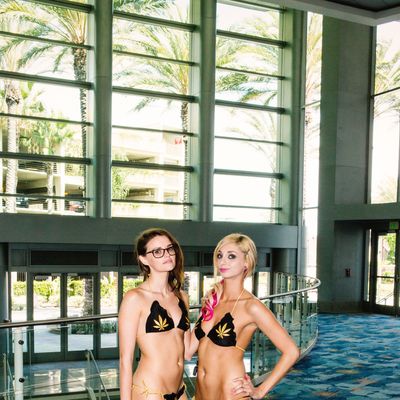 I was driving down the 110 last weekend when I saw a billboard: KUSH EXPO. Then, in slightly smaller type, HOT KUSH GIRL CONTEST. I tried to imagine the contenders: tattooed women in green string bikinis posing with suggestively large bongs, looking like they would be equally at home on the playa at Burning Man and in the pages of Maxim. The words "kush girl" did not evoke mental images of women I know who are enthusiastic about marijuana — women who are likely to smoke slouched on their sofas at home, bra-less in the not-sexy-just-comfortable way, while watching Netflix Instant on a laptop. My interest was piqued, so I ordered tickets to the Expo as soon as I got home.
I live in Southern California, the spiritual stoneland of the American weed enthusiast. Medical marijuana has been legal here since 1996, and socially acceptable since long before that. There is little risk or stigma associated with being a casual pot smoker if you're not someone who is already likely to be targeted by the police (read: it's cool if you're white and relatively wealthy). While California does not have the country's most liberal marijuana laws — Colorado and Washington states voted to decriminalize it in 2012 — we probably have the most developed weed culture; many Californians don't just smoke marijuana but actively identify as a participant in the industry around it, as a peer of people who use it, or as an activist for its legalization. And, as Wendy Chapkis, a professor of sociology at the University of Southern Maine, writes in a new academic article, "contemporary cannabis culture is at once delightfully libertine and deeply sexist."
In regard to the Kush Expo, it makes a certain amount of sense that, even here in California, a public gathering of self-identified stoners would be catering explicitly to straight men. Twice as many men as women say they use marijuana more than once a week. But that stat may not reflect women's actual usage. "I actually work at a dispensary in L.A. and can tell you there is no question that 80 to 90 percent of customers are men," writes a reader of Andrew Sullivan's blog. "I am equally certain that most of them smoke with their girlfriends when they get home."
So, even though I know plenty of women who are enthusiastic smokers, I end up heading to the Kush Expo with three men. As we drive the 45 minutes down to Anaheim, we discuss the more bro-y aspects of weed culture. They've all had friends recommend certain dispensaries based on the hot "bud tenders" at the front counter. An employee at a Denver dispensary recently told GQ, "We prefer female bud tenders. Females just sell a lot more weed. Guys like to buy their weed from females. And girls like to buy their weed from females."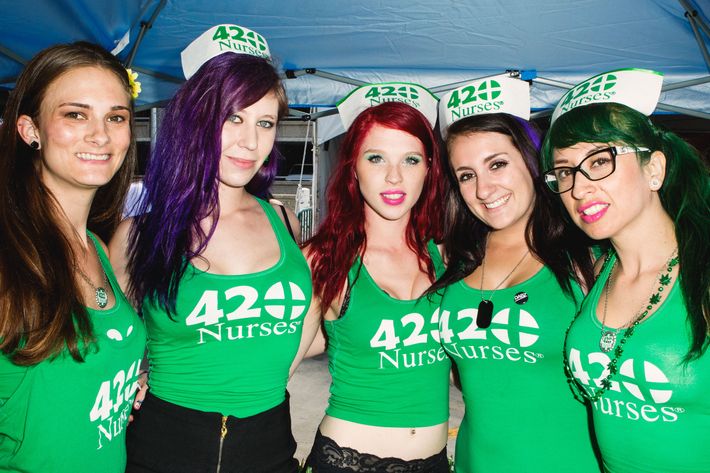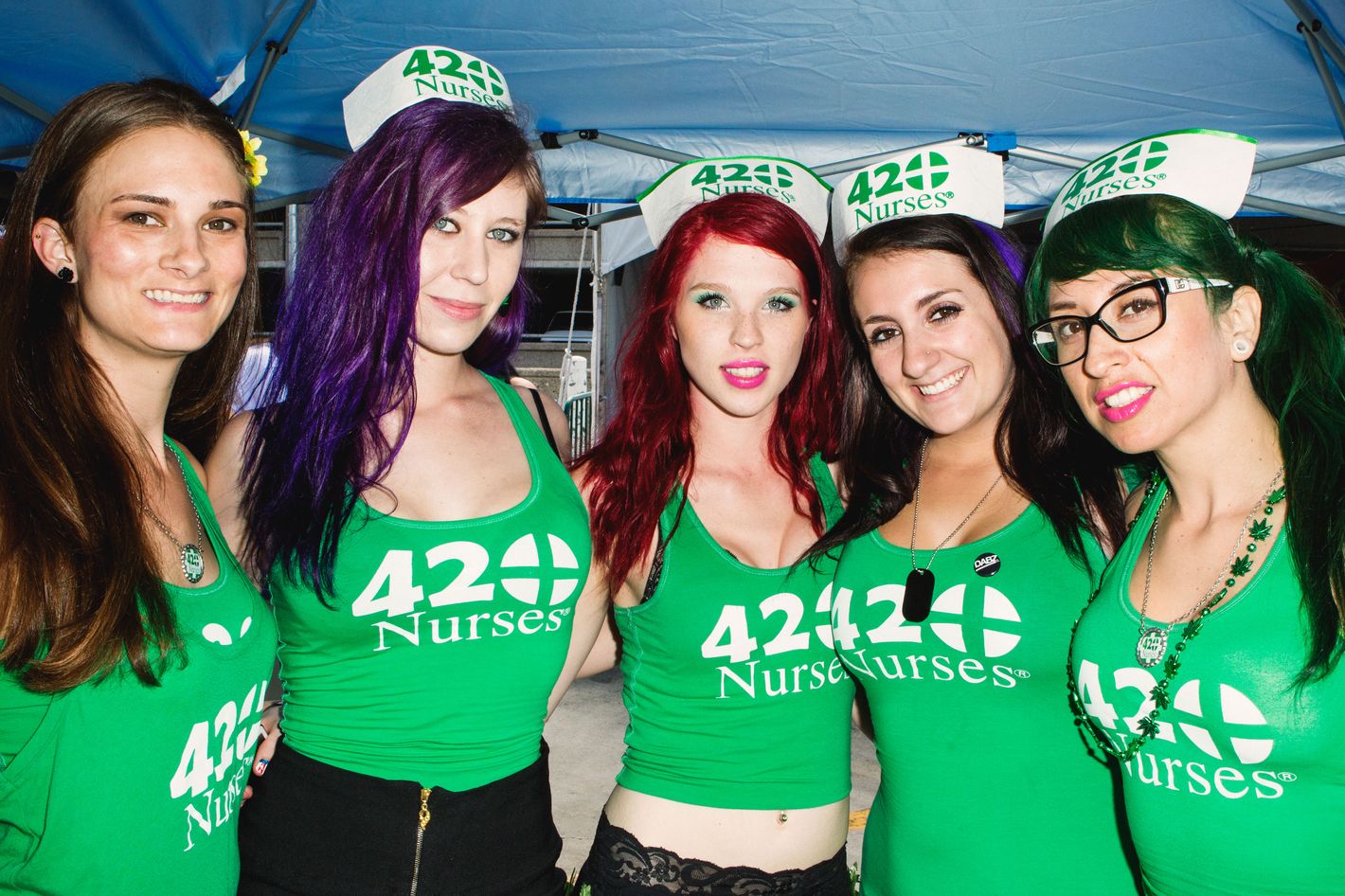 Indeed, when I put out a call on Twitter asking women weed smokers to chat with me about their experiences, a few of them echoed my male friends' observations about this gender dynamic. One San Franciscan complained that there's "so much boobage" at certain dispensaries. "Most other female stoners I know are super low-key, and it makes you wonder where these magical, spandex-wearing boob fairies came from." But the increasing social acceptance and legality of weed may be bringing more women out of the cannabis closet. "In the early aughts, when I started smoking, I noticed that a lot of women smoked out of glass and eschewed rolling joints or blunts. These girls usually smoked in some kind of secret, perhaps because, as my mom tells me, marijuana is unladylike," a Californian wrote me. "But with legalization and a cultural shift, I've seen a lot of women become weedheads."
If there is a shift, it's certainly not reflected in pop culture. When movies and TV shows feature women smoking pot, it's almost always as an act of rebellion or breaking character, and every once in a while you'll get a Meet the Fockers–style mockable hippie-mom type. There are a few depictions of women smoking at home as a way to blow off some steam and bond with each other. In 9 to 5, a film released back in 1980, Jane Fonda, Lily Tomlin, and Dolly Parton's characters get stoned together and fantasize about how they will exact revenge on their boorish boss. The 2012 lady-bromance For a Good Time Call features heroines who regularly smoke. But the examples are few and far between.
In pop culture, "stoner" and "slacker bro" are practically synonymous. The modern slacker-stoner, Chapkis writes, "resists the conventional expectations of manhood" to be an ambitious breadwinner, as well as the sixties political, countercultural associations with weed. He's just kinda … hanging out. "The slacker attitude relies on a mismatch between expectation and condition; this is why it is most available to white heterosexual men with some measure of class privilege," Chapkis writes. "The slacker's refusal to work hard and assume 'adult' responsibilities doesn't function quite the same way for people of color and women who are already saddled with a stereotype of dependency."
This is perhaps why so many women are hush-hush about their kush. Most women I spoke with said they didn't feel they could publicly own up to their marijuana use, even in cases where it was truly for medicinal purposes. "I do not feel part of a 'weed culture,'" a Canadian woman wrote me. "I am not someone you would ever suspect smokes pot. I've always been kind of proud of that fact. I have my shit together." This sentiment was covered in a great 2009 Marie Claire feature on "stiletto stoners," women who dominate in the workplace and opt for weed over white wine when it's time to unwind at home. "One in five women who admitted to indulging in the previous month lives in a household earning more than $75,000 a year," according to the article.
The fact that lady stoners are playing against type is something that can offer a veneer of protection. "As a white lady within the context of Chicago, I feel safe carrying weed and will smoke discretely and openly in the outside parts of the city I frequent," one woman replied to me. "This is definitely due to the racial problems that the city has. I'm privileged in that I am not at all what they are looking for." But even with racial profiling on her side, she still feels most comfortable smoking with other women. "I have a handful of girlfriends locally and we can smoke in front of each other freely, but I don't have that level of comfort in all settings or mixed company," she wrote. "It makes you seem like super-cool laid-back dudebro if you're doing it, but I'm not sure that assumption carries over to women."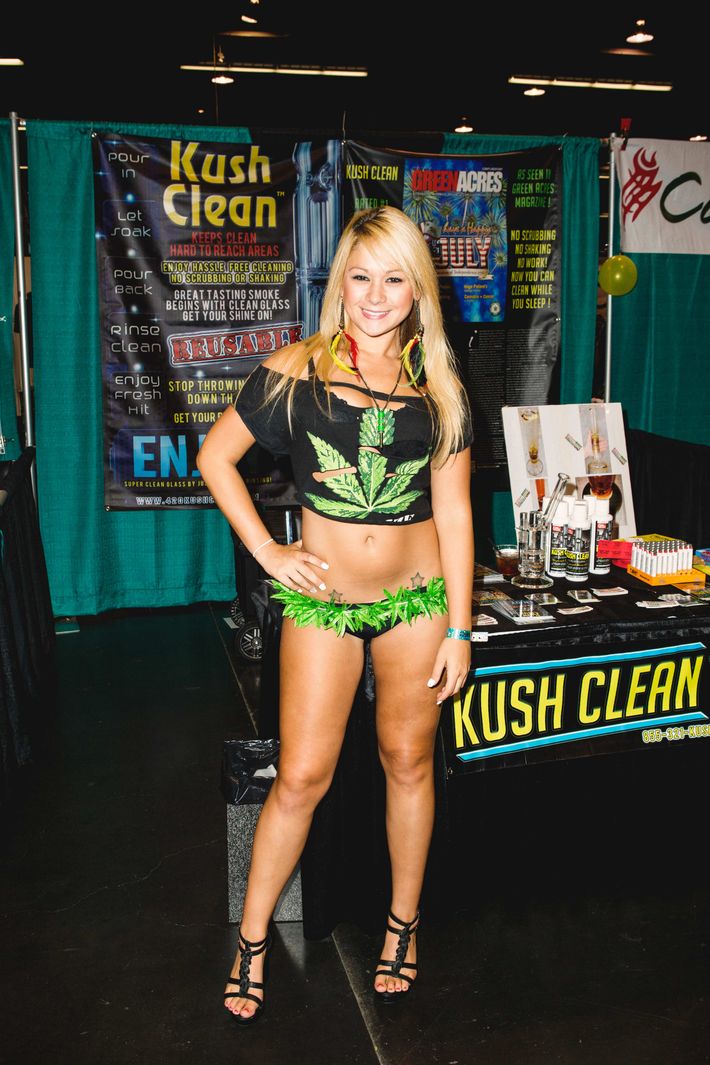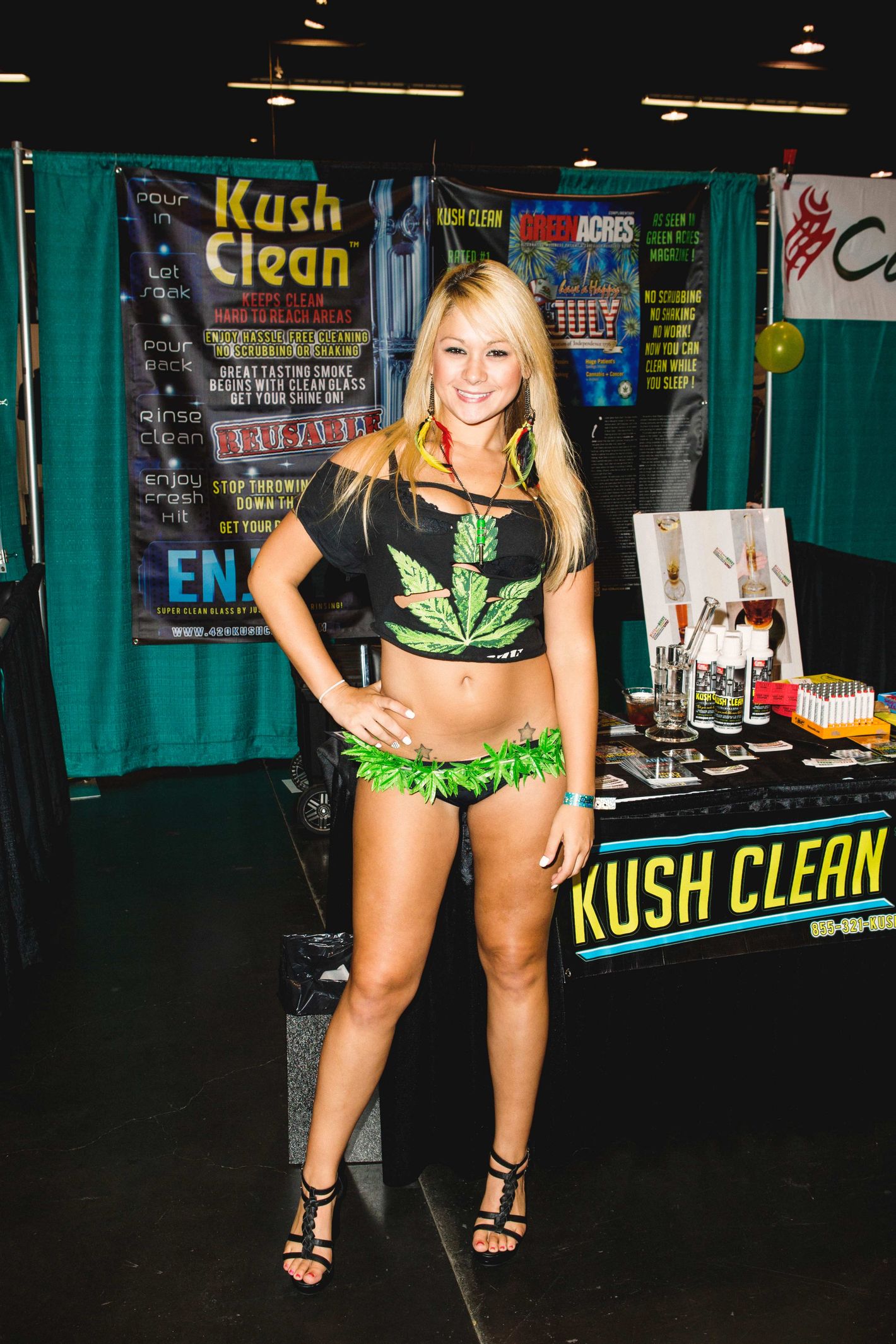 I don't expect to find many women who look like me taking bong rips under the fluorescent lights of the Anaheim Convention Center. And I'm not surprised. Turns out the Kush Expo is like any other convention centered around what's seen as primarily a male interest: Lots of booths, lots of booth babes. One of them, CJ Hensley, is sporting a tiny shredded shirt with a pot leaf on it and a black lace bra peeking through. There is a wreath of plastic pot leaves around the band of her bikini bottom. "Dressing up is part of the fun," she tells me. Hensley has been at the Kush Clean booth, selling pipe-cleaning products and anti-bacterial wipes to germophobic social smokers, for three years now — ever since she turned 18, "got a medical card and became a proud stoner." I ask her if men are always hitting on her. "Yeah," she says, rolling her eyes, "but I kind of ask for it. They're usually too stoned and happy to do anything weird."
I decide to seek out a few non-bikinied booth proprietors. Miranda Baskharoon, who owns a couple of cigar shops in Southern California, is selling glass pipes and mini-vaporizers. She says she gets a lot of women customers at her booth. "They approach me when they see a woman standing back here," she says. "I don't feel that my bikini or my body sells the product. I don't need to sell my body."
Baskharoon introduces me to Stephanie, another vendor who's selling THC-infused cupcakes she bakes herself. She has long, wavy blonde hair and is wearing a spaghetti-strap sundress in a purple-paisley print. She and her husband, Buddy, have been selling their potent snacks at various weed conventions for about a decade. Last year at Kush Expo, they won first and second place for best edibles and concentrates. "Call us Mr. and Mrs. Nuggets," she says, "because of the federal scrutiny." Many of her customers are women who don't fit the stoner stereotype — breast-cancer survivors and people with arthritis. Slowly but surely more public-facing venues for weed culture, like the Kush Expo, are starting to reflect that cohort. "As the years have gone by, the maturity has gone up," Stephanie says. "I think the frat-party-ness has faded away."
But even as the culture grows up and the industry becomes more professionalized, the sexism remains entrenched. The leaders of most major drug-policy-reform groups are men — some of whom have a history of harassment. In a new research paper on the gender dynamics of the marijuana-growing community in Northern California, sociologist Karen August found that "nearly all" business transactions were made by men, while women are "heavily involved" in work like tending plants and making edibles. She references Craigslist ads with titles like "Girl Trimmer Needed" and "lady trimmers wanted." Several of the ads are overtly sexual: "Need a good looking trimmer that is Dtf." Or, "looking for new help, topless extra." "There are a few successful women growers," August writes, "but more numerous are the smaller marijuana-related cottage industries operated by women" selling paraphernalia, clothing, posters, and other knickknacks with marijuana themes. Precisely the sort of thing on sale at the Kush Expo.
As I look around, I see far more nearly naked women than female small-business owners. I approach Amber Kidd and Jennifer Rodriguez, two tattooed girls with heavy eyeliner and metallic hot pants who are handing out stickers, and ask if they're participating in tomorrow's Hot Kush Girl competition I saw on the billboard, which is advertising a $1,000 cash prize. Their shake their heads no — not because it's sexist but because they think it's rigged. "I don't participate," Rodriguez says. "You get up there half-naked and do whatever they tell you, and in the end someone's girlfriend wins." Even when you're a hot kush girl, you don't quite belong.