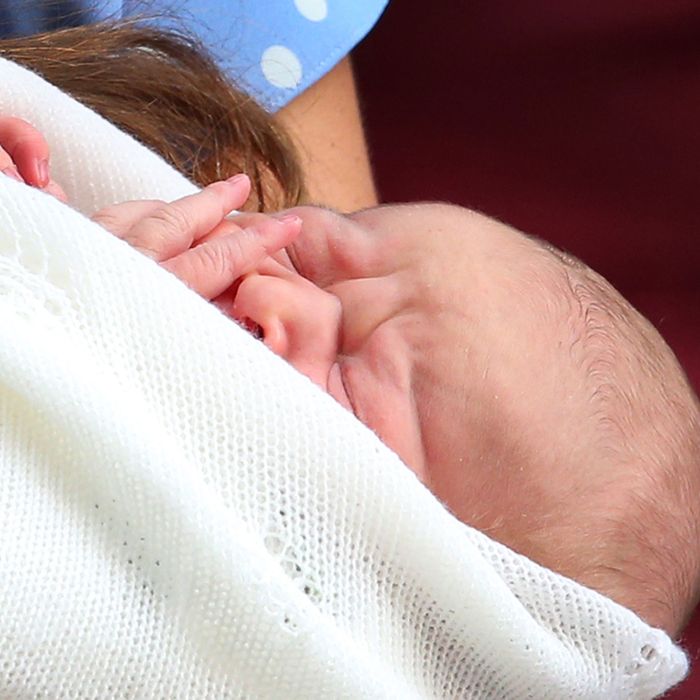 The royal baby.
Photo: Peter Macdiarmid/Getty Images
The royal baby's gender is the most interesting of the three facts we know about him so far (the other two are his weight and time of birth, which are relatively inconsequential). He's also the first royal heir whose gender doesn't matter, in terms of his rank. Thanks to a recent change in crotchety old succession laws, Kate Middleton's firstborn is third in line for the throne regardless of its sex; previously, an older daughter would be usurped by a younger son, but that's no longer the case.
Everyone's fussing over the little prince's maleness because there isn't anything else to talk about yet. Last night, the fountain in Trafalgar Square was dyed a milky robin's-egg color, while the London Bridge got blue lighting. Royalists waved "Little Prince" balloons outside the hospital, and newspapers around the world slapped cheesy "Oh Boy!" headlines on their front pages. Today, both Kate and Will wore light blue when they left the hospital (the baby, on the other hand, was wrapped in a white blanket). He doesn't yet have a name or even a real face. So far, his sex is his only defining characteristic.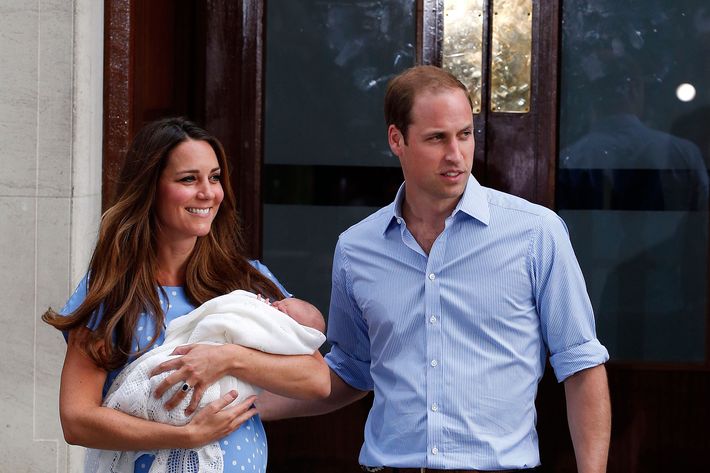 The baby's gender was a total surprise. Bookies were betting on a girl, although the royal couple kept it a secret, even from themselves — the palace confirmed last month that they'd chosen not to learn the sex of the child before the birth.
There were two distinct reactions to the gender announcement, which occurred via press release, Twitter, and easel yesterday afternoon. One was that of disappointment, while the other was one of blatant sexism.
Initially, several journalists tweeted their dismay at the news:
On a superficial level, it's understandable why Kate Middleton fangirls hoped for a baby princess: They wanted to see the duchess dress up an adorable daughter. Female celebrity children are generally more popular than males — see Suri Cruise, for example, or even the Obama daughters, whose cute outfits are the stuff of national news.
Other outlets took a more feminist angle, proclaiming that a female heir would be superior. Cosmo wrote yesterday:
Gone is the dream of a modern Queen, winning over the world with her Diana and Kate-like grace, decadently clad in designer to boot. Bros will be ruling the British kingdom 'til most of us are dead: Prince Charles, then Prince William, then the as-yet-unnamed Prince of Cambridge. 
But let's remember that the royal family is hardly at the forefront of gender politics. Their role is to maintain tradition, not buck it — Kate wears nude hose after all. She and Will are by far the most modern royal couple in history, but pushing boundaries is not their main agenda.
Moving on to the second (and far more disturbing) reaction, which was a thoughtlessly sexist one: CNN correspondent Victoria Arbiter praised Kate for having a son, as though conjuring a baby penis with her uterus were some kind of extraordinary feat.
This is how brilliant a royal Kate is… There are women throughout British Royal Family history who have panicked over not being able to deliver a boy and here we are. Kate did it — first time.
"Kate did it"? What makes this comment sound even more ignorant is that, in addition to the new gender-neutral succession law, Britain hasn't had a king since George VI died in 1952. Most Brits have never known a male monarch. The Anne Boleyn comparison is not only outdated, it's totally irrelevant. Nevertheless, the Daily Beast's Tina Brown, who has written extensively about the royal family since the Diana days, claimed that the royal family was more pro-male-heir than they were letting on:
But perhaps it's the public that wants to cling to the royal family's crusty reputation as son-hungry troglodytes. People are fascinated by those Old World, outdated traditions — that convoluted easel nonsense, for example — and much as they complain about it, it still gives them something to gawk at. The royals are one part fairy tale, two parts sordid beach read. Like most celebrities, they'll always be portrayed as ridiculous and slightly cartoonish rather than positive cultural figureheads — or just normal, procreating humans who will be equally grateful for a boy or a girl.
Never has so much been said about the sex of an infant that can barely open his eyes, but some took the sexuality discussion a step further.
There has never been an openly gay British monarch, but a recent poll shows that the British public would be perfectly happy with it. Perhaps this little guy could be the first! It's bound to happen sooner or later.
The newborn prince will be scrutinized throughout his entire life, and he'll soon give the world plenty of things to talk about besides the existence of his penis. Meanwhile, let's be glad that this is the only aspect of his otherwise totally normal and healthy birth to discuss.