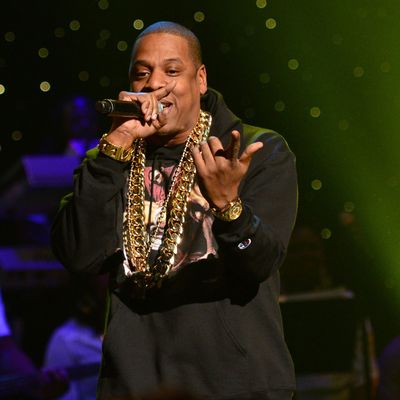 Jay-Z.
Photo: Prince Williams/Getty Images
Jay-Z has been in "secret talks" with Barneys, WWD reports, which could mean one of several things: (1) Nothing, (2) He'll be in one of their ads, or (3) He'll be the theme of this year's holiday campaign. The latter option seems likely — Barneys has gone increasingly bananas around the holidays in the past few years, partnering with big names like Lady Gaga and Disney for huge branded extravaganzas.
For last year's Disney theme, Barneys commissioned cartoons of Anna Wintour and Carine Roitfeld and special Mickey Mouse–themed merchandise. The year before that, they partnered with Lady Gaga, unveiling an entire department called Gaga's Workshop that sold unicorn stockings and platform-shoe-shaped cookies under the watchful eye of an enormous and rather terrifying Gaga statue. (Most of these items wound up deeply discounted at subsequent warehouse sales.)
So, what would a Jay-Z holiday theme look like? Some baby tees with Picasso prints on them? Tom Ford stuff? More important, WOULD BABY BLUE BE INVOLVED? Nothing would forever convince a child of Santa's existence like an entire department store done up just for her, complete with special Blue Ivy ornaments, cookies, and window decorations. Then again, we're talking about a 1-year-old who gets custom Tom Ford baby heels, so every day is like Christmas for her already.