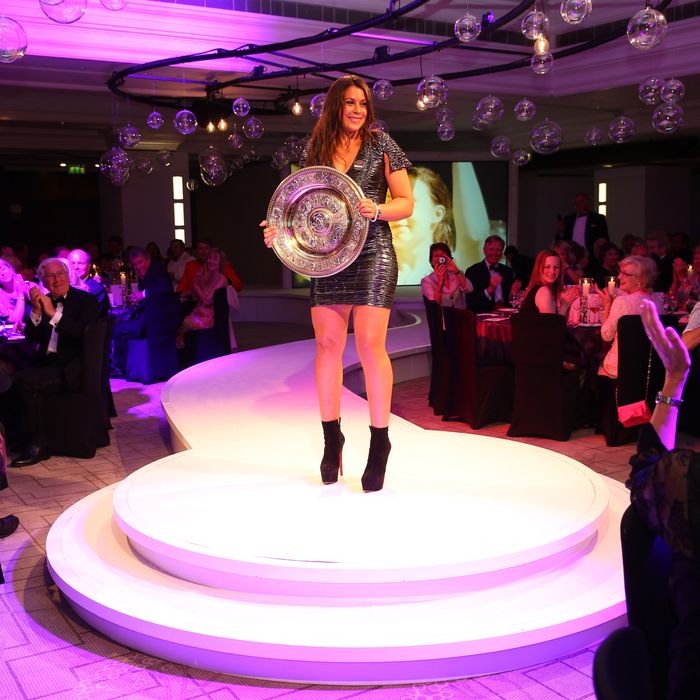 Photo: Julian Finney/Getty Images
In case you missed it, Marion Bartoli, a woman who is neither model-esque nor blonde became the Wimbledon singles champion over the weekend. Some people are still recoiling in shock and/or outrage. The Public Shaming blog rounded up tweeters who publicly declared Bartoli "undeserving" of her victory over Sabine Lisicki because she is "ugly," "fat," and, inexplicably, a "slut," which was depressing, but no more depressing than a random sampling of tweets during any major world event. Much more disturbing is what John Inverdale — a man the BBC pays to comment on tennis — had to say about Bartoli's appearance.
Commenting live on Saturday, Inverdale theorized that Bartoli's tennis skills might just be her way of dealing with her less than ideal — to him — body.
"I just wonder if her dad, because he has obviously been the most influential person in her life, did say to her when she was 12, 13, 14 maybe, 'listen, you are never going to be, you know, a looker. You are never going to be somebody like a Sharapova, you're never going to be 5ft 11 [sic], you're never going to be somebody with long legs, so you have to compensate for that. You are going to have to be the most dogged, determined fighter that anyone has ever seen on the tennis court if you are going to make it', and she kind of is."
It goes without saying that when Novak Djokovic beats Roger Federer or Rafael Nadal, no one wonders whether he's compensating for his relative inability to sell luxury watches and cars. But Bartoli appears to have a good attitude about all this sexist noise, reminding Le Parisien that she's a tennis player, not a model. "Have I dreamt about having a model contract? No. I'm sorry. But have I dreamed about winning Wimbledon? Absolutely, yes. […] I'd rather have the body of a used car with a 350 horsepower engine than the body of a Ferrari with a 50 hp."
The BBC issued an apology for the remarks, but then Inverdale tried to explain what he meant, inevitably making things worse. "The point I was trying to make in a rather ham-fisted kind of way is that the public perception of tennis players is that they're all 6 feet-tall Amazonian athletes," he explained. "Marion [ … ] bucks that trend and she is a fantastic example to all young people that it's attitude, and will and determination together obviously with talent that in the end gets you to the top." The comment manages to ignore the many other players who climbed the rankings without looking like Maria Sharapova — Sara Errani, Li Na, Serena Williams — while undermining the achievements of the leggy blondes. You can't sleep your way to center court, even if you look like Lisicki. But it's hard to imagine who would sign up to scrap with the endorsement-rich Amazonians, knowing that as soon as she beats one she will be pitied or resented for not being Amazonian. That sounds like a trap.