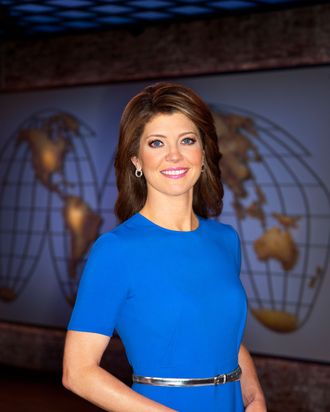 Photo: JOHN PAUL FILO/CBS Broadcasting Inc.
Norah O'Donnell will not be talking about Twinkies. Or so CBS This Morning executive producer Chris Licht told me as he breezed past on CBS's West Side set a little after eight on a recent Monday morning. I had no idea what he was talking about. But for morning-news folks (many of whom have been at it since three or four), it was already clear that Twinkies — back on shelves after Hostess went bankrupt last year — were going to be the biggest fluff news story of the day, and therefore, CBS This Morning would not be going there.
Since its revamp under Licht, a Morning Joe veteran, about a year and a half ago, the third-place CBS This Morning has earned a reputation for being the most serious morning show. O'Donnell, who replaced Erica Hill six months into the overhaul, may have been the final piece of the new-format puzzle — her doe-eyed hard-ass routine complements Charlie Rose's avuncular gravitas and Gayle King's witty BFF vibe. The show still trails Good Morning America and Today in ratings, but in the year since O'Donnell joined, CBS This Morning has posted double-digit percentage gains. So instead of talking Twinkie shelf life, O'Donnell is pressing New York Times reporter Mark Leibovich on his complicity in the chummy Washington, D.C. scene he lambasts in his new book, This Town.
After the show, the Cut asked O'Donnell about chemistry, the risks and rewards of morning news, and her exclusive profile of Sheryl Sandberg.
The story about CBS This Morning is that you guys actually like each other. But from the outside, it's hard to tell that apart from fake-liking each other. What actually creates morning television's elusive good chemistry?
One, I think Charlie and Gayle are just great people. Television magnifies insecurities or inexperience. They come to this with a lot of experience, and a lot of success in their previous careers. There's an enormous amount of generosity. You'll see one of us starts to speak and the other one will just yield to the other one. There's no prep for that, and the fact that it works out so well is actually extraordinary.
The first week, our executive producer, Chris Licht, came in and he said, Charlie wants you to do the interview of Iranian president Mahmoud Ahmadinejad with him. I was like, Wow, that's great — the Iranians will never let that happen. He was like, Why? I said, Because I'm a woman. He said, No, apparently Charlie's worked it out. Lo and behold, we go into the room, and there are 50 people there from the Iranian delegation. I go to shake the press aide's hand and he won't shake my hand for, obviously, cultural reasons. I go to sit down and I can't cross my legs in front of the president. Charlie said, You know, I brought Norah along because she's the smartest person I know and I wanted her to be here for the interview. Then he sort of looked at me and I asked a couple of questions. Ahmadinejad called me "the lady" — "The lady says we're interfering in Syria, but we're not interfering in Syria." It was incredible.
As a former White House reporter for NBC and CBS, did This Morning's reputation as the serious morning show influence your move to the relatively fluffy time slot?
What was incredibly appealing to me about this show is that, one, we want to reimagine the mornings, take a different take on the morning shows, and two, that we were serious about news. I think the hardest thing to find in television is a clear sense of self and a clear sense of identity. "Serious" might be a misnomer for what we do, though, because we certainly have a good time, and we laugh, and we joke a lot about ourselves and one another on the air. So Gayle always says, "We're not snooty-pooties about some story."
Earlier this year your first 60 Minutes piece aired, on Sheryl Sandberg and Lean In. How'd that come about?
One of the reasons I wanted to join CBS was the opportunity to do 60 Minutes. When I first came here as chief White House correspondent, I went to the executive editor Bill Owens and I pitched a bunch of stories. One of the big ones was Sheryl Sandberg. I reached out to Facebook and then they couldn't do it because the company was going public, and there actually are legal regulations about that. I did not know at the time that she had a book coming out. When I learned she did, that was the beginning of a protracted negotiation to get her to do 60 Minutes first.
Did Sandberg's book have any personal relevance to you?
I was personally interested in the subject matter, as a woman who works and has young children, and also because I do think that there's a real question out there. As a journalist, I'm interested in why women who have had great educational success, who have had great financial success, who are breadwinners in their families, aren't in leadership positions. I think that was an interesting question for Sheryl to tackle. She does not blame institutional barriers to women, she actually holds women to account about their own actions, and asks them to look at their own actions. I think that's why it was a different take on what's been happening in the advancement of women.
You had three kids in fourteen months during 2007 and 2008. How did you avoid "leaning out," as they say?
It helped to have a very supportive spouse, to say, "You can go back to work and we'll figure out how to make it work." I was in a field where it felt like if I were absent for too long, things would change. I also just truly enjoyed my job. I wanted to go back and cover the presidential race, or cover the conventions. I wake up every morning really excited about the news. I work for a living.
I've been warned that you don't like the phrase "work-life balance."
No, I don't care for it. I think it sets up these scales of justice where for me they're the same — work and life — and that they're supposed to be equal. I spend more time at work during the week than I am at home. I spend time with my children during the night, but they're also at school during the day — I mean, they have lives, too. My biggest thing is that the guilt has to end — this guilt that men never suffer about work and home has got to end. When I've done interviews, and then I ask other women about work-life balance, they're like, How can you ask that, you hate that phrase, so I find myself in a contradiction. But I think women are mostly fascinated with how other women do it, because it is really hard, and it's not a one-size-fits-all about how we do it.
I agree. On the one hand, the question has become tiresome. On the other hand, asking it gives women and men a chance to gather all this data about how everyone else makes it work.
I think the most honest thing to say is that you have to have a really strong support system. Nobody can do it on their own, you have to have a strong support system at work to succeed — anyone who's successful at work has people who work with them, and help them do great things, and the same is true at home. Women are great managers, they're great leaders at work. They have to figure out how to manage and lead within the home space to get everything done, too.
You started your career a print journalist at Roll Call. What is it like to switch to television, where one's appearance is an explicit part of the job?
I remember the first time I was on camera and I felt like my heart was coming out of me — I went back and watched the tape, and I was like, Oh my god, can you see my chest pumping, because I felt like, god, I must sound so nervous on the air. That has dissipated certainly over time. Appearance is certainly a part of it, but we're fortunate at this job. Because it's a morning show, because it's HiDef television, because it's two hours, we have professional hair and makeup artists, which I think is one of the most fabulous perks of the job. That's taken care of. I can concentrate on the facts — you know, the editorial stuff. It's not just the women. The men have professional hair and makeup artists, too, so there's equality. Let's not make it some girly thing.