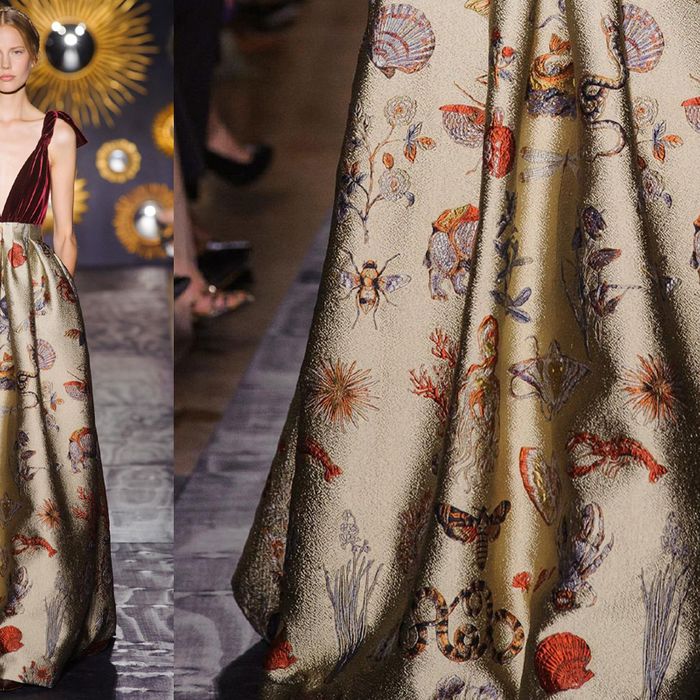 Couture may only be a brief few days but each spectacular show is filled with intricate details begging for a second glance. Today at Valentino, models resembled modern-day Renaissance princesses, clad in elaborate lace and fur-trimmed gowns, herringbone tweed cloaks, and sumptuous embroidered silks and jacquards. The closing gown combined rich wine velvet with a skirt covered in all manners of flora and fauna. Over at Maison Martin Margiela, the theme was elegant kitsch; masks came in an array of materials, including one over-the-top creation covered in flowers that merged seamlessly to form a breastplate of sorts.
Shows traditionally close with the presentation of the la mariée, and Elie Saab and Jean Paul Gaultier offered up two very different visions of the bride. At Saab, it was pure glitz and glamour with a sparkling gold veil so massively encrusted with rhinestones, it required three bridesmaids to adequately assist the bride as she made her grand entrance. Gaultier went the humorous route, citing a Fellini film on circus performers as an inspiration with a clown-like hat taking the place of a veil and a voluminous jumpsuit in lieu of a gown. Naturally, the leg had a hearty heaping of beading. Click ahead to see these, along with what you may have missed so far, in greater detail.
See the complete Valentino fall 2013 couture collection here.
See the complete Jean Paul Gaultier fall 2013 couture collection here.
See the complete Elie Saab fall 2013 couture collection here.
See the complete Maison Martin Margiela fall 2013 couture collection here.