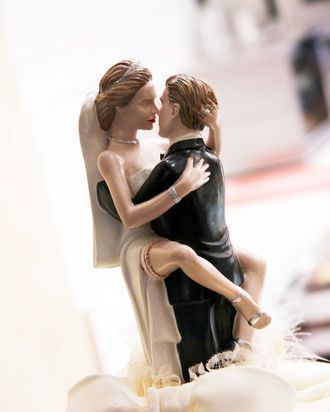 Photo: Steve Prezant/Corbis
Weddings. Big, white, fluffy layer cakes, Champagne, jealousy, glitter, hairspray, vodka, and God. In other words, the perfect prelude to a dirty screw. In honor of the perennial summer season, the Cut has collected twenty stories about wedding romps. And we don't mean the bride and the groom (well, at least not with each other). Consider it a form of inspiration. Next time you're forced to attend another fucking wedding, remember, it might be just that.
"I shoved my panties in his jacket pocket."
It was a crazy, rich, Latina-Jewish wedding that felt like a Marc Anthony concert. We were drinking tequila like it was water and I was feeling horny. (My boyfriend was not invited.) Grinding with my old fuck buddies from high school was not doing the job. I noticed that I was getting looks from this sexy Spanish stranger all night and after my twentieth shot of tequila I figured, why not? I made my way over to him and we started to dance. Then I led him to the bathrooms. I said, "Wait here" as I scouted out the ladies' room. It was clear. I grabbed him and led him into one of the stalls. I pushed him down onto the toilet seat and had him whip it out. I started giving him head and it was taking a while for him to get hard. I was so frustrated that at one point I shouted, "Do you want to fuck or not?" I don't know if he had a dominatrix fetish or what, but my demands did the trick. Within minutes I pulled my thong off and was straddling him. It was so hot. I was in a halter dress so it was easy for him to pull out my tits. I loved bouncing up and down while they flailed in his face. We both came and seconds later, I got up, shoved my panties in his jacket pocket and whispered in his ear, "Viva America." As I walked out of the bathroom, my cell phone rang: Hi, honey. I miss you too.
"He had a serious girlfriend."
I was at "the singles table" with a bunch of ugly losers. There was one cute guy – and by "cute," I mean bald, but funny and rich. We kept each other company all night, and then we went out to the waterfront and got it on in the sand. It wasn't bad. I thought, "I could maybe like him." Then he told me he had a serious girlfriend. She was Asian and a doctor. He felt guilty; I felt depressed. Couldn't the bride have told me that five hours ago?
"Weird slash immature."
I met a hot guy at my cousin's vineyard wedding. We flirted for hours, then I gave him a blow job in the wine cellar. We dated a bit in NYC after that, but he turned out to be super weird slash immature.
"First black dude."
Does making out with the first black dude I've ever kissed count? He had the biggest, most pillowy, awesome lips ever.
"I could fall in love with you."
It was a big, sappy lesbian wedding, and me — being a big, sappy lesbian — I was excited to see who was there. One girl was really cute and we ended up flirting and dancing. I wanted to get her alone, to kiss her, so I said I needed some fresh air. She came with me out to the front of the venue. We sat under the stars and made out a little. It was nice. We drank more inside and then we had an amazing night of sex — well, me going down on her — in the tiny hotel with all the other guests. I stupidly said, "I could fall in love with you," because I get that way. She never called me back after that weekend.
"I told the groom I was in love with him."
I confessed to the groom that I was in love with him at his wedding. He had been a close friend for years, and I always suspected he had crushed on me, too. Assuming he was now safely married, and that my purging of these deep, dark feelings wouldn't do any harm, I just let it all go. We had a tender kiss on the lips during the one second he could slip away that night. I wasn't sure what it meant. Things got active when he returned from his honeymoon. And then he distanced himself. And I completely lost my mind.
"We dated for months."
I met and slept with a guy I [ended up] dating for months at a wedding. I met his best friend, too, who I eventually cheated on [the first guy] with.
"We were in the back row …"
My boyfriend and I sat in the last row of a tented, woodsy wedding ceremony. No one else was on our bench. We had drinks before, and were feeling very sexy and frisky. He had his hand on my inner thigh and kept inching it up. Higher and higher. Before the couple said, "I do," I whispered, "I'm commmming." Hey, we were in nature.
"The wedding musician noticed my shoes."
It was a friend's wedding in the Tuscan countryside, and I met an Italian man who was a musician at the wedding. He noticed my red shoes while he was playing and looking down on the guests in the chapel. We ended up making out like lunatics in an empty piazza, not far from the party. We got naked at his house until dawn.
"We boozed in his back seat."
My friends had a "dry wedding." The worst. I made friends with this cute guy who said he had tons of booze in his car, in the parking lot. Every twenty minutes, we'd go out there and take shots. This went on for hours. Eventually we just fucked in his back seat. Turned out to be a great event.
"In the bell tower with the best man."
I did it in the bell tower with the best man. I lost my panties; he missed the toasts. It was so good I nearly married him. But after three years of dating, the bell lost its ring.
"Our Yichud guards did the nasty."
At our wedding, we picked our friends (a married couple) to be our "Yichud" guards. The guards were supposed to be "watching" our door. Not like we were having sex — we were smoking a joint! A few minutes later there is a loud banging at our door. I swing it open in my gown, the room filled with haze, to see a hotel security guard. WTF, where were our guards? Sure enough, they were next to the hotel room in that little ice-machine area doing the nasty … and not watching our door whatsoever.
"You have glitter on your face."
I went to a friend's wedding in London and didn't know many of the people. After the ceremony, I started talking to this skinny British girl, and then said good-bye and took a seat at my table. Next to me was this hot, half-German, half-Vietnamese girl wearing a sexy dress that really showed off her chest. I was really into her! We danced most of the night, but I knew she wasn't the kind of girl that was going to come up to my hotel room, and I wanted to get something from someone. So I started talking to the original skinny girl at the bar. She was definitely DTF. Next thing I know, we were up in my room hooking up when I realized (a) I was still in my tuxedo, and (b) they hadn't served dessert yet. We straightened up and went back downstairs. I went back to my table with the much more attractive girl. I figured I'd try to charm her one last time. Then she turned to me and said point-blank, "You have glitter all over your face." After dessert, I went back to my room with the skinny girl and had ridiculous, crazy, several-hour sex throughout the bedroom, bathroom, and balcony.
"Ethan Hawke."
I saw Ethan Hawke at a wedding and fucked him raw with my eyes all night long.
"He had a whorish look in his eye."
I had asked my friends before their wedding at the Foundry if there was going to be anyone "for me" there. She said no, sadly not, I was the only gay guy going. So I was surprised when I took a break from dancing on the second-floor balcony and a cute Persian guy approached me, slurred something with a whorish look in his eye, and dragged me into the bathroom. We went at it for about ten minutes, during which time he stripped off entirely. The bride and groom hadn't cut the cake yet and I heard the music stop so speeches could start, so I dialed things back and suggested we pick things up later in the night. He said he couldn't because he'd have to take his girlfriend home.
"Doing blow in the bridesmaids' room."
I was doing blow with a big-time movie producer at this fancy New York wedding. We were partying inside the bridesmaids' room, which had a lock on the door. We started to fool around but we were so high and jumpy, it was just awkward. So he took his hands out of my underwear and cut a few more lines.
"The drunk bride asked to see my junk."
It was my best friend's wedding. The bride was really drunk. When no one was looking, she asked to see my junk. She said all she had been thinking about was that she'd never see "new cock" again. She stroked it. I was rock hard. And then she went back to the party.
"There was cum on my Gucci."
We were at a wedding in an old B&B in upstate New York. My husband kept telling me how good I looked. He couldn't keep his hands off me. I let him have sex with me in my dress before we went downstairs. We did it from behind; his favorite. When we joined the group, my dress wasn't flowing the way it should. Something was off. I realized he had pulled out and came all over my ass, and my beautiful Gucci was sticking to it.
"Ambiguous sex with a 15-year old car-parker."
I'm pretty sure I had sex with a 15-year-old car-parker at a wedding in Newport, Rhode Island. I remember being like 20 years older than him, and him making a Mrs. Robinson joke, and me thinking, That was very rude. But what a great dick.
"The bride asked if we wanted to borrow the honeymoon suite."
So I was heading to a wedding uptown. I felt really pretty, in a long vintage gown and my hair all glammed out. I took the subway. It was right out of a movie, because a super-hot guy was sitting across from me and we kept glancing at each other. He seemed sweet, and seriously gorgeous, so just before my stop, I took a long, deep breath and said, "I'll be at a wedding at this place … come say hi in a few hours." Then I bolted. Long story short, he shows up just as they're cutting the cake. My friends thought it was awesome, and he joined our table. We ended up dating for two years. And yes, we hooked up all over at the rooftop after-party. The bride asked if we wanted to borrow the honeymoon suite.