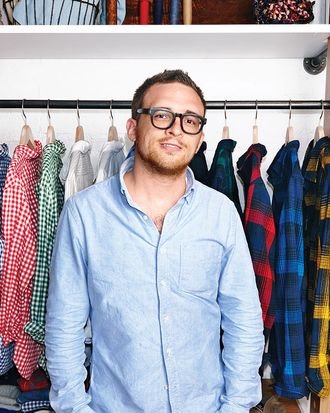 Photo: Bobby Doherty/New York Magazine
Alex Drexler, son of J.Crew CEO Mickey Drexler, has launched a clothing line called Alex Mill, which—and here's where it gets meta—is meant to be worn by fathers and sons. The 35-year-old Drexler's new boutique in Nolita showcases his high-quality, uniform-building classics—relaxed Japanese-cotton button-downs for $145, slim (but not too slim) selvedge-denim jeans from $195 to $245—most with similarly tailored counterparts for boys ages 2 through 10. Here, the First Son of megaretail talks about picking up the family trade.
So do you consider J.Crew and Crewcuts competitors? 
J.Crew is one of the biggest fashion companies in the world; we're only five people, doing something at a different price point. And Crewcuts is its own entity—our kids' clothing is just shrunken-down versions of the men's. But our line isn't too matchy; the kids' version of a men's shirt will have different details, like fun buttons in all different colors and sizes. My designer [Alex Casertano] and I take a lot of pride in our buttons.
How so? 
We have seventeen different styles of buttons in the fall collection: military-style buttons, mother-of-pearl buttons, buttons made of coconut, buttons with a hand-stiched A on them. It's those subtle details—you may not notice them up front, but they make a piece of clothing feel special. 

What other details are you obsessing over? 
I'm really happy with the way the shop's floor turned out; it has a vintage-gym-floor look. But now our shopping bags just came in and it's a disaster: The snap closures should be metal, not plastic. And they're too bright, right? And if you unsnap them too forcefully they fall off. Can you imagine, five minutes after you make a purchase your shopping bag breaks? So we're having them redone.
Did your upbringing help prepare you for these retail crises?  
I wasn't interested in this business growing up. I wanted to be in the FBI. Or in the hotel business: During college I worked as an overnight bellman at the Paramount hotel in Times Square, which was very cool. You see a lot of pimps and celebrities between 11 p.m. and 7 a.m.
Any questionable fashion phases growing up?
I could've made slightly better glasses choices: I wore wire frames. Now I buy glasses at this place A.R. Trapp on Madison Avenue—it's not chic, it's very unassuming, and the owner monograms them for you.
Do you really think guys do a lot of shopping for their sons?
Yes. My dad would come home with new clothes for me when I was growing up; I remember this really great pair of pink socks he brought back from Japan. What kid wouldn't like that?

What does Dad think about your line?
He's not involved in the company or any of our day-to-day decisions. When he saw the collection there was a certain print he didn't like, but that doesn't matter because we love it and we believe in it. We're gonna do what we want to do.
Alex Mill, 268 Elizabeth St., nr. Houston St. 212-343-2539.
*This article originally appeared in the September 2, 2013 issue of New York Magazine.