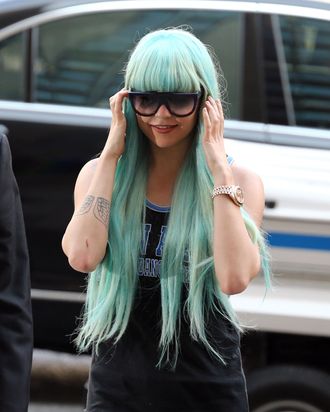 Photo: Neilson Barnard/Getty Images
A judge in California's Ventura County has granted Amanda Bynes's mother Lynn Bynes a temporary conservatorship over her 27-year-old daughter, the Associated Press reports. Lynn is now responsible for decisions concerning Amanda's health and finances. Bynes was placed under a 5150 psychiatric hold in late July, when she started a fire in a driveway in her hometown of Thousand Oaks. Days later her parents petitioned for a conservatorship. Bynes' psychiatric hold was set to expire last night, but at the behest of her doctors, the hold has been extended 30 more days (though she could be released sooner).
Through a lawyer Amanda opposed the conservatorship, TMZ reports. She was not present at the hearing. Judge Glen Reiser says his ruling was based reports from a doctor treating Bynes and an investigator who interviewed her. Lynn Bynes' temporary conservatorship lasts until September 30, at which point another hearing will be held to decide whether to make it permanent.
This post has been updated throughout to reflect breaking news.