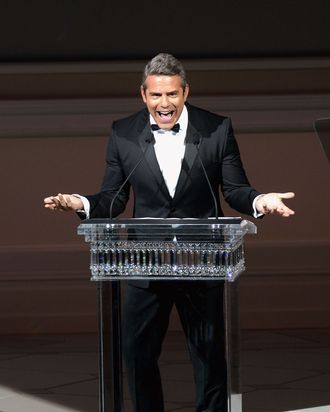 Andy Cohen.
Photo: Theo Wargo/Getty Images
Andy Cohen, the first openly gay host of an American late-night talk show (Bravo's Watch What Happens Live), told E!'s Giuliana Rancic that he rejected a request to host the Miss Universe Pageant in Russia this November because of President Vladimir Putin's anti-gay stance. Speaking to Rancic, with whom he has co-hosted the pageant for the past two years, he explained:
[Russia's] discriminatory policies make it unsafe for the gays who live there and gays coming to work or visit … The law is that anyone under suspicion of homosexuality can be arrested. I didn't feel right as a gay man stepping foot into Russia.
Fair enough! This comes on the heels of Obama's comments on the upcoming winter Olympics in Moscow: "What I'm really looking forward to is some gay and lesbian athletes bringing home the gold or silver or bronze." But obviously a pageant is different from the Olympics, and Russia should know that fostering an anti-gay outlook will hurt their standing in the world (and repel beauty queens, which Putin definitely does not want to do). Unfortunately, there's one flaw in Cohen's announcement — he hasn't been asked to host yet, according to Miss Universe owner Donald Trump, who offered this surprisingly articulate statement on the subject:
So many people want to host the Miss Universe Pageant. We haven't asked Andy Cohen to host the pageant in Russia, but I can understand his feelings on the matter. It is my hope that the Miss Universe Pageant will help foster common understanding and appreciation of the rights of all individuals.
Trump, do the right thing, which is very simple: Ask Cohen to host, let him say no officially, and then hold the pageant someplace else. Much as you may want it to be, the Miss Universe Pageant is not the Olympics.