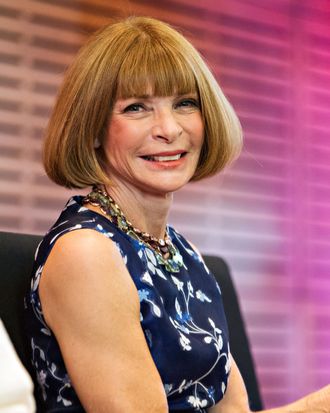 Anna Wintour.
Photo: Wesley Hitt/Getty Images
In a charming interview in today's New Republic, Cut hero Simon Doonan speaks of everything from Michelle Obama to Lady Gaga, but this very delicate sidestep around Anna Wintour is the highlight:
I see Anna Wintour as being a very heroic figure because she has taken on a leadership role in the fashion universe that is vastly much bigger than it was when she and I and the people of our generation began our careers in fashion. She's created this role and she inhabits it amazingly.

NR: But do you LIKE her?

I always did get on very well with her, as I said in my book, she's immensely straightforward. The idea of her as a coat-flinging tyrant is not accurate at all. In addition to being this incredibly impressive figure, she's also very pragmatic.
And so are you, Simon. So are you.