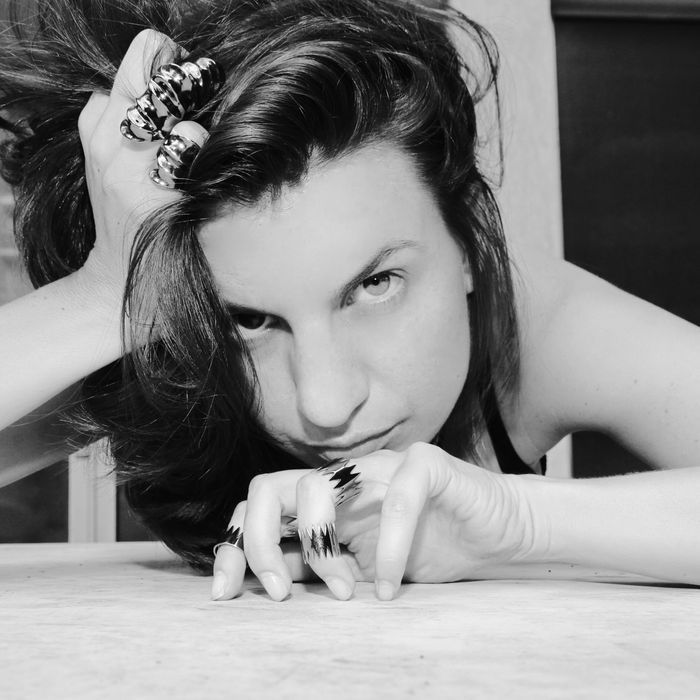 Having studied fashion design at the renowned École de la Chambre Syndicale de la Haute Couture Parisienne, and with stints at Hermès and Vanessa Bruno under her belt, one would expect Annelise Michelson to be fully immersed into the ateliers of a large brand or producing her own ready-to-wear line. But after an editor at a French fashion magazine commissioned her to make a few pieces for an editorial photo shoot, Michelson realized that she may have even more possibilities working for herself — more freedom to design without the restraints of the human body. She also realized she could have more fun.
Now, after launching her collection in 2010, her small brand is rapidly taking off. Her popular Carnivore collection, featuring ear pieces and bold jaws of life-like cuffs, began appearing in many international publications — and now her silicone pieces are heavily sought after by editors and buyers. Lady Gaga was spotted donning one of her gilded cuffs. Beyond the typical reaches of fashion, Michelson even custom designed a disco ball–like, mirror-encrusted cover for the new Mercedes Benz CLA. She also sources and produces her collections entirely in France, which means she is forever trying to master high quality and cost efficiency.
The Cut spoke with Michelson, who was fabulously vacationing in Rome (on a boat!), to catch up on her design process, her no-fear sensibility, and her shared love for the Supermodels of the eighties and nineties. Click through the slideshow as well to see some highlights from her Resort and Fall collections, as well as her inspirations.
You've had a big year.
Yes, this year feels like ten years rolled into one! I had no clue when I started, and I still do not really sit down and say, "This is what I am going to do." My vision is more detached, and I am just so happy that people are positively responding.

Do you find you apply your experience as a fashion designer to your work? 
I always liked mixing materials with chains and various jewelry metals, so now I still twist materials into something atypical.
You really gained popularity first with your Carnivore collection, and are now delving into more feminine territory. To what do you attribute your movement from a tougher style to a more ladylike softness?
The Carnivore [collection] really is something bizarre! Again, I wanted to feel as if I was doing something different, and while I did the collar for Resort, which is like a bear trap for your neck, I was interested in taking something traditionally old and feminine, like lace, and making it more like an accessory than a piece of jewelry.
I heard you have a serious love for gunmetal.
It's not a color worn by many people. I was really into gold but found that some people were always asking me for silver.  And I hate silver — I don't like it, and I don't think its cool …
So you did burgundy-colored pieces next — an unusual choice of color.
Yeah, it was a strange color, a little bit rusty, like blood or wine.  I loved it, but people still wanted a silver color. So that's when I finally did the gunmetal. It's not black, it's not silver, it's in-between. That is not to say that I will do a color just because people want it. But I think it looks chic and brutal.
These new lace pieces involve silicone. Is there a science behind this thinking?
I actually worked with silicone in my first pieces. It's not very "couture," but it has potential since it takes color and glitter well. The lace is used for haute couture collections. I asked the manufacturers to make a small piece for me with silicone since it is used in couture for Chanel and Mugler (for example), but had never been done before with jewelry.
I really love the drop pieces, they feel very "Phantom of the Opera." What inspired you to make this collection?
I wanted to make something more goth and dark, something conceptual but still regular. I used wax as my model, which makes it look like a melting candle. A refined, mysterious candle.
What are your thoughts on men wearing jewelry?
I would like to find new ideas for men; guys are even asking me for Carnivore rings for themselves. I have made larger rings for them, and some chains, which I find timeless. But a lot of men are afraid of jewelry — although sometimes trying something different can feel sexy and fun, especially when it's new.
Your love for the great supermodels — Cindy, Naomi, Christy — is widely apparent on your Instagram account and on your mood boards.
Cindy is the reason I got into fashion.  My godfather was a tailor and obsessed with Gianni Versace. I learned all about Versace and Richard Avedon and all the top models from him. They were so huge! They were goddesses. That is how I think fashion should be: normal, curvy, appealing to men, of course, but also to women. I mean, I want to look like Cindy Crawford! And I hope lots of other girls out there want to as well.
Your inspiration board has a lot going on: Grace Jones, Madonna, David Bowie …
It's very personal, I think this reflects a lot of hidden thoughts. Each picture reflects something I like for my work. I love these Helmut Newton images of powerful women, I think Grace Jones is the most amazing! I love very strong women with lots of personality.
How do you personally wear your jewelry? 
I have always loved to wear a lot of rings. But not on every finger in the summer. I only brought four rings on my vacation, which is nothing for me. It also depends on my mood, because one sends message of what their mood is by how they wear jewelry.
If you weren't designing jewelry, do you think you would be working in ready-to-wear?
Jewelry makes me feel like a sculptor. Maybe one day I will do a larger piece. Something that is just as beautiful sitting on a table, all on its own.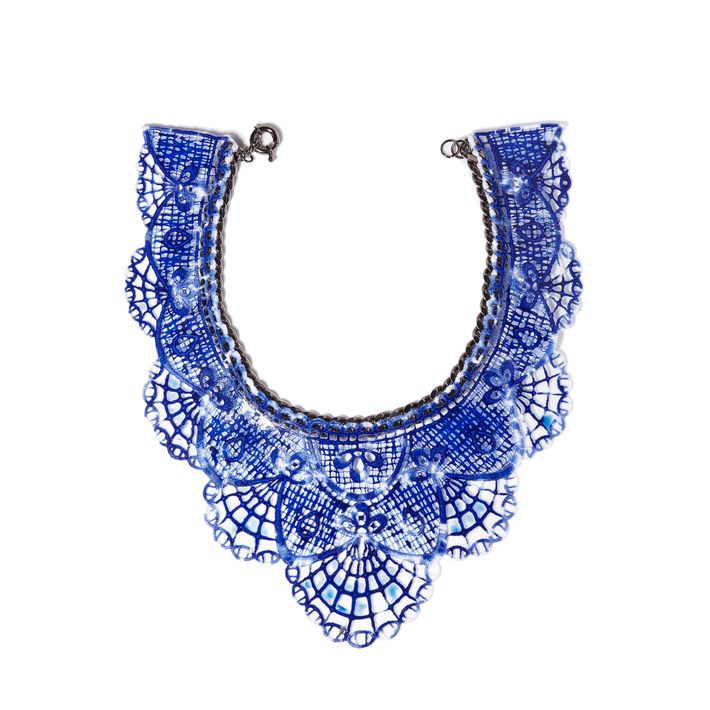 Blue Silicone Lace Neckpiece, $680  (Resort 2014)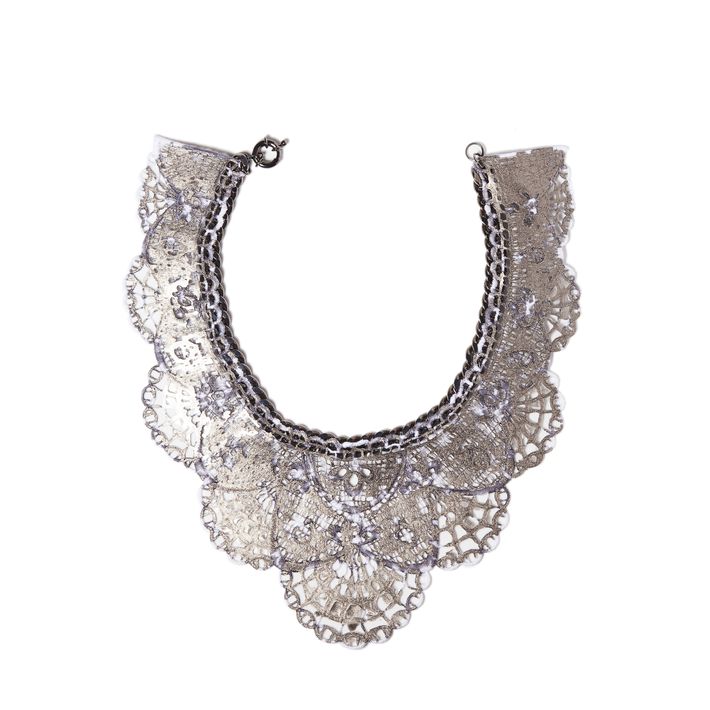 Silver Silicone Lace Neckpiece, $710  (Resort 2014)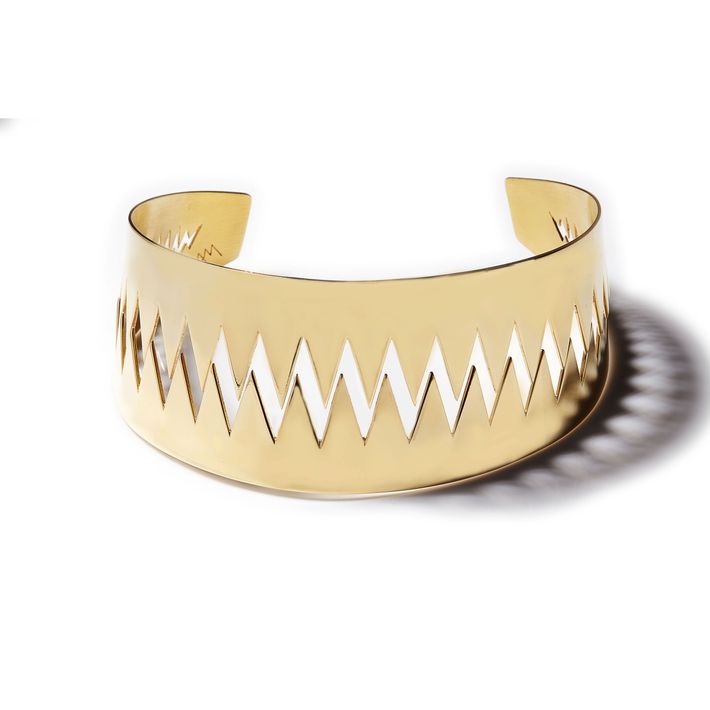 Carnivore brass gold plated choker, $1200 (Resort 2014)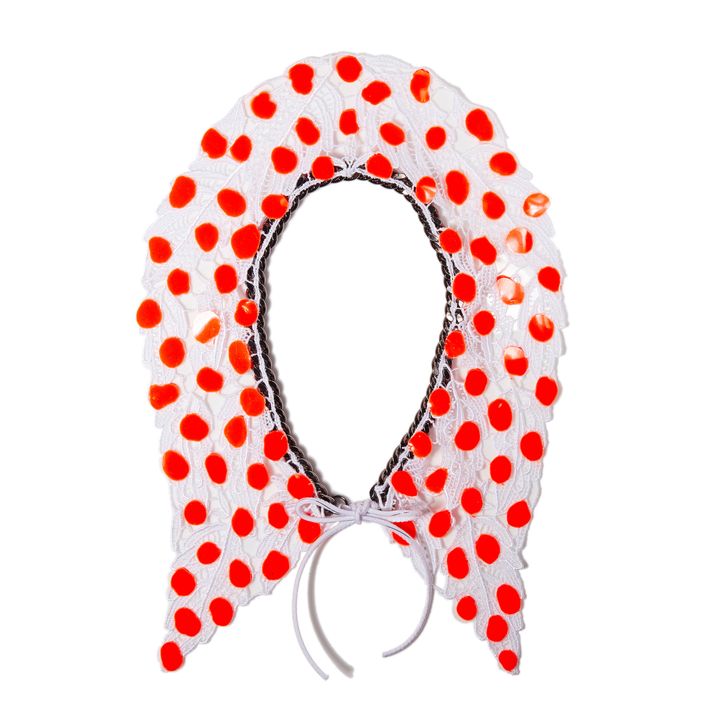 Neon Red Silicone Dots Collar, $680  (Resort 2014)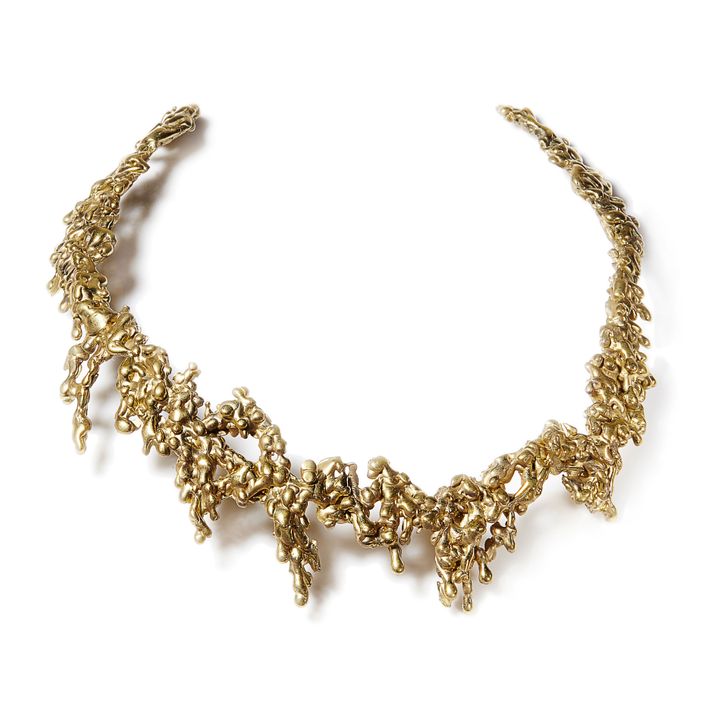 Drops Neckpiece in plated gold, $1200  (Resort 2014)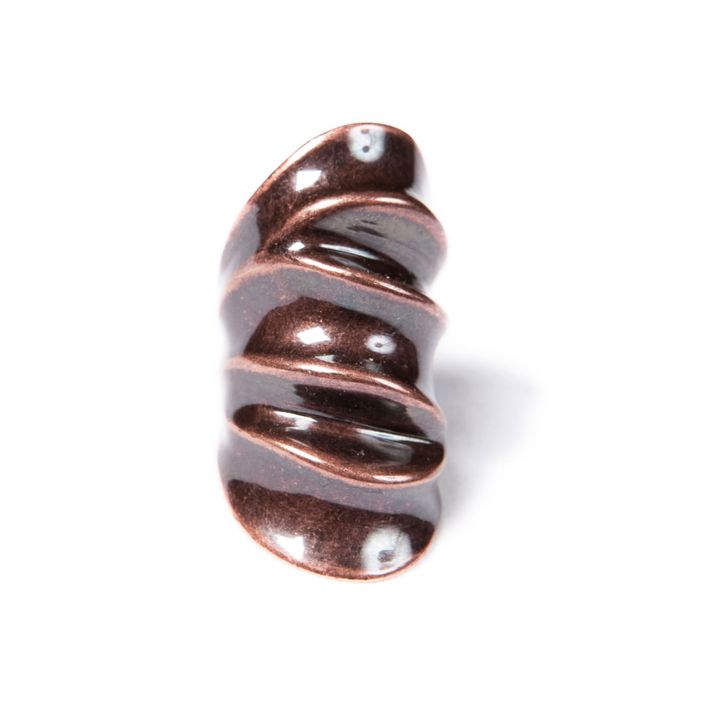 Double Draped Ring in burgundy, $330  (Winter 2013)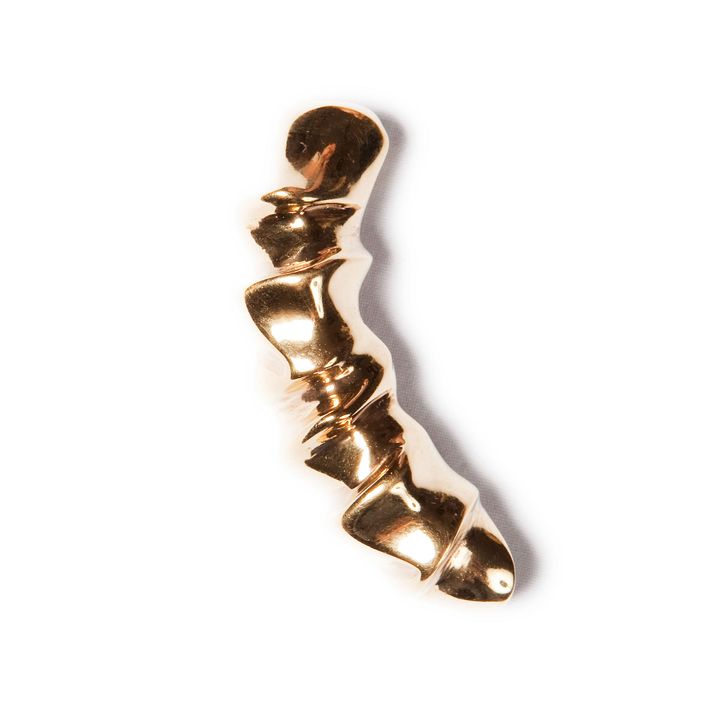 The Draped Ear cuff in plated gold, $395 (Winter 2013)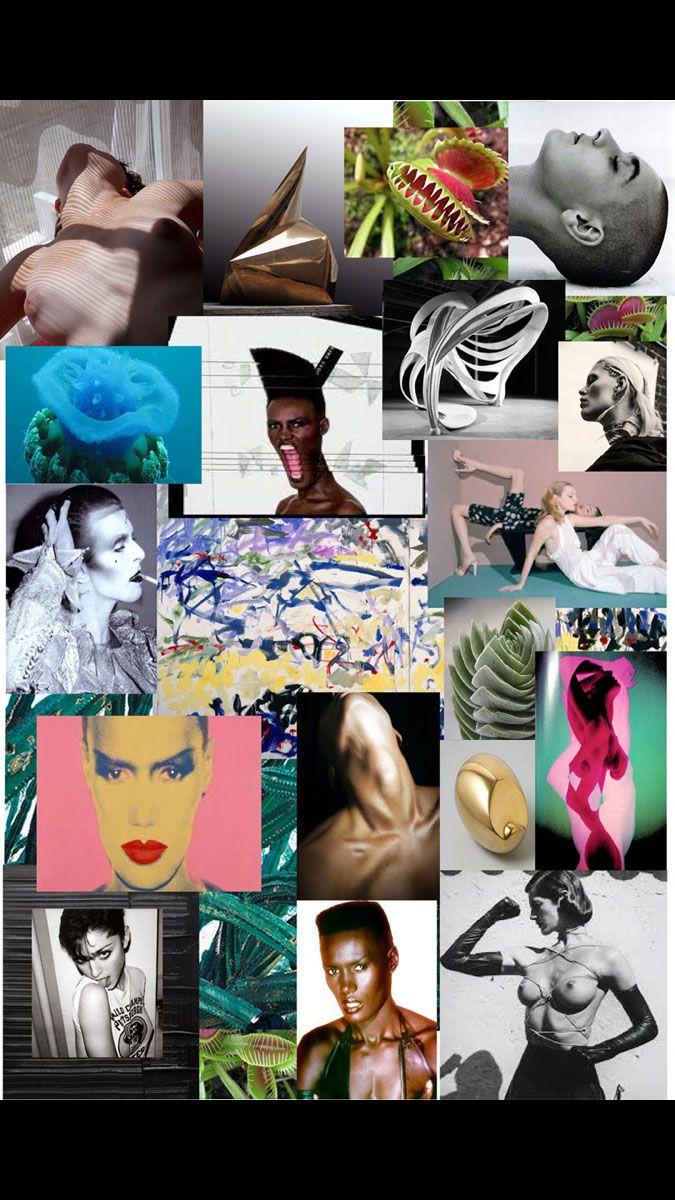 Michelson's mood board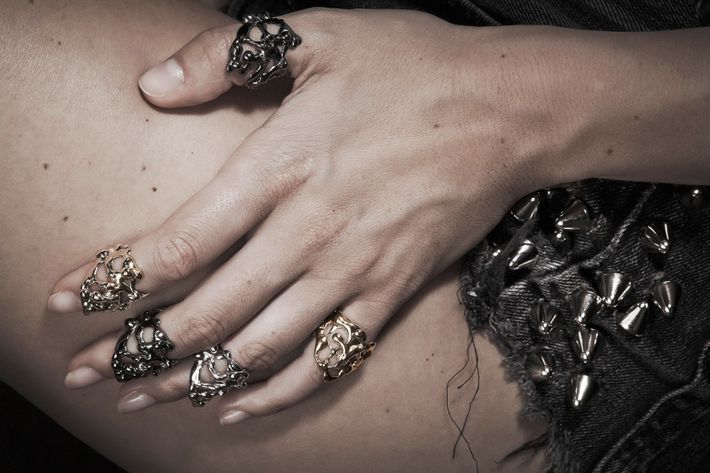 Drop rings, large and small, $330  (Resort 2014)