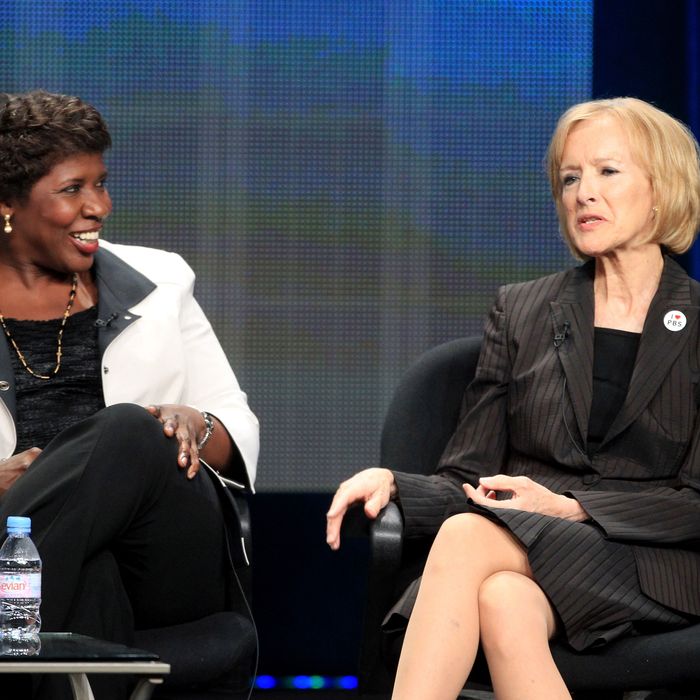 Photo: Frederick M. Brown/Getty Images
America was only medium-ready when Katie Couric became the first female solo anchor of a network nightly newscast in 2007. Rather than renew her contract with the distant third-place CBS Evening News in 2011, Couric returned to daytime. But what about two women?
That's the formula PBS has landed on for nightly newscast News Hour. After several years of rotating anchors, the network announced yesterday that it had chosen Gwen Ifill and Judy Woodruff to take over as co-anchors in September. According to a press release, their debut "will mark the first time a network broadcast has had a female co-anchor team." (The Fey-Poehler era of Weekend Update doesn't count.) Woodruff and Ifill previously co-anchored PBS's election coverage and are well-acquainted, Ifill told the New York Times, after having "appeared on endless panels together discussing women in journalism."
Of course, it's only PBS — the nonprofit, public network where the glass ceiling is presumably made of that safe-to-break candy glass they use in school plays. But that's still 100 percent more woman than on the current most womanly nightly network newscast, ABC World News with Diane Sawyer.