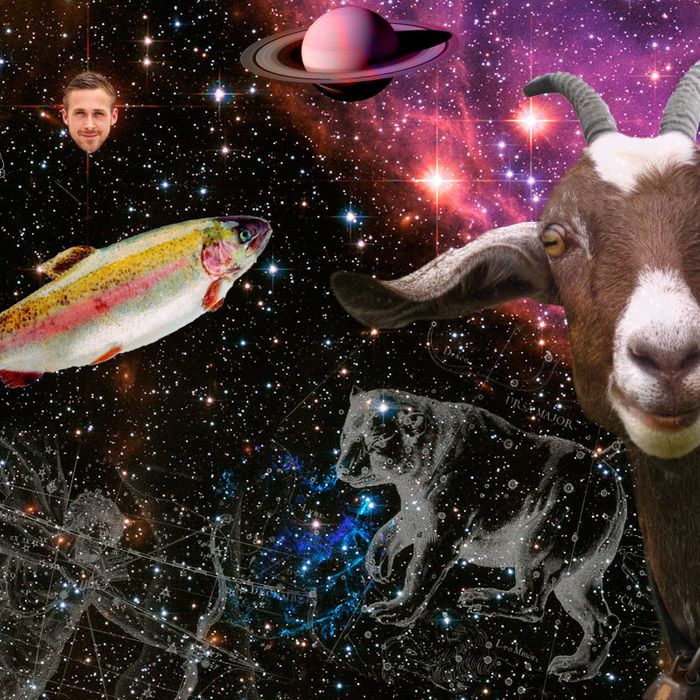 This week began with a series of oppositions, or difficult aspects between planets, which often bring about confusion and lack of clarity. But don't distress, because there are many favorable aspects to be excited about by week's end.
Mars enters Leo on Tuesday the 27th, and to learn more about what that means for you, read the horoscope for your sun sign below. The nature of Mars is assertive, confrontational, and aggressive. It symbolizes all things having to do with our drive to succeed and triumph in battle. The martial influence explored in this week's horoscopes will last through mid-October. With Venus still very powerful as she rules in beauty-oriented Libra (until the second week in September), most of our fashion and beauty decisions will be on point. However, as she moves to form a hard angle to expansive Jupiter on Tuesday the 27th, be careful not to get seduced into wasting money on some trifle that you will regret post–Fashion Month. Both of these planets are associated with money and their influence is heightened right now.
On Wednesday the 28th, Mercury will trine Pluto, and this is a good time for learning something new. If you are at all interested in jewelry, you may want to research precious gems or your next acquisition, since Pluto rules all underground treasures and riches. There are numerous favorable aspects on Friday the 30th. The Sun will sextile Saturn on this day, which favors all matters relating to work and one's profession. It is possible that your serious and attentive attitude toward your work will attract the attention of your employer. This is also a good time to seek advice from an older person or someone whose wisdom and experience you respect. Also on Friday the 30th, Mercury will sextile jovial Jupiter, and this is an excellent aspect for making plans for the future and contemplating your hopes and wishes.  If you want a raise or change of position, this is the perfect day to speak up. Communications with superiors will take on an easy, upbeat tone and this day will be generally lucky. On Sunday the 1st, the Sun will trine Pluto and this is a good time to make an intense impression on someone, perhaps during a Labor Day party conversation.
And now, on to the sun signs …
Virgo (August 23–September 22)
Become completely conscious of yourself and any self-defeating acts before you set forth to make an impression upon others during this transit and things should work out in your favor.

Libra (September 23–October 22)
This is a time to formulate your goals and actively pursue them. You will be able to achieve your goals most effectively by working cooperatively with others and on projects in which you work with a number of other people.
Scorpio (October 23–November 21)
You are not likely to be very tolerant of other people's authority over yourself. You prefer to be your own boss. But your energy will make an impression upon people who are in a position to help you, as long as you do not challenge them unduly.
Sagittarius (November 22–December 21)
Take every precaution and be well prepared if traveling to distant places overseas. This progression can sometimes indicate legal problems or confrontations with the law.

Capricorn (December 22–January 19)
A transformation is about to take place; there will be the death of an old order and the birth of a new one. Change and revolution are in the air. Be prepared to shed old patterns of behavior that no longer serve you.

Aquarius (January 20–February 18)
Under this influence, all partnerships must be approached with the utmost sensitivity. Be careful not to lash out if tensions ensue with spouse or business partner, and make an effort to foster tranquility in all interactions.  

Pisces (February 19–March 20)
You are able to get a lot done at work now, but be careful to avoid conflicts with your associates. Your drive to succeed is so intense and you have the energy to make things happen, but you are best working alone as much as possible. This is not the time to be a team player. Also, this is a good time to get a checkup or visit a doctor.

Aries (March 21–April 9)
Now you are feeling self-assertive around others. You will not be especially inclined to self-denial, discipline, postponing self-gratification, or taking a backseat to another.

Taurus (April 20–May 20)
There is great activity around where you live; right now you are very strong on having your surroundings exactly the way you want them, and you should make an effort to have them that way if possible. Domestic strife is another side of this transit if you don't make an effort to agree with the people you live with. Living with your parents can be especially difficult right now.

Gemini (May 21–June 20)
You put forth your ideas with considerable vigor at this time, which may provoke others. Even your routine communications — letters, conversations, e-mails, etc. — may take on a defiant tone. As long as you refrain from giving people the impression that you are attacking them, you will impress them with the power with which you state your ideas.

Cancer (June 21–July 22)
Be wary of your finances at this time and be careful about spending too much. You may be especially tempted to spend more than you should on something home- or design-related. Beware of get-rich-quick schemes or questionable investments.

Leo (July 23–August 22)
You have the chance to show the world what you can do now. This is a period of upbeat, independent activity, when you work out a lot of problems and accomplish a great deal. This should be a positive time in your life.
David Scoroposki is a professional astrologer working in NYC and Palm Beach. He combines modern with ancient and medieval methods for consultation with individual and corporate clients.
GIF reporting by Sally Holmes.