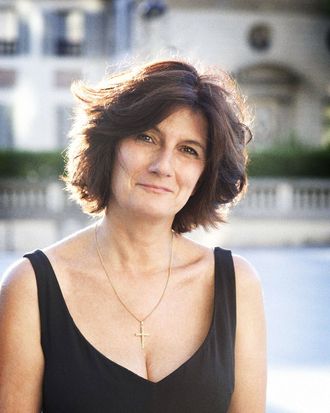 Photo: Emmanuele Scorcelletti
When she was 27, Sophie Fontanel decided to stop having sex. While traveling alone, away from her then-boyfriend, it occurred to her that having no sex was infinitely preferable to having bad sex — a conviction that would, to the shock of her friends and colleagues, see her through a twelve-year period of celibacy.
But Fontanel, a novelist and senior fashion editor at French Elle, believes her experience wasn't as unusual as those confidants seemed to think. When her memoir of celibacy (which she calls an "insubordination") came out in France last year, it hit the best-seller list within weeks. "It really struck a chord," said Fontanel, who received a deluge of correspondence from men and women who had found themselves in similar circumstances but were too afraid to tell anyone. The English translation of Fontanel's book, The Art of Sleeping Alone, will be published August 13.
Fontanel says that, for her, living without sex was no big deal — not because she didn't desire it, but because she doesn't ascribe sex the overblown importance she believes it's taken on in the media. Yet her position is not a moral or religious one. She wants to dissociate abstinence from connotations of chastity and asexuality. "I don't know when sex became the most important thing," she says, pointing out that, despite all our talk of sexual liberation, celibacy remains taboo or, at least, a pitiable offense. "We are not making love as easily as we boast we are," she wrote in a New York Times op-ed last month. She's become something of a spokeswoman for sexual candidness.
The Cut spoke with Fontanel about the common plight of disappointing sex and the stigma of abstinence.
So, you talk about, like many of us, having disappointing sex in your twenties. Why did you decide to stop having sex entirely rather than, say, find another partner?
Throughout my sexual life, I have had periods with lapses in sexual activity and long periods with nothing. For me, it's absolutely not a problem. And believe me, I'm not a prude — I'm not a prude at all. I began my sexual life very early. I had some boyfriends, but a lot of the time I was in bed, I was not present. I know a lot of girls like me — I was doing the things because everyone else was. And when I was 27, I had a boyfriend of five years, and he thought that we were very happy. But I was not so happy. I realized that I was happier alone than when I was with my boyfriend.
I wanted to recover my body. My real desire was to re-want having sex. When I stopped, I was so excited to be alone in my bed. I immediately bought a bigger bed, and for me, it was freedom.
What did your friends say?
At the beginning, I kept silent. But when the first questions arrived, I decided to tell the truth. The reactions were bad. Everybody was trying to find another boyfriend for me. I was young, and everyone thought that I had the right to take a stand, but not for too long. Everyone was telling me, "Sophie, you're single. Why don't you put on a miniskirt and high heels so you will be sexy, and then you will find a man." But I didn't want to do that. I told them, "I'm not interested in having sex right now." Everybody thought I was a fool. You have to say that sex is very, very important. If you don't, you are considered a very strange animal.
You ended up being abstinent for twelve years. Were you dating during that time?
Oh, of course I went on dates. My reaction was always, "Well, I'll meet him, and then I'll see." I was hoping, but it was very abstract. It's rare to find a man who really charms you. During that period, I fell in love twice. But, obviously, it was with impossible men. Married men, gay men. It's very difficult to find a partner. That's why I waited so long. Because I told myself, Okay, I give up. I will return to sexual activities when it is worth it — and it took more than ten years.
Do you know anyone else that's been abstinent for as long as you were?
Well, I didn't. But now I know a lot! As soon as my book came out in France, a lot of people — a huge amount of people — began to say that they had the same experience. A lot of women, but a lot of men as well. I had a lot of people tell me that they've had the same experience as me, but they haven't been able to tell anyone.
When I was writing the book, I knew it had a force. I knew that it was going to make some noise. It's the story of a lot of people.
What kind of responses have you gotten to the book in France?
At first the media treated me as if I was a rare bird — a strange case. I heard everything. I heard that I was a lesbian — because it's easier for society to accept that you are a lesbian than that you are abstinent. I have heard that I'm a religious fool, which I'm not. For me, it's not about morality at all.
And there were bad reactions sometimes. People talked a lot about my physical imperfections. They'd say things like, "Maybe you're not so young and beautiful, and that's why nobody wanted to sleep with you." But I wasn't saying that nobody wanted to sleep with me. I was saying that I didn't want to sleep with anyone.
Do you recommend abstinence to other people?
I recommend being true to yourself. If you are making love and you're disappointed, then stop. Recover your freedom. Don't be afraid of being single, and don't be afraid of being single for a long time. I don't believe that the more you have having sex, the more you want to have sex, or the more you are having sex, the better you are at it. I think it's the more you want to do it, the better you will be. You're not going to forget how to make love, you know? You never forget it. But when you have waited a long time and you return to sexual activity, it's very amazing because everything is new.
Are you single now?
Right now, I'm single, yes. I was never married. I had a boyfriend a year ago, but now I am alone. And it's very peaceful. I go and have dinner alone and get a coffee. I travel a lot, and I make my life beautiful. I think it's the beginning of happiness. It's very important to learn that it's not a sin to be alone.