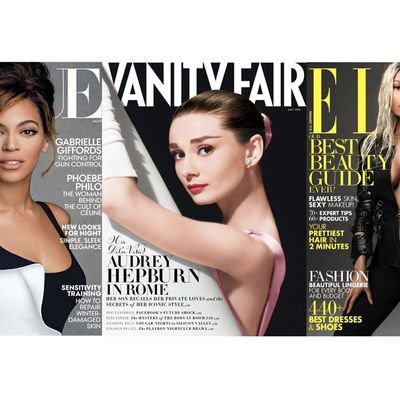 Beyonce, Audrey Hepburn, and Nikki MInaj.
WWD has released this year's magazine newsstand numbers so far, which means it's time to pit each celebrity's selling power against the others! Sure, magazines' newsstand sales matter much less than ad dollars and many other metrics, but isn't it interesting to see hard data proving that people want to read about Miley Cyrus more than Taylor Swift? Here's a roundup of publications' most and least popular issues, and the cover girls who sold them (or didn't).
Beyoncé (of course) killed it on Vogue's March cover, which even outsold the magazine's exclusive interview with Michelle Obama in April. (The numbers: 355,397 to 293,798.) Rooney Mara's February issue didn't fare so well, though, possibly because she looked so forlorn.
Audrey Hepburn covered Vanity Fair's best-selling May issue, while Taylor Swift covered their lowest seller in April. (The numbers: 308,000 to  211,000.) Remember how people did't buy magazines with Taylor Swift on them in 2012? They still don't. Meanwhile, this proves that dead people can sell magazines — which explains what Diana is doing on this month's cover, again.
Lauren Hutton is Town & Country's best seller, because she is hands-down fabulous and cuts her own hair. You can expect some dead cover girls in this magazine's future as well, according to editor-in-chief Jay Fielden, who tells WWD, "We love dead people … What genre of books is most popular? Biographies. And those are often about dead people." (To which we say: Therein lies the difference between books and magazines. But anyway!)
Cosmopolitan's two top sellers: Miley Cyrus and Kim Kardashian. Worst seller: Rachel Bilson.
Olivia Wilde was Marie Claire's best seller; Heidi Klum was their worst.
Nicki Minaj's covers for Elle and Teen Vogue performed badly for both publications. Perhaps it's because Elle made her look sort of grungy, which is … yikes.
Drew Barrymore was a win for Harper's Bazaar in March, while Jennifer Lopez tanked in February.
And surprise, Kate Hudson can still sell! She's behind Glamour's best-selling April cover (323,810). Also, Anne Hathaway, who made for the second-most popular issue (January, 306,428). Sadly — and a bit surprisingly — Dakota Fanning's March cover was a bomb.