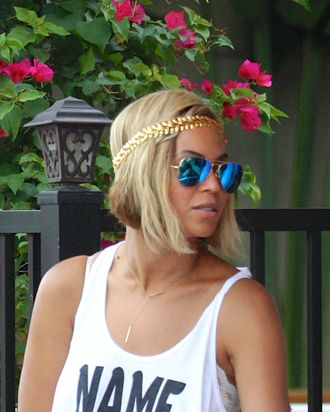 Beyonce's bob.
Photo: Pichichi / Splash News/Corbis
When Beyoncé got rid of her long, honey-colored waves last week, several theories developed. Some believed her new pixie cut was just a wig (this idea was bolstered by what may have been part of a wig stand in one of her Instagram photos). Some thought she'd simply gotten rid of her weave, leaving behind her real hair. Others said she's bald, and both her short and long hair were wigs. And, of course, a few claimed her head was a prosthetic and capable of deflating at any moment. (For what it's worth, the stylist behind the cut, Rita Hazan, told E! that the pixie hair was all Bey's own.)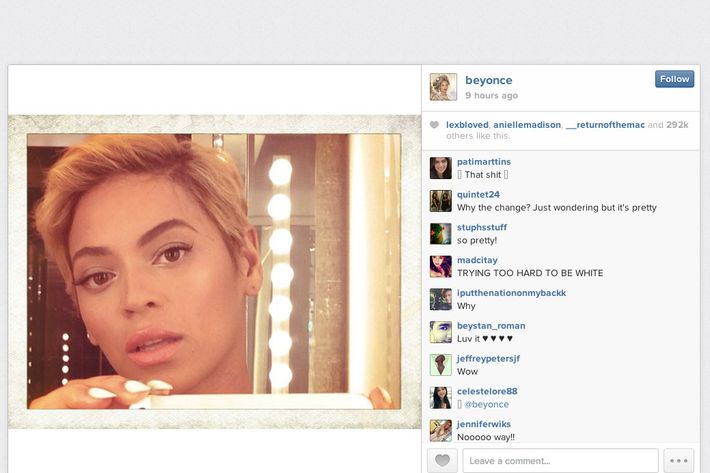 But just as these debates were simmering down for the weekend, Beyoncé went out to lunch in Miami with a surprise chin-length, platinum-blonde bob. The Internet was like, What do we even do with this? What is real anymore? And again, no one could decide whether she was wearing a wig or extensions or a weave, or maybe some combination of the three. At the end of the day, we'll never really know what part of Bey's hair is real and what isn't, and who really cares? We're actually much more concerned about that gold thing on her head. Bey should always wear as many sequins as possible, but please not in "hipster at a music festival" headband form.