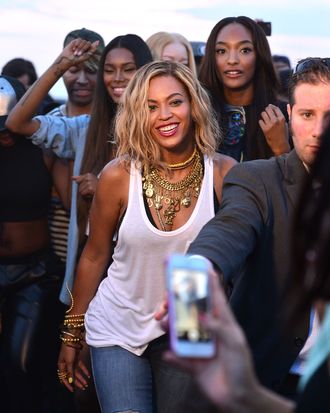 Photo: James Devaney/FilmMagic
Beyoncé hit the rides at Coney Island for a Terry Richardson–shot music video yesterday, also starring Jourdan Dunn. It was quite the thrill for fans who happened to be at the amusement park that day, but especially for Manhattan resident Doris Hone, 47. Hone was reportedly trapped at the top of the Wonder Wheel for a half hour while Beyoncé and entourage prepped with makeup before boarding. Oh, and Hone is "deathly afraid of heights." "When I was realized I was stuck up there, we were up there for a while, I started freaking out," she told the Post. "I'm afraid of heights. I was horrified." According to a friend, Hone was "hysterical" and screaming, "Get me off this ride" at the top of her lungs. "But with all the crazed Beyoncé fans down below," the Post writes, "no one could hear Hone's screams." And they can always edit them out in mixing.
Local news evidence of fans screaming out of love, not fear, here.