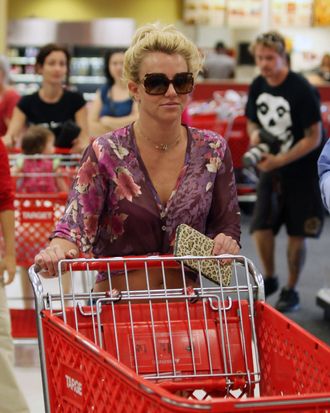 Photo: Clint Brewer / Splash News/Corbis
Like a Twinkie resisting decay for eons, our beloved Britney Spears remains true to herself no matter the circumstances. TMZ reports that legal documents connected to Britney's conservatorship reveal $14 million in earnings in 2012. Of that, Britney spent half. Extravagances include a $500 manicure and employment for her sister's baby daddy. More noteworthy for a woman of her means, however, are the modest purchases. As summarized by TMZ:
• $63.74 at a 99 Cents Plus

• $11.92 at Pay 99 Cents or Less

• A tab from Subway, Wetzel's Pretzels, Domino's, IHOP, 7-11, El Pollo Loco, McDonalds, In-N-Out, Coffee Bean, Starbucks, and Romano's Macaroni Grill.
Britney Spears: America's most dedicated bargain shopper, patron saint of shopping malls. Between her middle-American taste and her shockingly normal new boyfriend, Britney Spears — a woman with one of the most extreme personal narratives in Hollywood — may actually be the most normal mega-star in Hollywood.