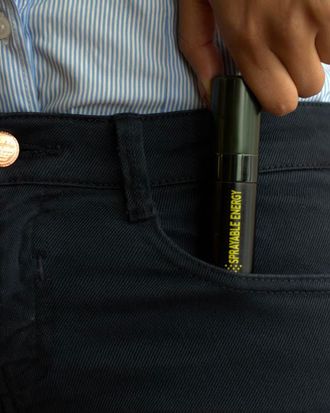 "The world's hardest problems aren't going to solve themselves," Peter Thiel declared last year, in a press release supporting his elite fellowship program for college-age innovators. The venture capitalist dispenses $100,000 grants to encourage students to leave school for two years, learn entrepreneurship, and "transform the world for the better." Among the world's hardest problems? Apparently that coffee is too much of a beverage. As Businessweek reports, Thiel fellow Ben Yu has devised Sprayable Energy, a caffeine spray that promises users energy without jitters or taste.
Yu, a 21-year-old Harvard dropout, says he wanted to use his fellowship to "create something tangible that would actually help people." He and business partner Deven Soni plan to market their spray — a combination of water, caffeine, and amino acid derivatives—at $15 for a bottle with 40 doses, which makes it a fiscally practical alternative to Starbucks. It's absorbed through the skin and goes on like perfume.
Though not entirely impractical, the product is a far cry from the "big vision" of "hacking biological systems" and innovating in related fields that Yu spoke of in his application for the fellowship. Yet the director of the program, Danielle Strachman, stands behind Yu's use of the funds. "Sprayable Energy might not look like a huge game-changer, [but] it's his way of entering the market," she told Businessweek. "This is an actual business."
For now, this much is clear: When you give 21-year-olds $100,000 to solve problems, you get $100,000 solutions for the problems of 21-year-olds. The technology of the all-nighter has now progressed beyond Red Bull.