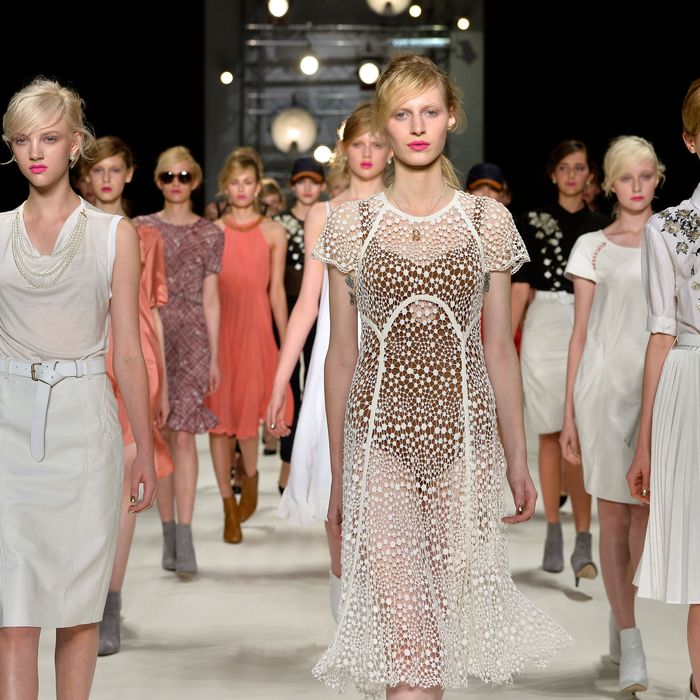 Photo: Stefan Gosatti/Getty Images
According to the New York Times, there's a revolution brewing for September Fashion Week, before the invites have even been sent out. Former casting agent Bethann Hardison, who helped launch the careers of many top black models, is planning to use social media to call out designers who don't use minorities in their shows. "I wonder if that would make [consumers] have second thoughts about buying the shows, the accessories, and the bags," she told the New York Times. Iman, who was quoted heavily and passionately in the article, backs up Hardison's future social-media coup. "It feels to me like the times need a real hard line drawn like in the 1960s, by saying if you don't use black models, then we boycott," Iman said. "If you engage the social media, trust me, it will hurt them in their pockets. If you take it out there, they will feel the uproar."
Models like Jourdan Dunn and Joan Smalls have been vocal about being rejected at castings after designers had already picked their "one black girl." Jezebel has kept a tally of non-white models for years, and last year, in a Buzzfeed article, casting agent James Scully candidly took fashion houses like Dior to task for their appalling lack of diversity. During the recent couture season, it seemed that some designers were listening. Both Dior and Prada responded to the well-publicized criticism with two milestone moments; Raf Simons cast six black models in his runway show and Prada used bi-racial model Malika Firth in an ad campaign — the label's first black model in nineteen years.

Attention to the lack of diversity in fashion waxes and wanes. The current passionate uproar is reminiscent of 2008, when Vogue published their daring "Is Fashion Racist?" article and Italian Vogue put out a controversial issue with all black models. It seemed then that tastemakers were paying attention to the issue, but the effects weren't lasting. In 2011, Robin Givhan wrote at length in New York magazine about tokenism, and about the way fashion uses black models as a "paint chip" effect for aesthetic purposes. By 2013, the number of non-white models on the runway declined, according to the Times. Black models represented just 6 percent of the looks shown at the last Fashion Week in February (down from 8.1 percent the season before); 82.7 percent were worn by white models.
Hardison's threat of a social-media war is interesting. We've seen Twitter deployed in varying degrees to get people enraged and informed — from rape in Steubenville to recent feminists in London protesting Twitter itself. And there's a possibility that wagging a big, collective social-media finger at offending individuals will result in just enough pressure for designers that they'll follow Raf Simons's lead and add more minority models by the next season. But what about subsequent seasons? Boycotts are hard to implement and have limited effect when the targeted companies sell to a small consumer group — like Céline or Dior. And fashion has no regulating bodies, like those in other industries, such as sports, with the power to demand that we integrate runways.
But there is a precedent for intervention on the protocols of the runway. In 2012, Israel passed a law that banned the use of underweight models on the catwalk. British Vogue and the British Fashion Council banned the use of underage and underweight models as well. Editor Alexandra Shulman said to the Daily Mail, "As one of the fashion industry's most powerful voices, Vogue has a unique opportunity to engage with relevant issues where we feel we can make a difference." And this year, attempts have been made to require the minimum age of 18 for models on the runway, with actual legislature pending. It remains to be seen how well those bans will work.

So what would a successful boycott look like? For a Twitter campaign to work it needs to reach a mass audience. That might take, for example, a vocal global pop star (like Lady Gaga) to say: Don't buy this designer because they only use white models. But, considering how many pop stars have close relationships with fashion designers, it's not likely that many would speak out. Alternately, what if prominent editors at shows were tweeting about the obvious lack of diversity, instead of just gushing about first looks and must-have accessories? Perhaps praise works best. If brands could see that their inclusive casting was garnering them loads of RT's and Instagrams they might be more inclined to cast a wider range of women.
It's good that the conversation has been reopened. But to have any effect, it will have to last well beyond a season.