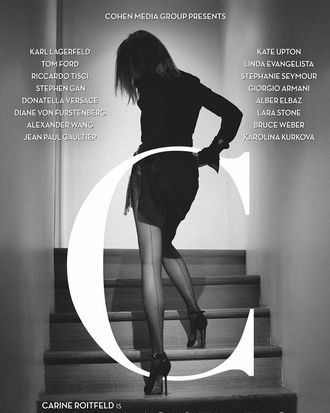 Mademoiselle C., director Fabien Constant's forthcoming documentary about Carine Roitfeld, comes out on September 11 — conveniently timed for a splashy movie premiere smack-dab in the middle of New York Fashion Week. In addition to an exclusive first look at the film's promotional poster, which features Carine's shapely bottom and which will soon be plastered all over town, we've got a synopsis for you:
Carine Roitfeld ran French Vogue for 10 years, building a reputation as one of fashion's most influential movers. Her inner circle of friends includes Donatella Versace, Tom Ford, Karl Lagerfeld, Mario Testino, Riccardo Tisci, Diane von Furstenberg, and Alexander Wang. 

Yet few people outside the fashion world have heard of her … until now.

Mademoiselle C chronicles Carine's launch of her new magazine "CR Fashion Book." It gives a rare inside glimpse at the inner workings not only of Roitfeld's professional world but also her personal life. It is a film about transition, letting the audience watch as Carine moves to New York, starts a new business, and prepares to become a grandmother. And of course, its filled [with] the models, celebrities, and eccentric personalities that make the fashion world so entertaining.
Childbirth! New beginnings! Drama! It's the stuff of reality TV! But then again, plenty of "documentaries" are just high-budget, feature-length versions of reality shows these days. (Not that this will discourage us from watching Carine stomp around in her back-seamed pantyhose and bestow double-kisses upon Tom Ford, obviously.)