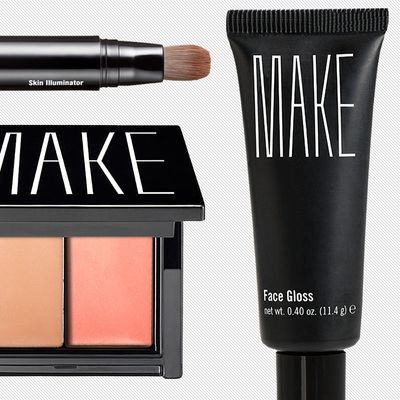 Beauty products are often purchased for personal, self-enhancing reasons. Even though the other people in our lives may benefit when we conceal our dark circles, sallow skin, or dirty hair, we mostly prettify ourselves because we're vain. We're not really thinking about others when we purchase lipsticks that flatter, foundations that perfect, and mascaras that pretty up our lashes. For the most part, cosmetics purchases are made for me, myself, and I. But MAKE cosmetics, a new line of socially conscious makeup, takes the selfishness out of beauty buying by sharing 33.3 percent of its sales with the nonprofit organization We See Beauty Foundation, which helps get women-led, worker-owned cooperative businesses up and running.
The objective of the foundation is "to drive large scale change," and their first project is devoted to incubating a Brooklyn-based cooperative that will make their own cleaning and personal-care products. This all seems like a no-brainer: Women wear makeup, so why not buy makeup that helps other women in our very own nation?
It doesn't hurt that the makeup looks great and is made in the USA by MANA Products (Francois Nars's renowned line started here). The extensive 220-piece collection will also include limited-edition artist collaborations. The first set to launch, along with the brand's debut earlier this year, was with makeup artist Ayami Nishimura (whose work has been in British Vogue, Numero, V magazine) and interior and furniture designer Faye Toogood. Inspired by "unexpected landscapes, objects and emotions," the collection includes items like Face Gloss (a translucent gel for grease-slicked lids without the stick), Skin Illuminator (pearlescent highlighters), and an array of lip colors and eye shadows. The site even provides GIF-like tutorials on how to create complete looks using products from Toogood and Nishimura's collaborative effort.
Prices range from $5 to $42 and can really only be found online at the We See Beauty site (you'll also find other items with a design-y, artsy focus for sale as well). However, for those of you in New York, most of the MAKE collection is available at Michael Angelo's Wonderland Beauty Parlor.