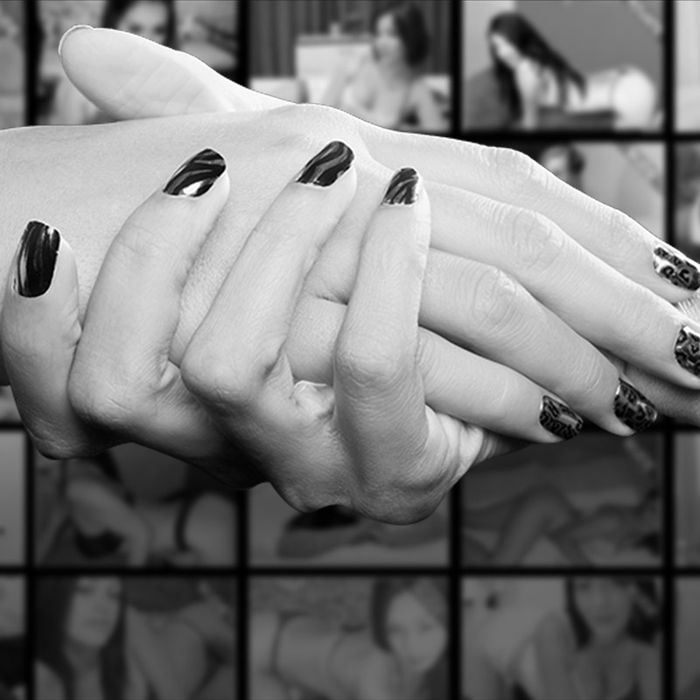 A met S in the sixth grade. They were best friends for ten years and had dated on and off for four. "He knew my whole family. He came to my sister's wedding," says A, now a 23-year-old college student. They broke up in the fall of 2011, when a suspicious Foursquare check-in led to a confession of infidelity. "That's one of the weirdest parts," she announces halfway through a breakup story of harrowing intensity. "He cheated on me." (Because of ongoing and sensitive legal matters, she asked us not to use names.)
Several months after the breakup, A was studying for an exam when an anonymous e-mail alerted her to Tumblr and Flickr accounts created under her full name, featuring dozens of nude photos of her. Some were images she'd sent to S during their relationship; others she believes he took while she was unaware. (S did not reply to a phone call requesting comment.) A went to the police in her hometown of Plainsboro, New Jersey; they took her statement and advised her on how to get the photos taken down. To her humiliation, A says, Tumblr and Flickr both required her to do a "MySpace salute," holding a sign with her full name on it next to her face, so they could verify that she was the subject of the photographs in question. "It was probably the crappiest picture in my life," she says with a wry laugh.
Though the original photos came down, many had already been re-posted. One by one, she e-mailed strangers asking them to remove her from their Tumblrs, blogs, and porn sites. Some complied, but others — including a racial fetish website hosted in a foreign country — ignored her. "That site had pictures of me completely naked, and the biography underneath had my full name and my sister's name, and it was about how I liked to be raped and gang-banged, and my sister likes it, too, and her husband knows and is okay with it," A says. Her college was listed, too. After ending up on websites featuring "local girls," she began receiving less-than-neighborly attention. A remembers shooing her young cousins away during a back-to-school shopping trip at Target, when an older man approached to compliment "your pictures." Another time, printouts of her nude photos were left outside her front door.
A's story is remarkable not because of the personal betrayal it involved or the public humiliation of having an X-rated digital doppelgänger. Those things happen to countless victims of "revenge porn," the term for sexually explicit images distributed without the subject's consent, whether by an ex-boyfriend or anonymous hackers. What's truly remarkable is that the legal system took interest in A at all. But she happens to live in New Jersey, the only state where revenge porn is currently illegal.
Within a month, A's ex-boyfriend was questioned and arrested for felony invasion of privacy. Distribution of pornography by anyone "knowing that he is not licensed or privileged to do so" has been a third-degree crime, punishable with up to five years in prison or a $30,000 fine, for about a decade in New Jersey. The state's most infamous privacy-invasion convict, Rutgers webcam bully Dharun Ravi, grew up in A's hometown. They went to neighboring high schools. A's ex received his first punishment in June of 2012 — the month Ravi spent in jail.
A's ex initially got off with a misdemeanor conviction. She didn't want to "ruin his life," so she told the prosecutor she was okay with the reduced punishment: probation, community service, anger-management classes, a psychological evaluation, a $500 fine, and — after an appearance in family court — a permanent restraining order. But when A's pictures continued to appear online, she got a second chance to press charges. "He was kind of stupid, because when he linked my Facebook to these sites, people were obviously going to reach out to the real me and tell me what was going on," she says. When a stranger Facebook-messaged A with transcripts of chats he'd had with someone posing as her on a pornographic dating site, the police requested IP addresses. That evidence — paired with a second round of questioning — allowed her ex-boyfriend to be charged, finally, with felony invasion of privacy and violation of a restraining order. "I broke down when that news came in," she says. "It was such a big weight off my shoulders, because for that whole year I regretted letting him get away that easily." A grand jury indicted him on both counts yesterday.
Had A lived in any other state, her story would have played out quite differently. She was over 18 at the time she posed for pictures. She gave them willingly to S. Though harassment statutes may apply to some elements of the case, the crime that defined A's case and powered her torments was the unauthorized display of her photos. In every other state, that's not against the law.
At the heart of a burgeoning movement to change that is End Revenge Porn, the advocacy group that A began volunteering for in the wake of her nightmare experience. It's the brainchild of Florida resident Holly Jacobs, who went public last spring with her five-year battle against a pornographic attack so pervasive it led her to change her name. She has since built a network of around 50 victims and legal experts advocating for laws banning revenge porn, and she's now spinning End Revenge Porn into a nonprofit called the Cyber Civil Rights Initiative. She works with lawyers, academics, and legislators — including California state senator Anthony Cannella, who has sponsored a California bill to make revenge porn a misdemeanor, punishable by up to six months in jail for a first offense; the popular bill is under consideration right now. Cannella first heard about revenge porn the day after Holly went public, when a Sacramento news station broached the topic. His communications director Jeff Macedo says their office worked with several members of Holly's team.
"The only way that we're going to get real change is if there's a serious criminal statute on the books," says Mary Anne Franks, a University of Miami law professor and board member at CCRI who has presented her legislative recommendations in Wisconsin, Georgia, and Florida, where a bill fell through last year. Franks is pushing to bring it back, with new wording, in the next legislative session. Ideally she'd like a federal law, since cybercrimes often occur across state lines. Federal stalking, hacking, and child-pornography statutes have been used in some revenge-porn cases.
L.A. mother Charlotte Laws testified in support of Cannella's bill and also sits on CCRI's board of directors. A single mother and realtor with a background in local politics, Laws joined the revenge-porn crusade when a topless photo of her 26-year-old daughter Kayla appeared online. "She was like a rape victim. She was absolutely distraught," Charlotte recalls.
"I take a lot of pictures of myself," Kayla explains. "You know, our generation is a very self-centered generation. A lot of people take selfies and whatnot." She e-mailed a topless shot to herself without any specific plans for use. "Just because it was a good picture!" she says, alternating between giggles and outrage as she tells the story. After her e-mail was hacked and her photo posted on notorious revenge-porn website Is Anyone Up?, she was deluged with propositions and insults on social media.
But her mother was on the case. "I used to be a private investigator," says Charlotte, "so I started my own investigation of the website while trying to get my daughter's pictures taken down." She found that 40 percent of the pictures posted within a two-week period had been the result of hacks, and she contacted first the LAPD, then the FBI. Initially the FBI was dismissive, she says, instructing her to fill out an online report. "So I said to them, 'Oh, I see, Scarlett Johansson gets attention when she gets hacked, but the average person doesn't.'"
Soon thereafter, three FBI agents arrived at the Laws' house to start the hacking investigation that would eventually lead to Is Anyone Up? getting taken down. (For now, at least.) Charlotte eventually made contact with 60 people who had appeared on Is Anyone Up? She connected to the group with lawyers and considered filing a lawsuit but, between the cost of lawyers and fears about negative attention, decided against it.
"These kids don't care if they get sued a million times," Charlotte Laws says, referring to the perpetrators of involuntary pornography. "They're 20-something-year-old kids who live with their parents. They have no money. They just don't care. But they are afraid of law enforcement." Is Anyone Up? came down only after the FBI questioned twentysomething owner Hunter Moore, she notes. She is now a member of CCRI's board, too.
Thirty-three-year-old Hollie Toups is testing both the civil and criminal systems, as she simultaneously wages a class-action lawsuit against revenge-porn site Texxxan.com and a campaign to criminalize revenge porn in Texas. When explicit images of the Nederland resident appeared on the geographically searchable website, she didn't go to the police. "I was embarrassed. It's a small town," she says. She'd spoken to other women featured on the site — she'd even recognized a few — and they'd told her law enforcement hadn't helped. So she teamed up with an aggressive trial lawyer named John S. Morgan, who launched a class-action lawsuit against Texxxan and its host, Go Daddy. "I'm going after the revenge porn industry, those sickos who post private information of women without their knowledge," Morgan told the Houston Chronicle. When several underage victims joined Morgan's suit, the FBI began a child-pornography investigation. (Charlotte Laws believes revenge porn could be eradicated by holding amateur websites to porn-industry standards. To prove performers are of age, professional pornographers must keep I.D. and signed statements on file.)
"This is America! We have rights," Hollie exclaims. The week before we spoke, she and two other members of the class-action suit attended the deposition of accused Texxxan owner Hunter Thomas Taylor, who lives in a neighboring town. "The scariest part was realizing the guy behind it was from our community. You always want to think the bad guy is somewhere else," she said.
Hollie couldn't discuss the contents of the deposition but says, "It felt really good, despite how nervous we were. It felt really empowering. I don't think he ever expected to face us." Afterward, the three women let off steam over chips and salsa at a Mexican restaurant. "Even though I just met all of them in January, there's a group of us that became really close friends and talk to each other every day," she says. She counts revenge-porn advocates in other states — like Bekah Wells, the Floridian behind Women Against Revenge Porn — among her close friends now too. Hollie recalls: "I was talking to one of them, and she was like, 'You know, the worst thing that could have happened, happened. And then I met you, and it's like, even in the darkest of times, sunshine. I've got a new friend.'"
As A's legal case continues, she's channeling her energy into assisting victims who contact End Revenge Porn for guidance and support. "I tell them that we're here, that they're not alone."