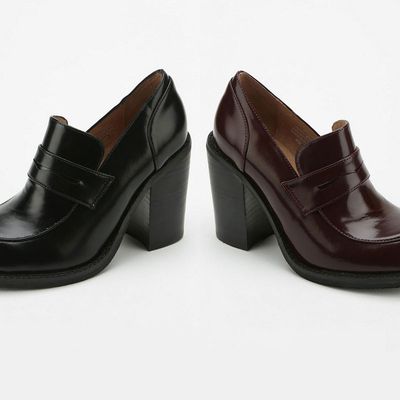 When you think about the nineties, the first shoes that come to mind are the ubiquitous Doc Martens. But during that time, there was another pair of shoes that nearly every girl had. Made from a loafer set on a chunky high heel, the style was produced by Steve Madden, Guess, and many copycats.
Should you have blocked out the memory of the heeled loafer, we hate to tell you, but they're baaaaaack. Produced by Jeffrey Campbell and sold at Urban Outfitters (big surprise there), the new version is nearly identical to the pair many of us on staff owned fifteen years ago, except ours were less than $100; now they're $160. Recently, Cut social-media editor Benina Sax threw a link into our chat room, and it took mere seconds for us to start reminiscing. What did we wear them with? How do you react when you see a teen with the same shoe? Should these have ever returned? Read on to hear our stories and share yours, too, in the comments. Don't lie, you had these loafers.
Benina Sax, social-media editor: I just want to share with the group that Urban Outfitters is officially repeating the exact shoes I wore in the nineties. These were my bat mitzvah shoes, but mine were made by Guess.
Veronica Gledhill, market editor: Oh my god, those shoes were the freaking best.
Sally Holmes, producer: YES! I had those, too, but mine were by Steve Madden. I bet Diana definitely had those too.
Diana Tsui, market editor: Wait, how did you know that I owned a pair? I totally wore these all the time.
Sally: I can just tell. But actually, I didn't really own this exact pair. I wasn't allowed by my parents. Eventually I bought the platform version. That's when they were no longer that cool.
Kurt Soller, features editor: I think I remember these shoes most because the girls who were mean to prepubescent Kurt wore them.
Diana: Oh no, these were mean-girl shoes! Wait, so what did everyone wear them with?
Benina: I remember wearing mine with a Betsy Johnson brown-and-gold sparkly dress and matching suit jacket. I still have that jacket and, yes, I still wear it.
Veronica: Choker necklaces and fuzzy velour crop tops, duh. You know the ones with polyester silk cord? Definitely a plaid mini as well, and sadly some overplucked eyebrows.
Diana: Well, I remember wearing them with a J.Crew sweater, flared jeans from Antique Boutique, and Revlon's Toast of New York lipstick. That was the best brown lipstick ever. In retrospect, did not flatter at all. I may have also smoked my first cigarette in these.
Benina: I wore crazy flesh-colored lipstick too!
Diana: And then I accessorized with a Manhattan Portage bag, of course.
Benina: I still have one. I asked my boyfriend if I should throw it out when we moved and he said no.
Sally: I was told I couldn't wear them by my parents because they were like, YOU WILL ROLL AN ANKLE. I have very skinny ankles. So my friend had a second pair and hid them in her backpack. I would wear sneakers with my school uniform consisting of a polo and green kilt, and then change into these after. The kicker is that my school had a rule that you had to wear socks so everyone wore these with those little tennis socks. God, it was hideous.
Diana: Now that they're back, how does everyone feel about seeing a teenager in them?
Sally: I'm mixed. Like I said, I got these when the platforms were becoming passé, but they still mean COOL to me. But I also feel like, wow, they were really hideous weren't they?
Diana: For me, it's ironic that Urban Outfitters is selling them. The trend has come full circle because all of these stores were in one big row on Broadway. You'd start at Steve Madden to get these shoes, then you'd stop off at Urban to get a top or jewelry, before getting your jeans at Antique Boutique.
Veronica: City kids are so lucky! It was Nordstrom's Brass Plum and Delia's catalogues for me.
Diana: So, does this mean it's socially acceptable to wear them again? Would any of you get these?
Sally: No.
Benina: Never again.
Veronica: All I have to say can't be put into words. So just click this.