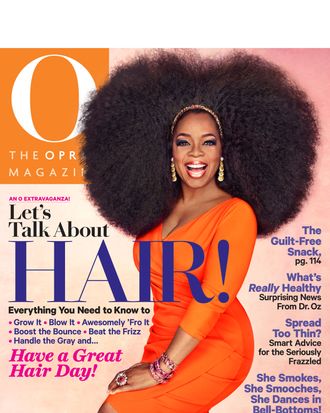 Photo: Courtesy of Hearst
When it came time to outfit Oprah's head with a gigantic Afro for her September issue cover, her longtime hairstylist Andre knew just whom to ask for such an awesome display of hair overload — L.A.-based celebrity stylist Kim Kimble. She told the Chicago Sun Times, "He said, 'I need a really big Afro wig.' I said, 'I have just the thing for you.'" Seven bags of hair later, the wig arrived at the June photo shoot in a custom-made pink box, carefully packaged with bubble wrap.
But whether or not you naturally have hair that weighs as much as a Chihuahua, Kimble (the hair guru to Beyoncé, Shakira, Kerry Washington, and Lady Gaga) had words of advice. "Whatever makes you feel good and creates your confidence, do it," she told the Chicago newspaper. "If you prefer natural, go for it. If you like long weaves, I'm not mad at that either. It's only hair. At the end of the day, it's an extension of your style, your image. So whatever makes you feel good, rock it." Somewhere, Dante de Blasio is fluffing his own awesome Afro in agreement.